Sarah Michelle Gellar Opens Up About The Toxic On-Set Environment Of Buffy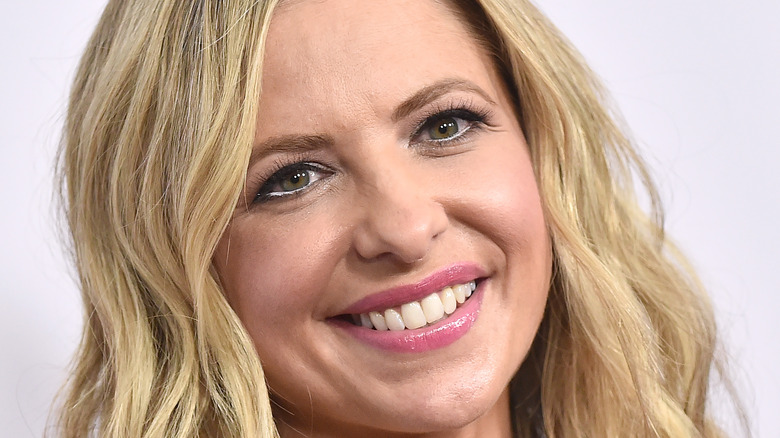 DFree/Shutterstock
We may receive a commission on purchases made from links.
It might be one of the most beloved TV shows of all time, but it's become increasingly clear that all was not well behind the scenes of "Buffy the Vampire Slayer." First, there were the shocking allegations against creator Joss Whedon which, as Screen Rant explains, started with star Charisma Carpenter (who played Cordelia on the show). Per the outlet, the actor accused Whedon of fostering a "casually cruel" and dangerous environment on set, which included penalizing her for becoming pregnant mid-shoot. Several members of the "Buffy" cast and crew came forward to back up Carpenter's allegations, from lead Sarah Michelle Gellar, to co-stars James Marsters and Michelle Trachtenberg — and even stunt coordinator Jeff Pruitt and stuntwoman Sophia Crawford.
Elsewhere, Nicholas Brendon confirmed our suspicions about his feelings toward a "Buffy" co-star when he argued that David Boreanaz should never have gotten his own spinoff. According to HollywoodLife, Brendon told author Evan Ross Katz, who penned "Into Every Generation a Slayer Is Born: How Buffy Staked Our Hearts," that Angel, Boreanaz's brooding bloodsucker, was more boring than Edward Cullen and his coven of sparkly vampires in "Twilight." Decades after "Buffy" left airwaves, it seems that filming the show was a toxic environment for everyone involved — and now, Gellar is opening up about some of her toughest experiences on set.
Sarah Michelle Gellar had some difficult moments with her co-stars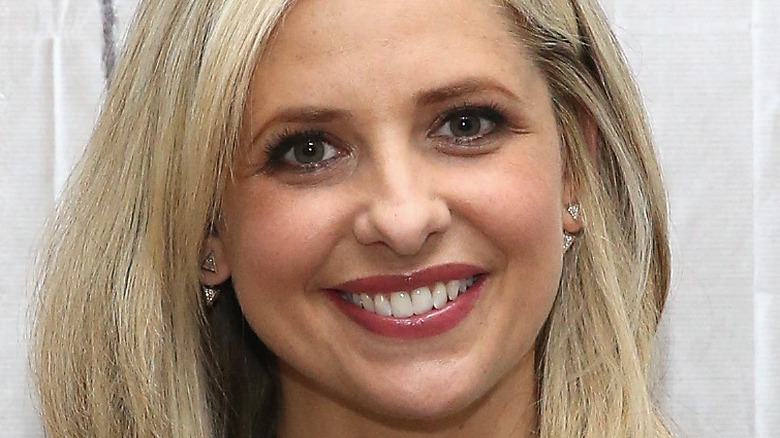 Robin Marchant/Getty Images
According to "Buffy's" lead vampire slayer, Sarah Michelle Gellar, things weren't smooth sailing behind the scenes. As she explained to Evan Ross Katz in his book "Into Every Generation a Slayer Is Born: How Buffy Staked Our Hearts" (via Buzzfeed), the actor experienced some tough moments with onscreen BFF Alyson Hannigan (Willow), in particular. "Look, we worked really hard hours. We were young, we had ups and downs. Everybody had arguments," Gellar revealed. "There were times where David [Boreanaz] could be a handful. He never really was to me, but I'm sure [he was]. It wasn't rosy. Nobody gets along all the time. And Alyson and I had moments. There's no question. But you're young."
Gellar, who was catapulted to mega-stardom thanks to her role on the hit show, admitted that the cast of "Buffy" was unfortunately pitted against each other at the time. Nowadays, the situation would be very different — and thankfully, it's all water under the bridge now. Moreover, Gellar clarified that she wasn't making excuses, but rather acknowledging that there were moments she could have handled differently.
Sarah Michelle Gellar faced an enormous amount of pressure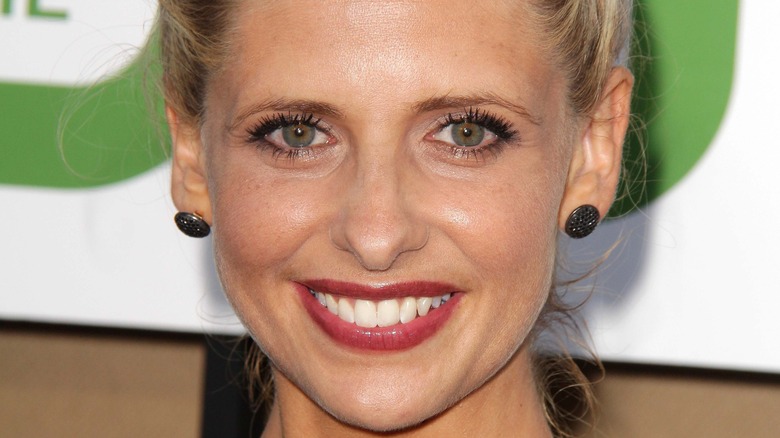 s_bukley/Shutterstock
The  book "Into Every Generation a Slayer Is Born: How Buffy Staked Our Hearts" also gave insight into the enormous amount of pressure that Sarah Michelle Gellar shouldered at a young age. "I didn't know how to handle the stress that I was under," she admitted (via Too Fab). Because she was the lead, "Buffy" took up the majority of her time, while Gellar's co-stars had more opportunity to put their focus elsewhere and decompress between shooting days.
Interestingly, rumors have long circulated the "Buffy" star was a diva on set, according to Too Fab. In the book, Gellar's former co-stars rallied to her defense, with Julie Benz (Darla) chalking up the rumors to misogyny. "It's just that [Sarah] was a woman, a young woman, and there was a lack of respect towards her with her knowledge and experience because she was female and because she was young," Benz added, per Too Fab. She reiterated that the show's female cast-members are all very close now, particularly in the wake of the Joss Whedon allegations. Meanwhile, Danny Strong (Jonathan) suggested that the rumors may have come about because colleagues were jealous of Gellar. "[The show] was definitely pettier than other sets," he revealed, underscoring the big takeaway that "Buffy" was a difficult place to work in the 1990's.