Here's What Meghan Markle Looks Like Going Makeup-Free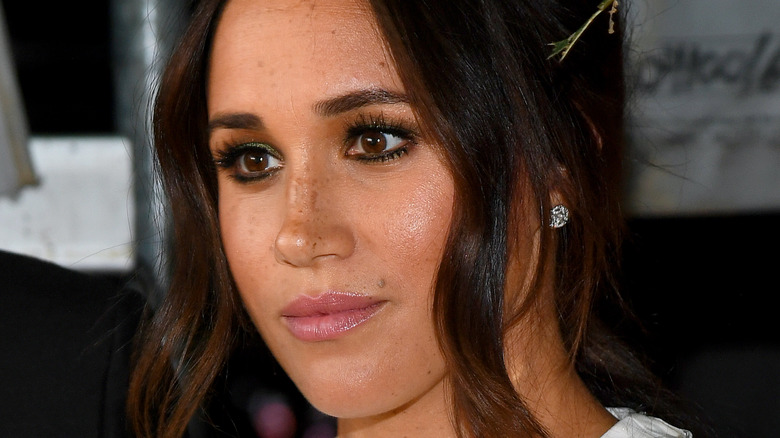 Kevin Mazur/Getty Images
Meghan Markle's long, lush hair, natural freckles, and sculpted cheekbones make her a classic beauty. In fact, Markle's elegant looks and chic sense of style have quickly become sought after ever since she stepped into the limelight. Lyst even named her their top power dresser in 2019! According to the company's "Year in Fashion Review," each time that Markle wore a new outfit, Google searches for similar-looking pieces jumped by 216%. Furthermore, E! News reported that in 2017, Markle's nose was one of the most popular requests to be given to plastic surgeons. Safe to say, the Duchess of Sussex's natural beauty seems to be prized by more people than just Prince Harry.
But despite her access to some of the world's best stylists, designers, and makeup artists, Markle likes to keep her looks on the minimalist side. For example, her makeup is almost always natural. Markle often opts for neutral browns for her eyes, with an occasional smoky or sparkly eyeshadow, along with mauve and pink tones for her lips. While her eyelashes are almost always mascar'ed in public, she doesn't appear to use false lashes. Given her role as the Duchess of Sussex, Markle is expected to look put-together — but if you're wondering what she looks like without all the makeup and fanfare, you might be surprised.
Meghan Markle looks perfectly put-together even without makeup
When it comes to her beauty routine, Meghan Markle clearly believes that good skincare means you don't need to cover up with tons of makeup. In fact, changes start happening to your skin even as young as 25. By age 40 — which is Markle's age, as of this writing — your skin has gone through a certain amount of wear and tear. However, you'd never know that looking at a bare-faced picture of Markle! Her girl-next-door look is fresh and wholesome. 
Part of the reason the Duchess of Sussex is able to maintain her glowing complexion is because she employs the "less is more" mantra. As Markle told Allure in 2017, her daily routine is surprisingly low-key. "I don't wear foundation in real life. My routine is very simple — I call it the five-minute face," she revealed. "It's just Touche Éclat, curled lashes, mascara, Chap Stick, and a little bit of blush. That is my favorite kind of look." As well as her skin, Markle also makes sure to nourish her eyelashes. "I also use Revitalash on my eyelashes, and I swear they are as long as they could ever be," she added. Unlike her character Rachel Zane on "Suits," Markle was quick to clarify herself as "much more low-key." Whatever she's doing, it's clearly working for her!