Why Meghan And Harry's Oprah Interview Is Still Plaguing The People Of Jamaica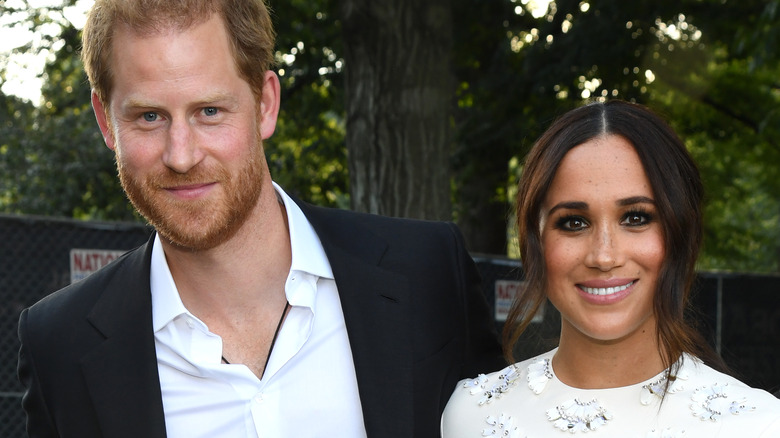 Kevin Mazur/Getty Images
Prince Harry and Meghan Markle dropped several bombshells during their tell-all interview with Oprah Winfrey, but the most damaging were their allegations of racism within the royal family. The couple revealed that when Markle was pregnant with their son, Archie, there were "concerns and conversations about how dark his skin might be when he was born" (per Time). While they never named the royals in question, a book reportedly identified the commenter as Prince Charles, who later denied the accusation (per US Weekly).
The Duke and Duchess of Sussex have also called on Great Britain to acknowledge the "wrongs" that have been done to its Commonwealth countries. "When you look across the Commonwealth, there is no way that we can move forward unless we acknowledge the past," Harry said (per CNN). "So many people have done such an incredible job of acknowledging the past and trying to right those wrongs, but I think we all acknowledge there is so much more still to do."
Shortly after this statement, Barbados decided to remove Queen Elizabeth as its head of state. More countries are expected to follow suit, including Jamaica. Prince William and Kate Middleton are set to visit the country on their current royal tour of the Caribbean, and there have been reports that Jamaica will cut ties with the British monarchy as soon as the Duke and Duchess of Cambridge leave (per Global News). In the meantime, the couple's visit has been met with protests from locals who are not happy that William and Kate are there.
Prince William and Kate Middleton's visit has been met with protests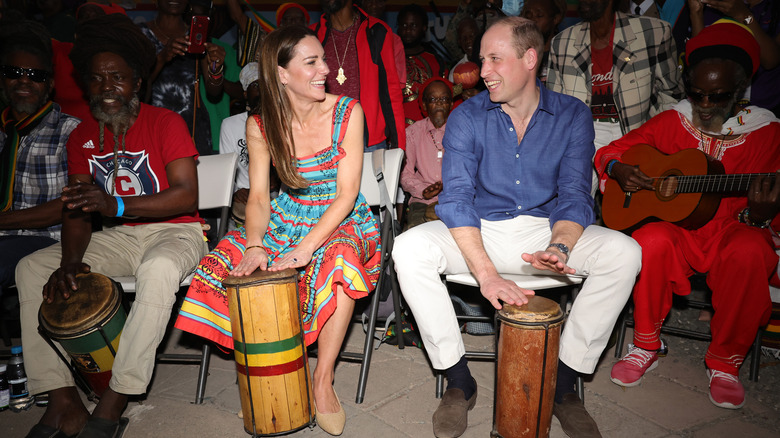 Chris Jackson/Getty Images
While Prince William and Kate Middleton seem to be enjoying their royal trip to Jamaica, some locals have been protesting their visit. "They don't have a problem with the Queen, they have a problem with the institution," Noel Phillips of Good Morning Britain reported (via Global News). "They see the British monarchy as an institution that has long oppressed them and they want reparations, they also want an apology, and they feel they've been asking for these things for an awful long time and until now there's been no acknowledgment of their suffering or pain."
Additionally, the Jamaican people haven't forgotten Prince Harry and Meghan Markle's allegations against the royal family during their interview with Oprah Winfrey. Jamaicans were apparently "very torn up" over these comments. "That has torn us. That's William's brother, that's his nephew, and for Harry to have been treated the way he was, and worse yet Meghan," Bert Samuels, a reparations advocate and Jamaican attorney, told Newsweek about the issue. He said Jamaicans were "very hurt by the treatment of an African American woman in that family," following the interview.
As a result, a source told Phillips that as soon as William and Kate leave the island, "Jamaica will begin the process of removing the Queen as head of state."