Charithra Chandran Opens Up About Joining Season 2 Of Bridgerton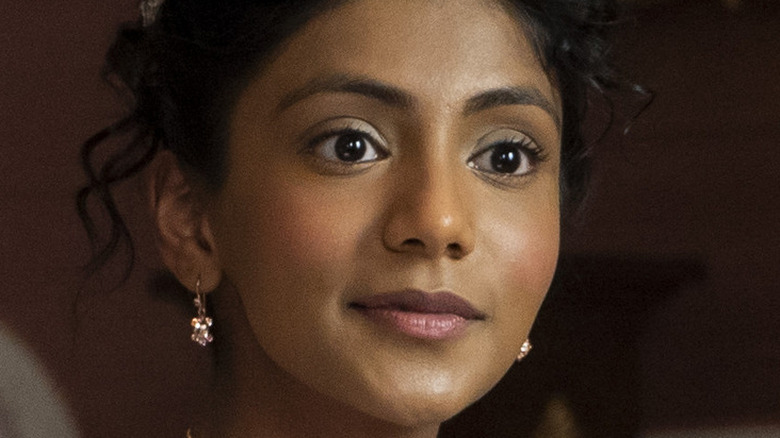 Liam Daniel/Netflix
Observing a newcomer in town is just the thing that Lady Whistledown loves to write about in "Bridgerton." Because of that, it would only make sense, dear reader, that actress Charithra Chandran was the talk of "the ton" when she was cast in Season 2 as Miss Edwina Sharma. The actress knew it was a big deal, too. "It's super nerve-wracking to join a show when there's an established cast and you're new," Chandran admitted during a recent press conference that The List attended.
This season, Chandran is playing one of the most important characters in the story — the woman who catches Lord Anthony Bridgerton's eye — which was a lot of pressure. "In this industry, I'm so new to it," she admitted.
Luckily, she found the perfect co-star to go to whenever she needed any insight on show business. "Golda [Rosheuvel, who plays Queen Charlotte] really is a shining light. I can go to her for any advice, and she's so generous," Chandran said.
The 25-year-old actress also opened up about being accepted by the rest of the cast and how she felt the first time she stepped foot on the set of "Bridgerton."
The moment Charithra Chandran knew she had become an important part of the cast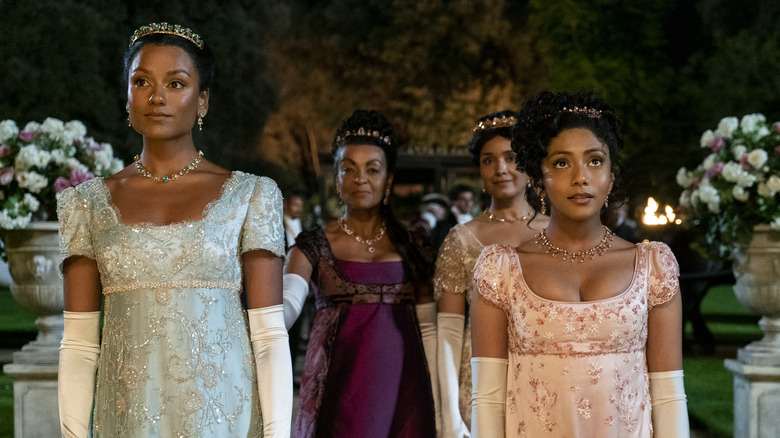 Liam Daniel/Netflix
Because the cast of "Bridgerton" had all of Season 1 to get to know each other, it was a bit worrisome for Charithra Chandran to walk into a workplace where she was brand new. "But within a few hours of meeting everyone, it felt like we'd always been part of the family," she said during the press conference.
However, there was still one scene in particular that was still terrifying for Chandran to film — a big moment when all eyes were on her character, Edwina Sharma. It didn't help that practically every single person working on the show happened to be on set that day. "Everyone was staring at me," she said. "And you can't help feel loads of eyes on you, and you're the action, and you have to do something. That was definitely quite scary to film."
Yet, it was something that Ruth Gemmell (who plays Lady Violet Bridgerton) said that made Chandran immediately feel at ease. "She just kind of went, 'Feels like you guys have always been here. I don't really remember a time that you weren't,'" Chandran explained, adding, "To me, that meant the world. We just managed to fit in, which is wonderful." It's something her character is desperately trying to do this season, too.
Don't expect this actress to reveal any spoilers from Season 2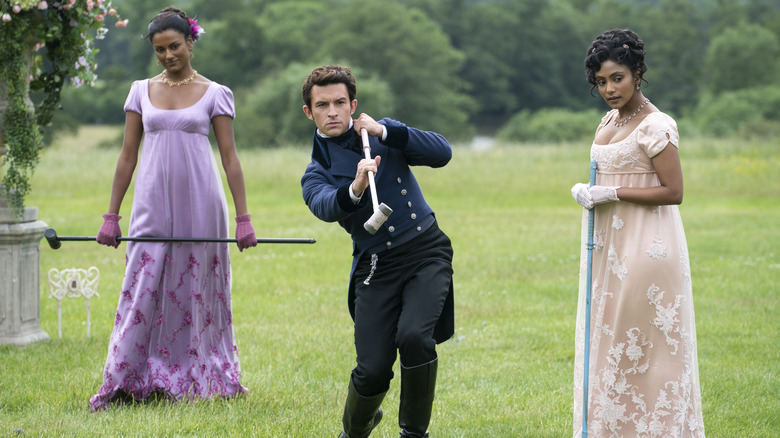 Liam Daniel/Netflix
As soon as it was announced that Charithra Chandran had joined "Bridgerton," fans all over the globe wanted to know what was in store for her character when it came to Season 2.
Over the last few months, practically every actor from the drama has been questioned a time or two about who exactly Lord Anthony Bridgerton ends up with. Chandran has had to learn to live with all the highly classified secrets that Netflix has in store for this season.
Even so, the rest of the cast has agreed that Chandran has come up with the absolute perfect way to avoid spilling anything big whenever anyone asks. "I literally tell them that I'm a ghost for most of the season," she said during the press conference. "And now, if it's true, no one will believe me." 
Season 2 of "Bridgerton" is available to stream Friday, March 25 only on Netflix.