Madeleine Albright's Net Worth At The Time Of Her Death Might Surprise You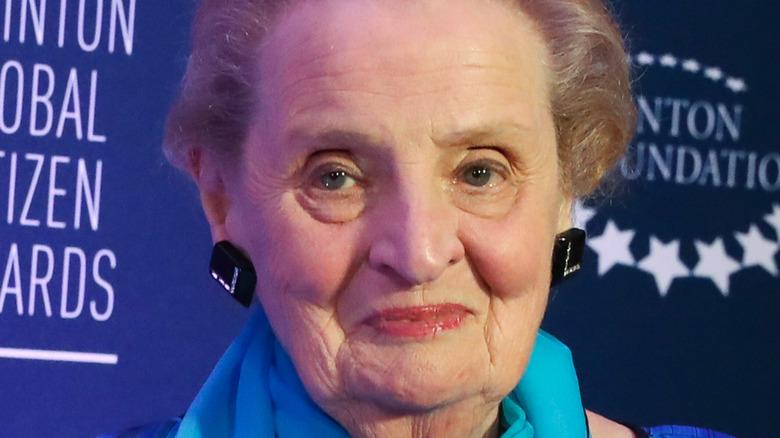 Rob Kim/Getty Images
Madeleine Albright, the first woman to ever hold the Secretary of State title in the United States, died on Wednesday, March 23. According to CNN, the businesswoman's death was announced by her family via her social media platforms. Albright died aged 84, but no matter how long she lived, she never stopped caring about current events or the fate of the world. 
For example, not long before Russia invaded Ukraine in February, the politician appeared in an op-ed published in The New York Times. There, she argued, "Instead of paving Russia's path to greatness, invading Ukraine would ensure Mr. Putin's infamy by leaving his country diplomatically isolated, economically crippled and strategically vulnerable in the face of a stronger, more united Western alliance" (via CNN).
Albright had reason for this notion. Her career in politics was long, as noted by her family's Twitter statement. The Prague-born politician even earned the Presidential Medal of Freedom after decades of political service, per the statement, which all began when she came to the U.S. in 1948. Her opinions on Vladimir Putin's Russian invasion of Volodymyr Zelenskyy's nation were also apt due to her work to push NATO into countries that had once been ruled by the Soviet Union (via The Office of the Historian). 
Now, due to politicians often making ample money throughout their careers, many might be wondering just how much Albright was worth before her heartbreaking death.
Madeleine Albright was worth millions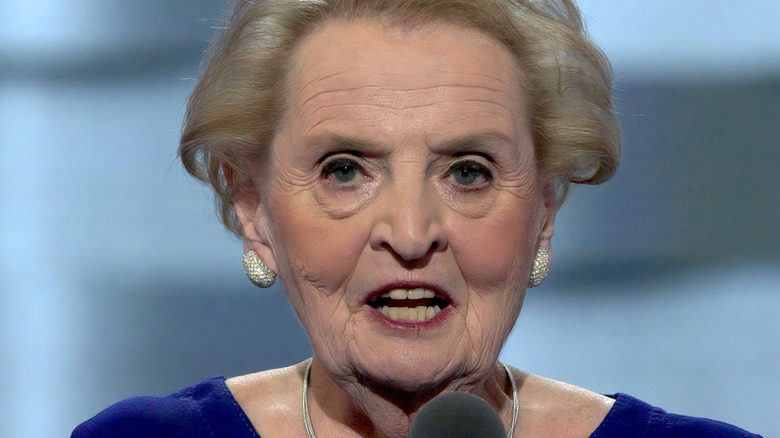 mark reinstein/Shutterstock
It's not always easy to gather an exact number for famous individuals' net worths, as is the case for the late politician Madeleine Albright. According to Celebrity Net Worth, Albright accrued a net worth of $10 million before her death this week. This money resulted from books she had written, her time spent in government offices, her business ventures, and more. 
Notably, she also founded the eponymous Albright Stonebridge Group, a consulting firm used by businesses around the globe (via Celebrity Net Worth). "Based in Washington and in capitals around the world, ASG's advisors provide unparalleled insights, high-level strategic advice, and sound judgement," the group's official website reads. It's probably safe to say that she earned a lot of money from this venture.
Still, a conflicting report from CAknowledge.com explains that Albright was worth $67 million — a large jump from Celebrity Net Worth's estimate. CAknowledge breaks its numbers down further, too. According to this website, the former Secretary of State had $41 million in assets, while she made around $3 million yearly. She also had $2 million in debt.
Ultimately, it's unclear which website's estimate of her net worth is true, but her status as a multi-millionaire is clear nonetheless.