Maggie Gyllenhaal Gets Real About The Challenges Of Being A Female Director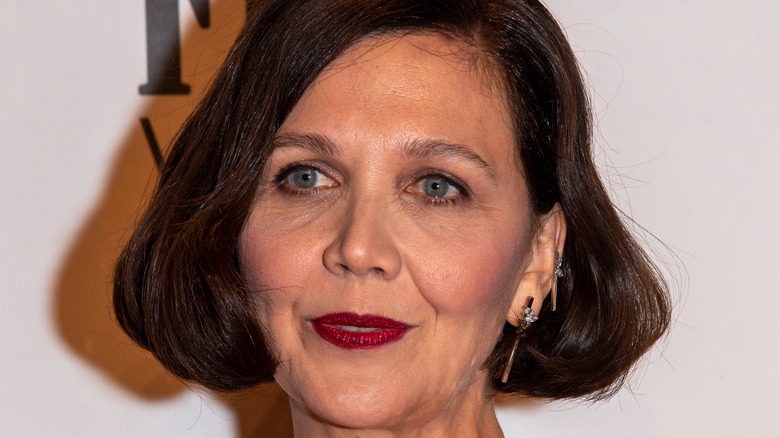 Ron Adar/Shutterstock
Actress and director Maggie Gyllenhaal was born into a family that fostered her interest in pursuing show businesses from a young age. Her mother Naomi Foner is a noteworthy producer and writer responsible for the likes of "Very Good Girls" (via ABC News), and her dad also works in the industry (via Alumni Spotlight). Of course, she's also the sister of Jake Gyllenhaal. Maggie took on a few film roles as a teen, but ultimately put off acting full time until she completed her literature degree at Columbia University.
After graduation in 1999, Gyllenhaal took on some major acting roles that helped catapult her to success in Hollywood. Jake was also picking up momentum as an actor at that time, and the sibling duo landed parts in the classic film "Donnie Darko." Maggie was later cast in iconic films such as "Riding In Cars With Boys" and "Stranger Than Fiction" (via IMDb). Her illustrious career spans nearly four decades with no signs of stopping. She has received tons of critical acclaim for her works, including nominations for an Academy Award and several Golden Globes (via Ace Show Biz).
In 2021, the actress took her career in another direction when she made her directorial debut with "The Lost Daughter" (via NPR). The film, which tells the story of a beach vacation that takes some twisted turns, has been a major success so far, and the newcomer director's debut was not snubbed when it was time to announce Oscar nominations.
Maggie Gyllenhaal took her career in another direction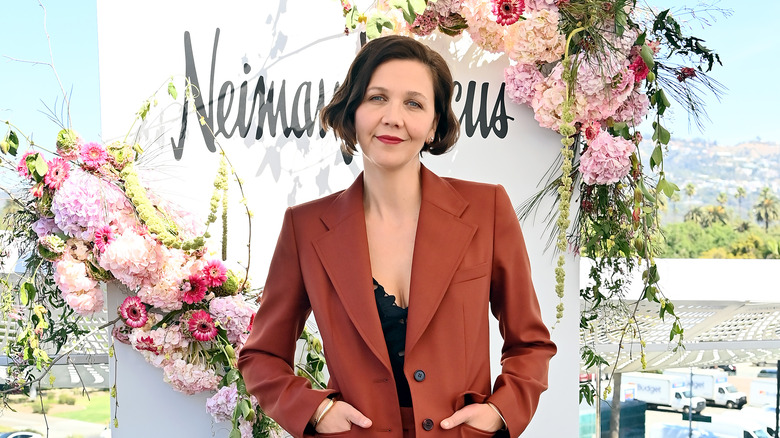 Stefanie Keenan/Getty Images
Maggie Gyllenhaal's directorial debut "The Lost Daughter" (which co-stars Dakota Johnson) was released on Netflix December 17, 2021. Since its release, it's been amassing stellar ratings on sites like Rotten Tomatoes and Metacritic. Recently the highest praise came for Gyllenhaal in the form of an Oscar Nomination, and she's been basking in the excitement ever since. 
Reflecting on the experience, Gyllenhaal told People, "My favorite part of the whole [awards season experience] has been meeting people whose films I love, hearing from people who have way more experience than I do, how they're thinking about film, what they're working on, how they work. It's really been cool; I'm being included in that community."
For a new director with a long acting career, an Oscar nomination is cause for celebration. In addition to awards shows and parties, though, Gyllenhaal made some time to attend a panel for Women's History Month hosted by Neiman Marcus Beverly Hills. The actress and director sat on a panel alongside "Zola" director Janicza Bravo, and the two shared their real and raw thoughts on the experience of being a female director in Hollywood.
Maggie Gyllenhaal got candid alongside Zola director Janicza Bravo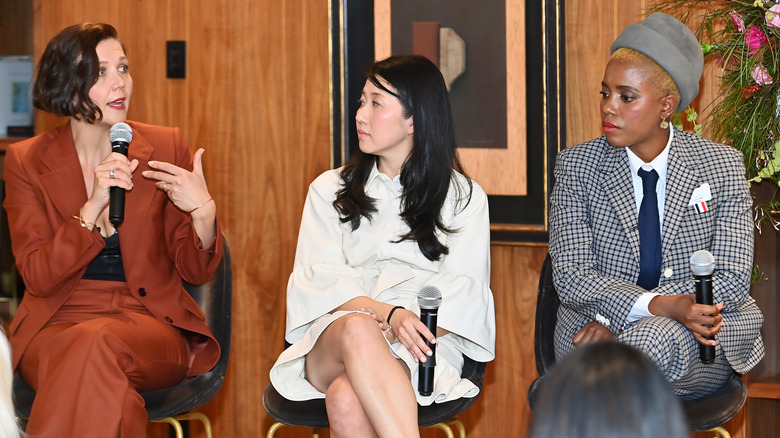 Stefanie Keenan/Getty Images
At an event for Women's History Month that was put on by Neiman Marcus Beverly Hills, Maggie Gyllenhaal spoke on a panel about her experiences as a female director in Hollywood. Janicza Bravo, who wrote and directed "Zola," was also present, and the pair was candid as they expressed both appreciation and frustration. 
While happy for their successes, both recognized that the industry has not yet made space for female directors or directors of color. "You're not going to have two women directors a part of the conversation for best director. Or you're not going to have two Black people in conversation for this. I mean, it's so goofy, but it is how it's been," Bravo explained about the lack of representation. Gyllenhaal added, '"Janicza and Maggie are gonna duke it out for the [win],' or whatever. That is really the wrong framework" (via People).
While she's excited to attend the Oscars as a nominee for Best Adapted Screenplay, she's already thinking about her next project. "It feels so much more like solid ground, the actual work and thinking about the next thing, rather than the sort of huge party coming on Sunday, you know?" Gyllenhaal came to directing after playing one on screen in "The Deuce" (via Insider). We can't wait to see what's next for her.