Jill Duggar Dillard Reveals The Gender Of Her Third Child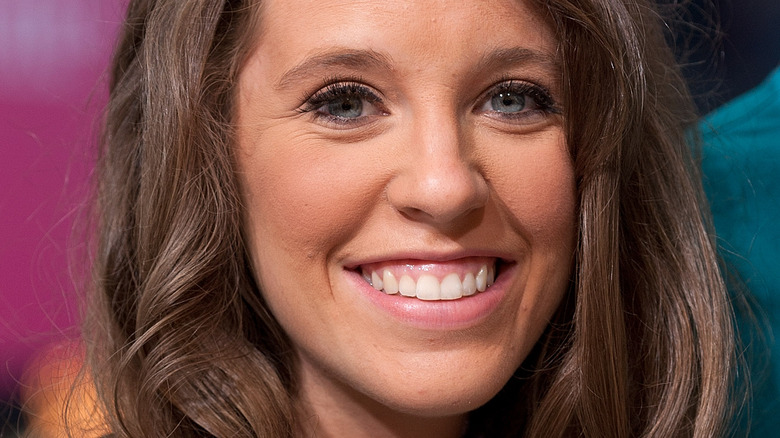 D Dipasupil/Getty Images
After spending years in the spotlight on her family's reality series, "19 Kids and Counting" and "Counting On," Jill Duggar left reality television on controversial terms (via ET). In 2017, Duggar's husband, Derick Dillard, was reportedly fired by TLC after the 33-year-old made transphobic comments about Jazz Jennings, another reality star on the network. "We want to let our viewers know that Derick Dillard has not participated in Counting On for months and the network has no plans to feature him in the future," TLC said in a Twitter statement. Despite the appearance that Duggar and Dillard were forced out of the series, the couple apparently chose to leave "Counting On" (via People).
"During our years on the show, we had many great experiences with the network, and several of the crew members have even become like family to us," the couple shared. "However, we also faced many pressures and some unexpected challenges which forced us to step away from the show in an effort to gain more control over our own lives and to do what was best for our family." Since stepping away from reality television, Duggar has kept her fans updated on her affairs through her blog, Dillard Family. The Arkansas native most recently revealed exciting news about her current pregnancy.
Jill Duggar is having another child
On Wednesday, March 23, Jill Duggar took to her blog, Dillard Family, to reveal the story behind how she learned she's having a baby boy. The reality star explained, "We had originally planned on finding out our baby's gender earlier, a couple weeks ago, but Covid hit our family and we had to delay the exciting revelation." While Duggar and her husband Derick Dillard were surely disappointed about having to wait to learn their baby's gender, they eventually realized this wait allowed the entire Dillard family to learn the exciting news.
"We decided to make a special day of it by starting off by eating breakfast together at a local restaurant called the Buttered Biscuit," the 30-year-old "19 Kids and Counting" star continued. "Then we did a little shopping before heading to our appointment to learn the exciting news." She concluded her announcement by revealing that the baby boy's due date is in July, and asked her followers for their prayers.
No other details are known about Duggar's pregnancy, but fans can look forward to summer 2022 for her family to expand.