Everything You Need To Know About One Size, Patrick Starrr's Beauty Brand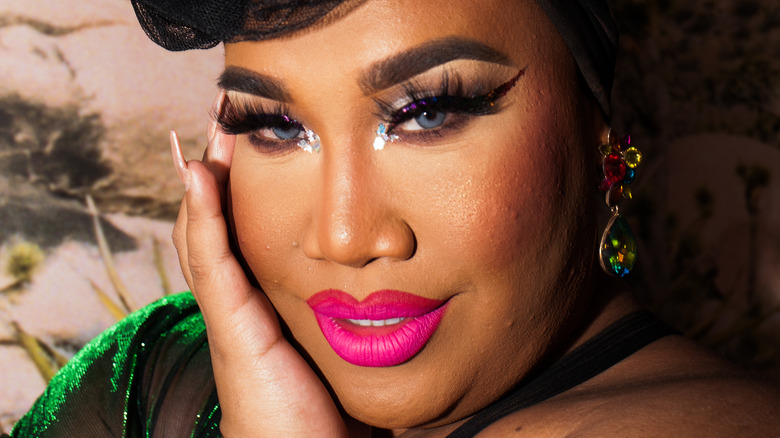 Emil Ravelo/Getty Images
Skinimalism was all the rage in 2020 when people started taking the minimalist approach to skincare and makeup by cutting back on products and instead choosing a select few that can multitask, which was not only kinder to our bank accounts but also saved us loads of time getting ready. According to HuffPost, we moved on from overly contoured full face makeup to tinted moisturizers and lip tints to let our true beauty shine. But skinimalism isn't for everyone because some people use makeup to express their artistic side. According to Who What Wear, some people really enjoy the entire aesthetics of makeup from glitter eyeshadow to eyeliner with a pop of bright blush where they can accentuate their cheekbones with a dazzling highlighter and opaque lip color.
If you are a fan of maximalist makeup, you know Patrick Starrr, a beauty mogul and makeup artist. This Filipino-American digital icon has amassed millions of followers on YouTube and Instagram. PopSugar calls him "one of the biggest beauty content creators in the industry" on social media. Starrr launched his own extremely shade-inclusive beauty brand, One/Size, with the tagline "Makeup is one/size fits all" in 2020 for everyone who loves makeup and encourages "authentic, meaningful storytelling" (via Nylon). According to its website, One/Size Is redefining beauty by elevating the voices of the unheard." Before discounting it as yet another beauty brand, the purpose behind the brand is what sets it apart from the rest.
One/Size is committed to appreciating beauty in diversity
What sets One/Size apart is its commitment to promoting "kindness and individuality through meaningful connection, profound storytelling, and innovative artistry." Patrick Starrr told Byrdie, "I think loving yourself is the greatest gift that you can give yourself, and with One/Size, I'm here to redefine the standards of beauty." His makeup line was created to help people discover their own identity and accept themselves without getting brainwashed that there is only one true standard of beauty. His line has an impressive range of face and eye products for anyone who loves makeup irrespective of race, gender, and orientation. Every product is cruelty-free, paraben-free, and vegan — two products from the line have already become beauty award winners.
Turn Up The Base Versatile Powder Foundation gives you a smooth and soft-matte finish. It has 32 inclusive shades and is a winner of the Best of Beauty Award at Allure. It lasts up to 12 hours and can be reapplied to banish oiliness. Point Made 24-hour Liquid Eyeliner Pen is a winner of the Refinery29 Beauty Innovator Award because this matte liquid eyeliner with a precision tip has all-day staying power. These high-quality products are made for you to create your own story, no matter who you are.
Noteworthy One/Size products to add to your vanity
The One/Size powder foundation and liquid eyeliner are already fan-favorites, but there a few other swoon-worthy products that are worth checking out. 
Makeup Alley lists the Ultimate Blurring Setting Powder among its top-rated products. One of the reviewers said, "I have dry skin, but it still works for me." According to the brand, this setting powder keeps your makeup in place and blurs out all imperfections, so you don't have to worry about it running down your face. It's available in "two, universally-flattering shades" so you can find your ideal match without a problem. Patrick Starrr told Allure, "I designed this cushiony, comfortable, straight edge to curve my cheeks and to give me more of a snatched, flawless look [or] for my eyes or contouring the nose," so this is a must-have for all the makeup divas. Even if you have a low-key routine, you can still make it work for you by using a little less product. 
Influenster raves about the collection's Full-On Faux Lashes because they have an impressive 4.9 out of 5-star ratings and most people seem to love the extra-bold look they provide. Plus, these reusable lashes can be worn up to 15 times for all the drama. Ready to add to basket?