Madeleine Albright And Queen Elizabeth Had This Fascinating Jewelry Habit In Common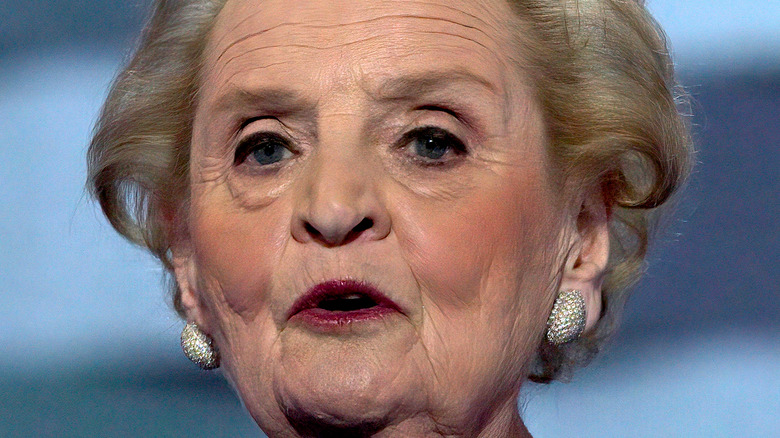 mark reinstein/Shutterstock
Madeleine Albright, who died on March 23, 2022, at the age of 84, met many important world leaders and political figures in her tenure as the first female secretary of state. But only one, Queen Elizabeth, shared her love for accessorizing. Both women are noted for wearing attention-getting brooches that were often chosen with special meaning in mind.
"As far back as I can remember, I have loved pins," Albright told InStyle in October 2021. "My mother wore them often, so I grew up with the idea that they were a stylish and fun way to show off your personality. But it wasn't until I became the U.S. ambassador to the United Nations in 1993 that I realized jewelry could take on a whole new meaning."
At the time, she was tasked with helping maintain the conditions of the ceasefire of the Persian Gulf War — conditions that Iraqi dictator Saddam Hussein was trying to flout. On the spur of the moment, Albright decided to wear a pin with a snake on it to a meeting with Iraqi officials as her "way of sending a message," she said. 
Pleased with the attention the pin got, she began collecting brooches and wearing certain ones to symbolize her opinions on particular people or causes. "I must admit, I had a lot of fun with it," she wrote.
Albright owned more than 200 pins, which are now on display at the National Museum of American Diplomacy. The "Read My Pins" exhibit shows her most famous brooches and explains the meanings behind them.
Madeleine Albright and Queen Elizabeth have used pins to send messages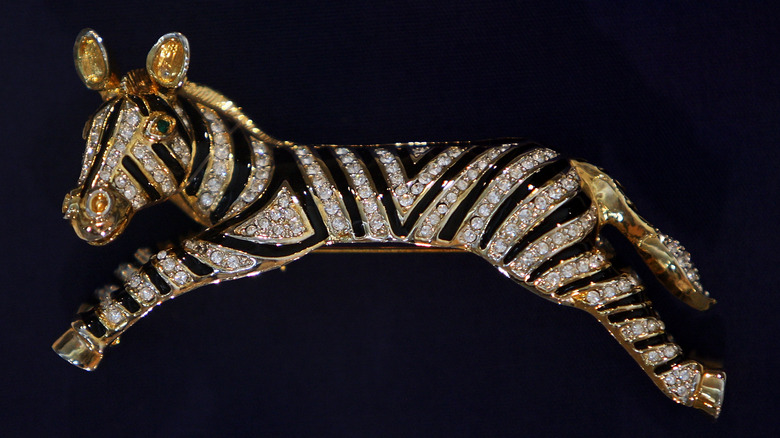 Spencer Platt/Getty Images
Madeleine Albright prided herself on accessorizing with pins that reflected the nature of the occasion and the people she met. 
She wore the dazzling zebra pin seen above when she met with South African President Nelson Mandela — nodding to the wildlife of his homeland — and a brooch resembling a broken glass ceiling when she promoted Hillary Clinton's presidential run (via InStyle). Whenever she made appearances in the Middle East, she would wear a large gold dove pin, symbolizing peace, which was a gift from the widow of the late Israeli Prime Minister Yitzhak Rabin. 
Similarly, Queen Elizabeth has a large collection of brooches — many passed down from previous monarchs — that she wears according to their history and sentimental value. 
For example, her flower basket brooch was a gift from her parents when she gave birth to Prince Charles, and, according to Bustle, she has since worn it to the christening of her first great-grandchild, Prince George. She has worn the true lover's knot brooch to important family weddings, including Princess Margaret's and Prince William's. 
In March 2021, the queen wore the largest pin in her collection, the Queen Mary Richmond brooch, to the funeral of her beloved husband, Prince Philip. It was a highly personal gesture, as a jewelry expert explained to the Express.
"The long history of the piece, signifying family events, formal engagements and weddings, as well as memories of the Queen's early reign with Prince Philip, made it a symbolic and sentimental choice for the funeral of her husband and royal partner of 73 years," she said.
Both leaders have used jewelry to throw shade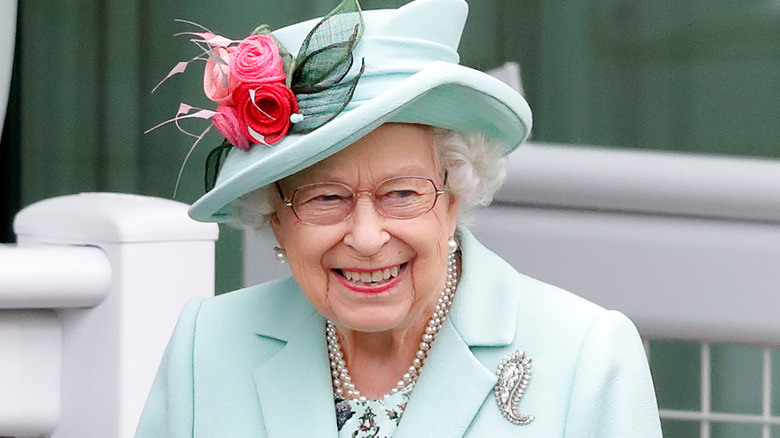 Max Mumby/indigo/Getty Images
Madeleine Albright freely admitted that she used some of her famed brooches to throw shade, according to the occasion. During a meeting with Palestinian leader Yasser Arafat, she wore a bee pin "to deliver a sharp message." And woe to those who met with Albright and found her wearing a pin shaped like a crab. She donned that particular accessory when dealing with "crabby people," she told InStyle. 
Queen Elizabeth is believed to send negative messages through her choice of jewelry, too — most notably during her meetings with former President Donald Trump. During his first state visit in 2018, the queen wore a small but attractive moss agate brooch to greet him. That pin just happened to be a gift from former President Barack Obama, according to the Evening Standard.
She followed that up with the sapphire jubilee brooch, a gift from Canada — a country that Trump had been badmouthing at the time. Then, during their final meeting that year, the queen wore her Cartier palm leaf brooch (seen above). While she has worn it on numerous occasions, it's best known as being the accessory her own mother wore during the funeral of King George VI.
Albright told InStyle that she once sent the queen a note remarking on their shared love for wearing brooches with symbolic meanings. She didn't mention getting a reply, but it's nice to imagine that Elizabeth approved of her style.