Here's What Joe Biden Had To Say About Running Against Donald Trump Again In 2024
Pool/Getty Images
Former President Donald Trump is still keeping quiet about whether or not he plans to run again in 2024. As Business Insider notes, the former "Apprentice" host has been dropping massive hints over the past few months that would seem to suggest he's definitely going to run. Likewise, Trump has also managed to raise an incredible $122 million in funds through his various political committees (via ABC News).
However, the former commander-in-chief has also been besieged by controversy, particularly in relation to his alleged involvement in the deadly Capitol riot. There's also the issue of the 2020 election being "stolen" from him, a widely disproven fallacy that Trump and his cronies are still pushing to this day, over a year into President Joe Biden's term. Regardless, the former commander-in-chief remains incredibly popular with the GOP, even compared to Florida Gov. Ron DeSantis, the presumed favorite to run in 2024. 
It seems reasonably likely Trump won't confirm either way until after the 2022 midterms, but in the meantime, this is how Biden feels about possibly facing off against him again.
Joe Biden welcomes the opportunity to face off against Trump again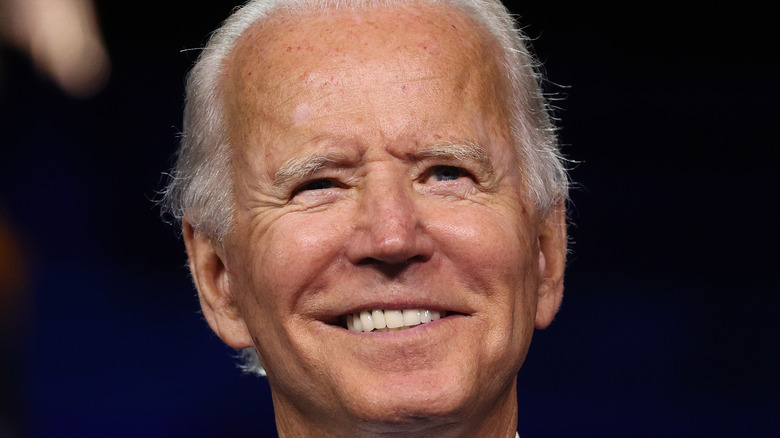 Win Mcnamee/Getty Images
During a recent press conference in Brussels, President Joe Biden was asked how he would feel about his predecessor, Donald Trump, running against him in 2024, as he's been threatening to do for months now. According to Politico, Biden responded, "In the next election, I'd be very fortunate if I had that same man running against me." The president is in Europe to meet with NATO, G-7 and other allies, in a desperate effort to figure out how they can work together to end the ongoing crisis in Ukraine. 
Biden fully intends on running for re-election, despite the fact he'll be 81 in 2024. Moreover, if Trump does run, it'll only spur him on, with the president telling ABC News in December, "Why would I not run against Donald Trump? He's the nominee, that increases the prospect of running." However, according to a recent Wall Street Journal poll, cited by USA Today, more than half of Americans don't believe Biden will run again following his challenging first year in office. Only 29% expect him to aim for a second term, in fact.
The president has been dealing with plummeting approval ratings — though crucially not as low as Trump's — for a while now, but he acknowledged during his Brussels interview that there's still a while to go before he starts thinking about 2024. Biden is primarily concerned with keeping control of the House and Senate in the upcoming midterms.