Is Wearing Nail Polish Topcoat Worth It?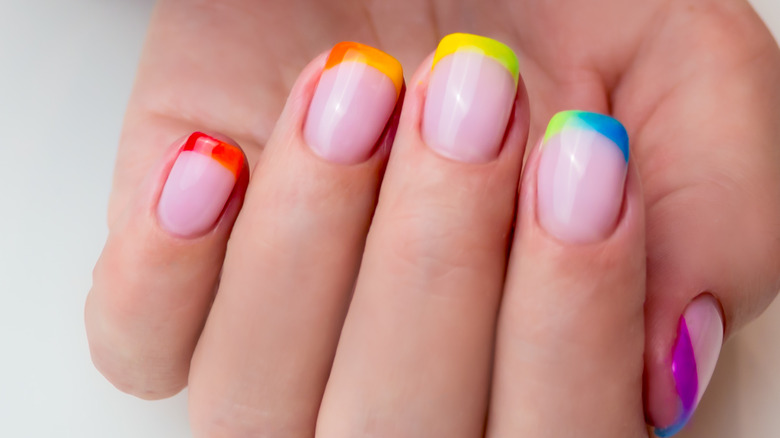 Yuliya Ufimtseva/Shutterstock
We may receive a commission on purchases made from links.
We all love a sleek new manicure. There's nothing like a set of freshly painted nails to help improve your confidence, amplify your look, complement your outfits, and add some character to your nails. Many also enjoy following some popular nail polish trends to feel stylish every season. According to Glamour, some of the most prominent nail art trends everyone will be asking for in Spring include the classic French manicure, olive green hues, crayon-inspired colors, floral details, and lots of light blues. 
When doing their nails, many nail art enthusiasts use a clear topcoat when they finish applying their nail polish, and it's fully dried. So, what exactly is a nail polish top coat? CND noted that a topcoat is an additional coat of nail polish that you add over your manicure to help those layers of polish avoid getting damaged for a more durable manicure. Some people are reluctant to invest in a topcoat and question whether or not the extra help is necessary, but the extra layer is worth it.
Here's why you should use a topcoat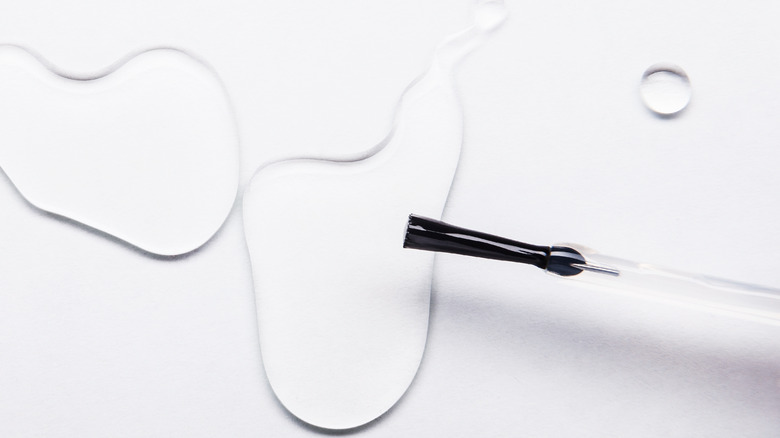 Fotaro1965/Shutterstock
While you may be unsure about purchasing an additional product to add on top of your manicure, that extra nail polish topcoat layer can save your manicure and is very beneficial. For example, Bluesky Cosmetics noted that a layer of topcoat will protect your beautiful manicure from getting chipped, making it stronger and more durable. Not only does wearing a topcoat provide protection but it also can help your nails look shinier, adding just the right amount of glossiness to your new manicure.
Furthermore, a YouTube video by Glamrs explained that wearing a top coat is crucial for any manicure if you want it to last while making your nails look more emphasized and attractive. Topcoats add security to the nail polish underneath them, keeping the colorful, neutral, or sparkly polish smooth and where it should be.
If you want to start using a topcoat for your manicures but aren't sure the best way to apply it, a YouTube video by HowcastCareStyle noted that you should apply your topcoat layer like you would any other nail polish, using between three and five strokes per nail, and you should try to be and slow and steady with it.
These topcoats will complete your newest manicure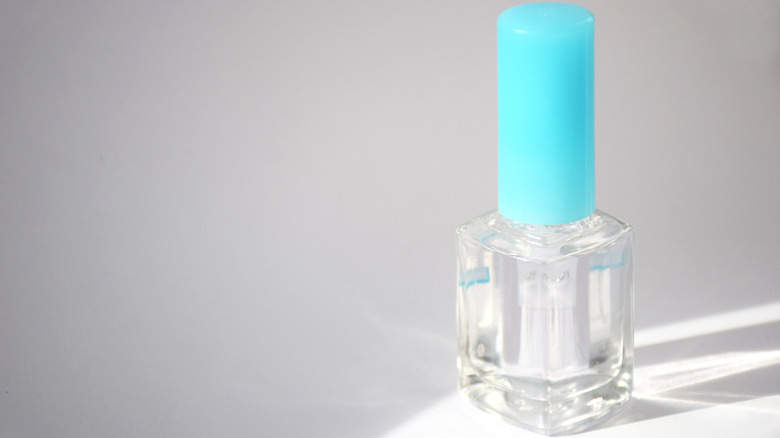 Iris_AN/Shutterstock
If you're looking to invest in a new nail polish topcoat, there are a plethora of options to explore, as Byrdie explained some of their favorite choices. For instance, if you're looking to save money, Sally Hansen's Insta-Dri Anti-Chip Topcoat is currently available at Amazon for less than $5 and on Ulta for just below $6, so it's a total steal. Manicure enthusiasts with busy schedules should check out Essie's Good to Go Topcoat. Currently selling at Amazon for less than $8 and Ulta for $9, this topcoat dries super fast. Stylish shoppers looking for a very glossy finish will love the Looking Glass Topcoat by Cirque Colors. You can get this product with a base coat for $20 on Amazon. 
While we love those options, we couldn't stop there because Allure noted some more excellent picks. For example, another fast-drying option is the Need for Speed topcoat by Morgan Taylor. Currently available at Amazon for $9.50, this topcoat is perfect if you're in a rush but don't want to sacrifice protecting your manicure. Not everyone wants a glossy finish, and if you're someone who prefers a matte look, OPI's Matte Topcoat is perfect for you. It's available at Ulta right now for under $11 and has a 4-star rating.