Is David Dobrik's New Perfume Worth It?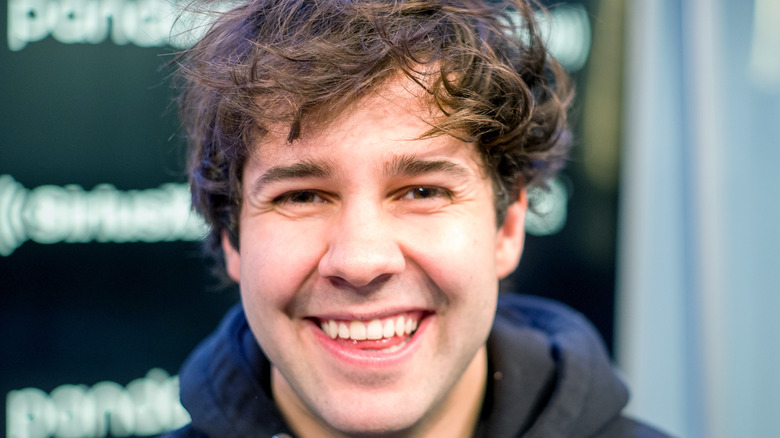 Steven Ferdman/Getty Images
David Dobrik is a successful YouTube personality who got his humble beginning from posting a video on Vine in 2013. Journal reports that as a leader of the Vlog Squad, he collaborated with famous Viners like Jason Nash and became a household name by posting funny blogs based on real-life situations and blooper reels, and they were entertaining at first. Like many young Internet celebrities, he did cross the line when he started posting dangerous "pranks" that traumatized many just for the sake of clicks (via Rolling Stone). It was only a matter of time before people noticed the problem with his "hilarious" posts that were deeply insensitive, including videos that fat-shamed and slut-shamed his friends, per BuzzFeed. 
Business Insider reported controversies over a woman being sexually assaulted by one of the Vlog Squad members, which should have serious consequences. He lost sponsorship deals, issued an apology, and decided to "take a short break" from his online presence per, CNET. But is that enough? 
Like many internet sensations, he was able to capitalize on his fame to become a successful entrepreneur, striking the iron while it was hot. He has also delved into the world of beauty by launching his own line of "influencer" perfumes conveniently named David's Perfume. But should we overlook his actions?
If you or anyone you know has been a victim of sexual assault, help is available. Visit the Rape, Abuse & Incest National Network website or contact RAINN's National Helpline at 1-800-656-HOPE (4673)
David's Perfume #01 is bold and sexy
David's Perfume by David Dobrik consists of two unisex perfumes with the tagline, "Elegant, Yet Unexpected" (via David's Perfume). The first is aptly named David's Perfume #01: Amber & Cashmere, and they describe it "as invigorating as it is alluring," which comes in a sexy black bottle. It was a finalist in The Fragrance Foundation 2021 Awards and retails for $60 on the website. According to Byrdie, all perfumes can be divided into seven categories, and two of them are woody and spicy — which is exactly how the brand describes David's Perfume #01. One of the reviewers said, "This perfume smells sooo sexy! My first spray, and I immediately fell in love!" 
Forbes is a fan of these unisex fragrances created by Dobrik, who shared with the outlet that he created them because the scent is "the first thing [he notices] in a person," and he wanted to create something that felt "clean and confident." Sweety High loves this perfume created by the media mogul and added it would be great for special occasions but not everyday use because they consider it "more sexy." Looking for a special gift for someone for their birthday? You might be in luck because Refinery29 included David's Perfume #01 among great gift ideas for your crush. 
David's Perfume #02 has a subtle and feminine vibe
His other fragrance, David's Perfume #02: Grapefruit & Sandalwood, is made with the top notes of grapefruit, followed by the middle notes of violet leaf, and ends with the base notes of amber and sandalwood (via David's Perfume). It comes in a clear bottle, and the liquid itself is pink in color, giving it a more feminine vibe. It is also available on his site for $60. A reviewer on the website even said, "This fragrance is sexy yet elegant! It's subtle but lasts all day long." So, it doesn't look like you have to keep spritzing more perfume throughout the day.
Spa and Beauty described this perfume as "warm, but also fresh and clean smelling," which is quite an intriguing combination because fruity and floral fragrances aren't described as warm most of the time. According to Sweety High, this perfume veers more towards the feminine side than the first one but is still relatively "bold." They seem to love it.
So, what did inspire him to create his own line of perfumes? David Dobrik told Paper, "I met somebody that had this certain smell on them that I just completely fell in love with." We can only wonder who the mysterious stranger behind the idea could be.