The Celebrities Who Reportedly Talked Will Smith Down After His Scary Attack On Chris Rock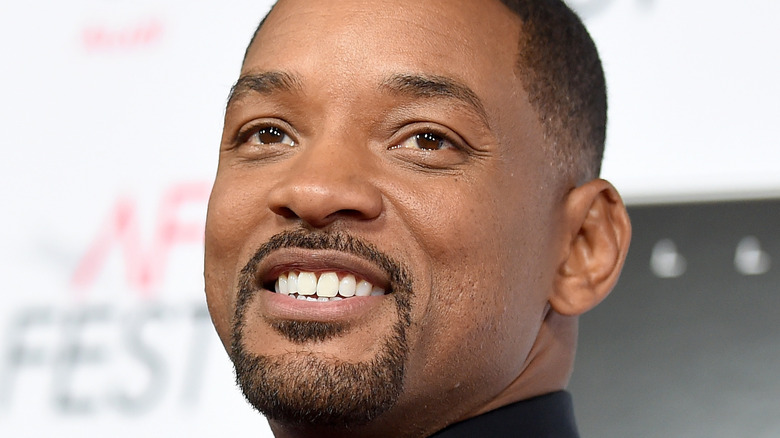 Kevin Winter/Getty Images
Both the live audience and the at-home audience across the globe were stunned silent at the 94th Annual Academy Awards when presenter Chris Rock made what many consider to be a tasteless joke about Jada Pinkett Smith's alopecia, a condition that causes hair loss. While presenting the award for Best Documentary, Rock was calling out celebrities he saw in the audience and when he spotted Pinkett Smith, he joked, "Jada, I love ya. 'G.I. Jane 2,' can't wait to see ya," referring to the actress' bald head (via People).
While Pinkett Smith laughed, her husband, actor Will Smith, shocked all when he walked onto the stage and slapped Rock in the face. Rock immediately said, "Oh wow," Will Smith just smacked the s*** out of me."
After the moment passed, social media users revealed what Smith said to Rock after ABC blocked out sound and Smith went back to his seat. The words that came out of his mouth were, "Keep my wife's name out your f***ing mouth!"
Apparently, when the commercial break came, Smith was still fuming to the extent that he had to be talked down by friends.
How Will Smith calmed down before accepting his Oscar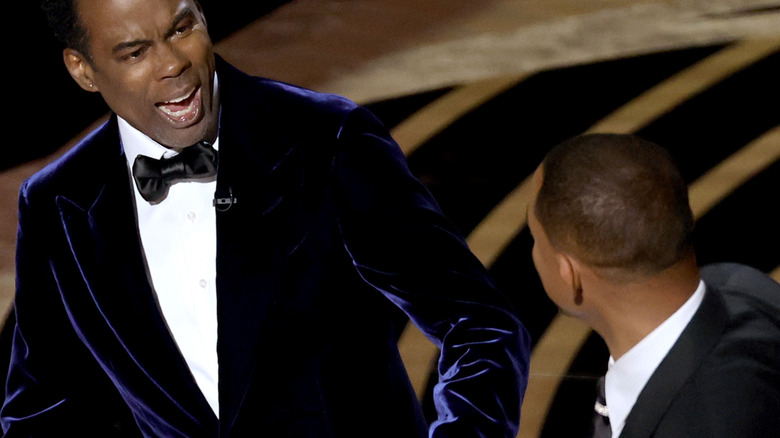 Neilson Barnard/Getty Images
The night offered another jaw-dropping moment when Will Smith won the Best Actor award for his role in "King Richard," the story of tennis greats Venus and Serena Williams' father, Richard Williams. When Smith nearly said something he knew he shouldn't, he stopped himself and thanked Denzel Washington for what he had said to him earlier: "At your highest moment be careful — that's when the devil comes for you." The camera then panned to Washington nodding and smiling.
A tweet from "Hollywood Reporter" columnist Scott Feinberg confirmed it was indeed Washington, as well as actor and producer Tyler Perry, who talked Smith down after he smacked Rock.
"During the commercial break, Will Smith is pulled aside and comforted by Denzel Washington and Tyler Perry, who motion for him to brush it off," Feinberg wrote. "Will appears to wipe tears from his eyes as he sits back down with Jada, with Denzel comforting Jada and Will's rep by his side." It was a night full of drama, there's no denying it.