Rueby Wood & Aria Brooks Tell Us All About Better Nate Than Ever - Exclusive Interview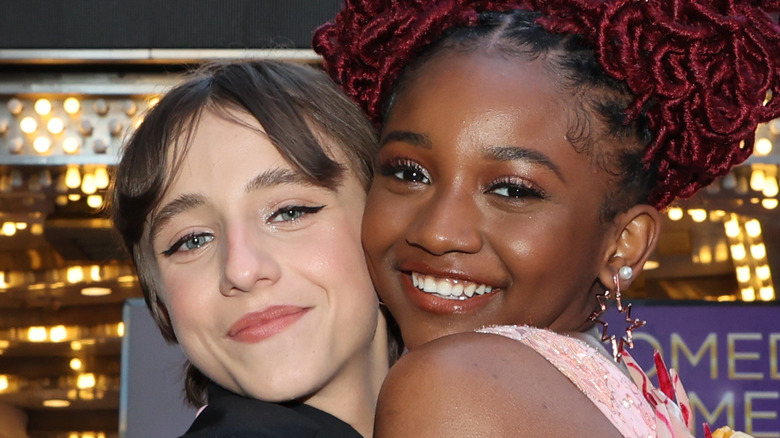 Cindy Ord/Getty Images
If you have a big dream, you'll love Disney's new movie "Better Nate Than Ever."
The family film follows 13-year-old Nate, who has aspirations to one day make it big on Broadway. After not receiving the leading role in his school play, his friend Libby informs him about an open audition for "Lilo & Stitch" on Broadway. There's only one problem: it's all the way in New York City, and Nate doesn't have his driver's license. However, with a bit of inspiration from his BFF, he goes after his dream and begins to believe in himself once again. "Better Nate Than Ever" is an inspiring story that will have you wanting to chase after your wildest dreams, too.
Off the set, Broadway actor Rueby Wood (who plays Nate) and "All That" star Aria Brooks (who plays Libby) became just as close as their two characters — and we had the chance to ask them all about the experience. In an exclusive interview with The List, the young stars told us their favorite scene from the film, the life-changing advice Lisa Kudrow shared, and the unique audition that it took to become Nate.
Rueby Wood compares a film set and the Broadway stage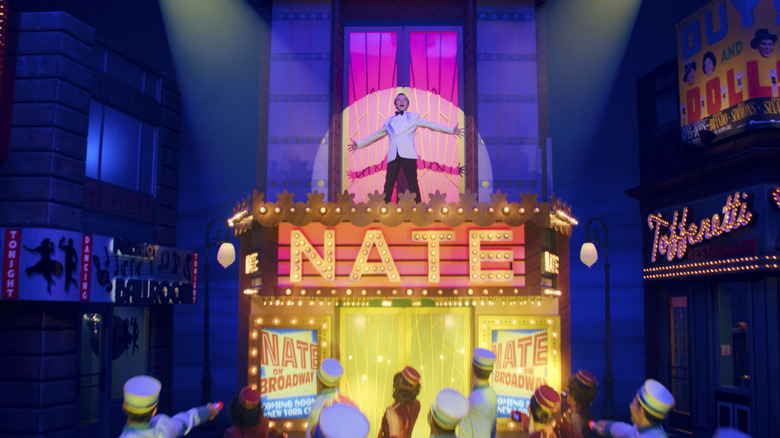 Disney+
Rueby, "Better Nate Than Ever" is your first film. How was this experience different from being on Broadway?
Rueby Wood: Well, there's a lot of differences, but being in this movie was so incredible because when you're on stage and you're performing in front of people, you can feed off the audience's energy, and if something messes up, you can keep going. In film, it's a lot more personal, and you have time to do things over again to make sure you get the emotion and the facial expression just right so that it's perfect. I was lucky enough to have my film debut be about Broadway, so I got the best of both worlds. I was so happy.
Was there anything that surprised you the most about being on a film set?
Wood: How everything works. Everybody has their piece, and it's all one big machine, and when done right, it moves really smoothly, and I think that it was a blast.
The advice Lisa Kudrow gave Aria Brooks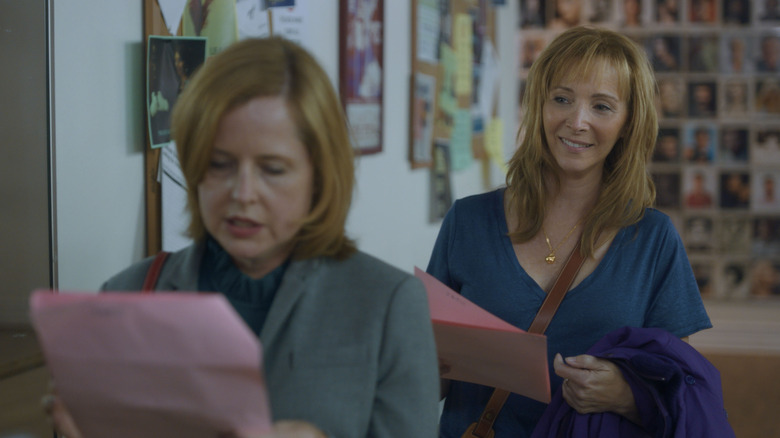 Disney+
Lisa Kudrow's character, Aunt Heidi, gives Libby some life-changing career advice. What was some of the best advice she gave you, Aria?
Aria Brooks: When we first met her, and we first started rehearsals, we got on a Zoom [meeting] with her, and we got to ask her questions and meet her. I remember asking how to maintain — Tim [Federle, the writer and director] knows exactly how I worded it. I don't remember exactly how I worded it, but basically how to maintain longevity as an actor and sticking it out.
She gave me some good advice with that, basically a big theme in this movie, actually, being yourself and staying true to who you are, not letting hard times get you down, that kind of thing.
She gave me a lot of advice in the moment, too. I think as a visual person, a visual learner, most of the stuff that I learned from her came from being on set with her and working with her.
Rueby describes auditioning and Aria explains how she broke into entertainment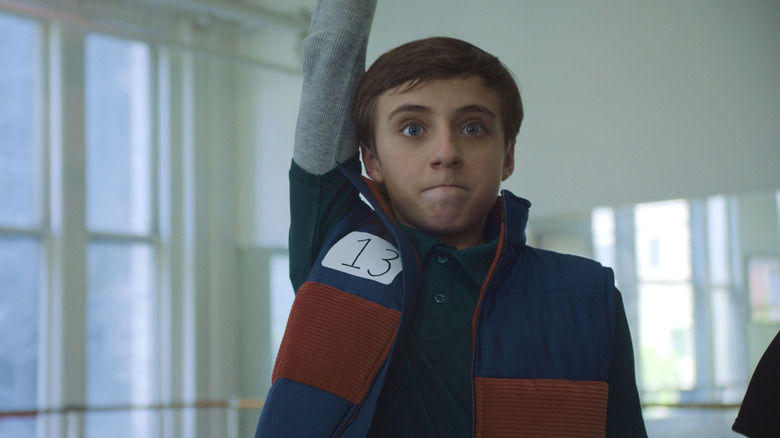 Disney+
Rueby, how was your audition for this movie different from Nate's audition in the film?
Wood: It was pretty different, because it was all on Zoom, and it was all virtual. When I auditioned, I sent in a self-tape. I filmed myself doing the song in the scene, and then I sent it in. Then I got a call, and all the callbacks were on Zoom, so it was really wild, because I've done in-person auditions for theater, and those auditions are fairly similar to what Nate does in the movie. Some things are a little dramatized for the story, but overall, it's a pretty accurate representation of what that is like.
Aria, have you always wanted to work in entertainment like Libby?
Brooks: Yes. I always wanted to be a performer and be on camera since I was young, because both my parents are performing arts teachers. I grew up around that. I grew up in their classrooms and picked it up, but then I truly started to love it for myself when I was around ten. Since then, that's when I started taking it seriously, and I've been auditioning and really going after it.
What drew these young stars to the family film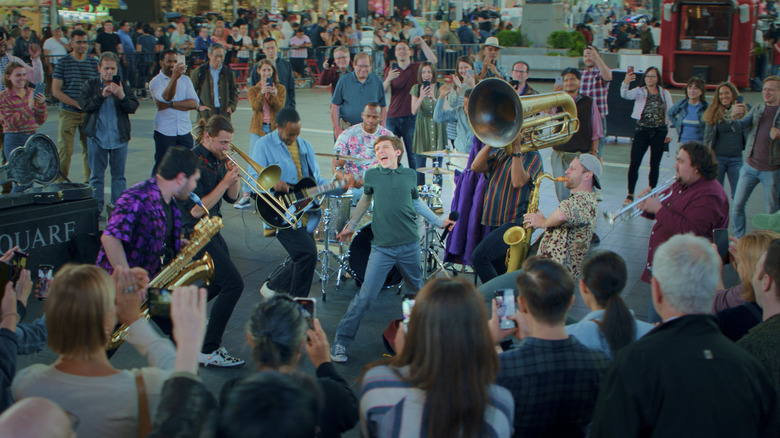 Disney+
Aria, your character, Libby, has some comedic qualities to her. Has doing this movie, and also starring on "All That," made you want to tackle more comedic roles in the future?
Brooks: I definitely think comedy, that's my strong suit. I'm going to continue to go out for all types of things, drama and action, whatever it is, but I love comedy. Comedy, I feel like, will always be at the root of it for me, because that's how I am in real life: the comedic, the quick timing, so I want to continue to explore comedic roles and even drama roles, whatever it is. All roles are for me, I feel like.
Rueby, what was it that spoke to you and made you want to make the move from theater to film?
Wood: Well, from the moment that I read the audition, I fell in love with the story, and the characters, and the message. I felt like it was so perfect for me, and I knew that if I got the part, I would have the most amazing time doing it.
Since COVID started, there hadn't been a lot of [in-person] theater auditions, so I had been auditioning for a lot of TV, and film, and voiceover, and all sorts of digital media, so I was open to do whatever. I'm glad I got to experience this.
The stars share their favorite scene from the film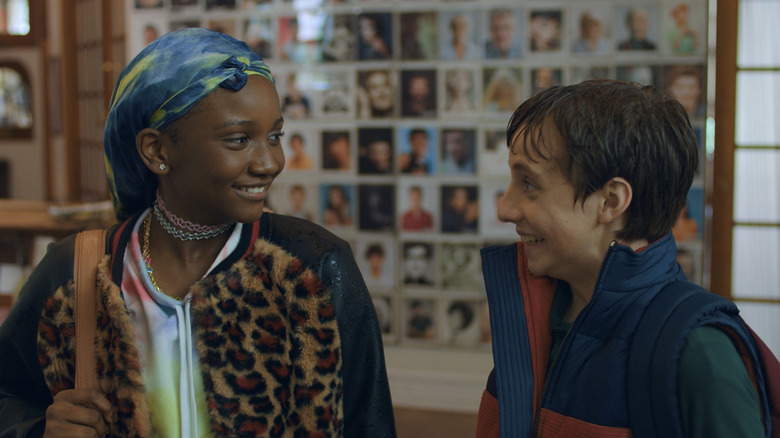 Disney+
What was your favorite scene to film for "Better Nate Than Ever"?
Brooks: My favorite scene to film would probably have been the go-off scenes during the end credits, because those were — it was our last couple weeks of filming, so we were all super close, and it was this energy. We always have good energy on set, but it was a different kind of energy that last week or two. I loved getting to film the go-off scenes.
Wood: Yeah, and to piggyback off that, I agree with Aria. Those scenes were so amazing, because, like she said, we had gotten so close, and there was a lot of emotion behind it. Since it was the end and since it was coming to a close — it was the end, but just the beginning, because the movie's going to be released, and it's going to take off. It was so amazing to me, because in those days, we could truly let go and have fun. It was some of the best times.
"Better Nate Than Ever" is available to stream Friday, April 1 exclusively on Disney+.