Why Fans Were Concerned About Jada Pinkett Smith's Behavior At The Oscars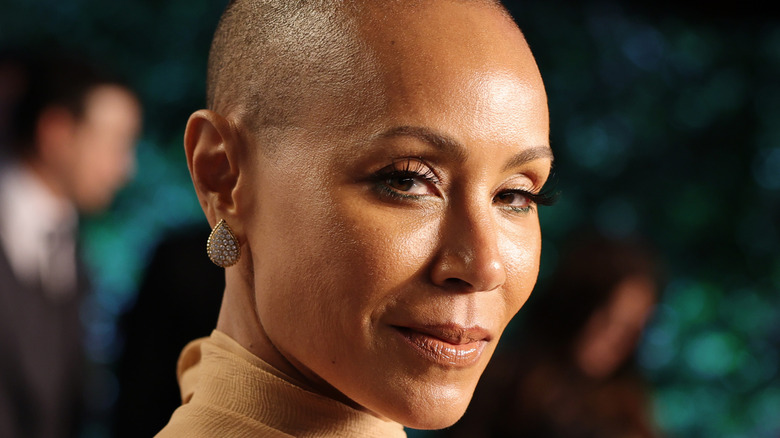 Rich Fury/vf22/Getty Images
The 94th annual Academy Awards took a turn for the surreal when Chris Rock, presenting the Award for Best Documentary Feature, found himself at the mercy of soon-to-be Best Actor winner Will Smith. As The Independent reports, referencing Smith's wife Jada Pinkett-Smith's shaved head, the comedian joked, "Jada, I love you. 'GI Jane 2,' can't wait to see you." The "Girls Trip" star has been vocal about her struggles with alopecia, and clearly felt the joke was in bad taste judging by her reaction.
Smith, on the other hand, took his issues right to Rock himself by storming the stage and slapping him across the face. When the comedian tried to make light of the situation by joking around with the "King Richard" star, Smith told him emphatically, "Keep my wife's name out your f****** mouth." This isn't the first time Rock has made fun of Pinkett-Smith publicly, and it wasn't the first time at the Oscars either. However, per CNN, Smith subsequently apologized for lashing out during his acceptance speech.
Referencing Richard Williams, father of tennis legends Venus and Serena Williams, whom he portrayed in "King Richard," the actor stated that he "was a fierce defender of his family." Smith also acknowledged one has to have to a thick skin to work in the entertainment industry though, ultimately, he also had to be a "protector." Although the emotional speech touched many of those watching at home, Pinkett-Smith's reaction to her husband's behavior has fans concerned.
Fans accused Will Smith of exhibiting traits of toxic masculinity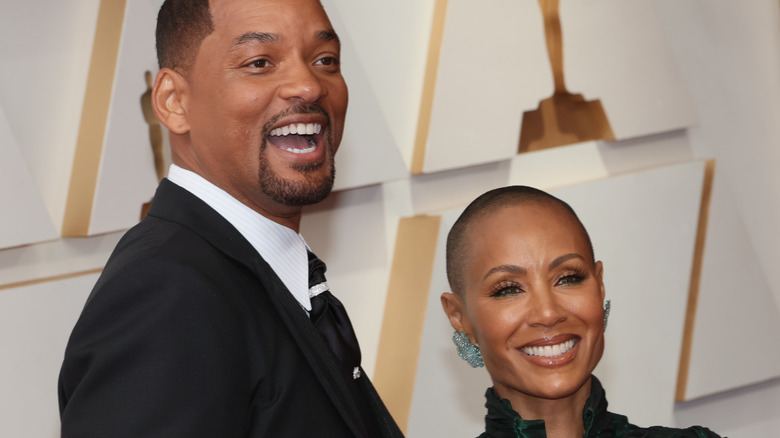 David Livingston/Getty Images
Social media users have been arguing over whether Will Smith should face legal consequences for slapping Chris Rock, but they're also hotly debating what Jada Pinkett-Smith's reaction to her husband's outsized defense of her, and indeed his words during Smith's acceptance speech, really means. As journalist Ross Bonaime wrote, "That cut to Jada Pinkett Smith nodding along to this speech was truly haunting. This is insane." Dr. Eric Ding, meanwhile, argued, "Will Smith's violent response on stage in front of millions was poor too. We need better role models for our kids." 
There were plenty of people who called Smith's behavior out as an example of toxic masculinity, and his wife, by condoning it, as complicit. One user wrote, "The whole incident, from top to bottom, was toxic masculinity. Neither of those dudes are the good guy here." Another user even suggested that, if the "King Richard" star truly cared about Pinkett-Smith's feelings, he would've comforted her rather than resorting to physical violence. 
However, as one commenter pointed out, there's arguably a double standard at play here. They asserted, "This question is rhetorical. why [sic] is it that white feminists have labeled will smith's behavior 'toxic masculinity' but not chris rock's pattern of belittling jada pinkett-smith and black women as a whole?" Maybe the "Girls Trip" star was simply tired of Rock getting away with publicly insulting her, or perhaps the alopecia joke really was too far.