Christina Haack And Joshua Hall Just Took A Huge Step In Their Relationship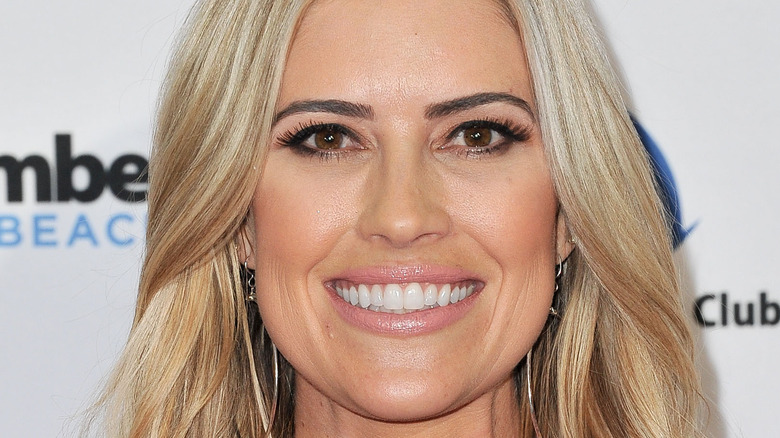 Allen Berezovsky/Getty Images
Christina Haack raised eyebrows when shortly after divorcing her second husband, Ant Anstead, the HGTV star coupled up with realtor Joshua Hall. Then, soon after the world learned that the mom of three had a new man in her life, Haack announced she was engaged to Hall, a revelation that saw her catching some heat online. No matter—the former host of "Flip or Flop" defended the speed of her relationship and promptly went on living her life.
Now, Haack has shared that the couple just took their relationship to the next level. No, the reality star is not declaring that the two said "I do." Although, some fans believe Haack and Hall are already married (via Life & Style).
Taking to Instagram, Haack instead updated fans that she and Hall will now be working together. "Best team ever!" the star captioned a photo of herself with Hall and a team of people. "First week back to filming #ChristinaOnTheCoast ..." she continued, adding, "Josh and I started our own production company called 'Unbroken Productions.'"
That's right—now the couple is not only headed to the altar, but are joined in holy business partnership.
Fans are here for Christina Haack's big announcement
Haack's Instagram post announcing that she and Hall launched a production company also revealed that this move is something she has wanted to do for a long time. "Having my own production company to produce what I want has always been a huge dream!" she wrote, adding about her partner in romance and more, "I love that I have the most hard working / creative partner in Josh and we have this amazing team to create content with. I am so grateful for this new opportunity."
The star's post ended with the announcement that the team was working to produce the fourth season of "Christina on the Coast" and teased "some brand new shows!!"
Fans were quick to react with approval to Haack's share, with one fan commenting, "You are the hardest working woman I've ever met." "Way to go! #powercouple," someone else said, while another fan enthused, "So cool that Josh will be part of the next season!!!" Seconded another fan, "I'm rooting for you and Josh! Wishing you both much success!"