Reba McEntire Stuns Fans At The Oscars With Her Timeless Look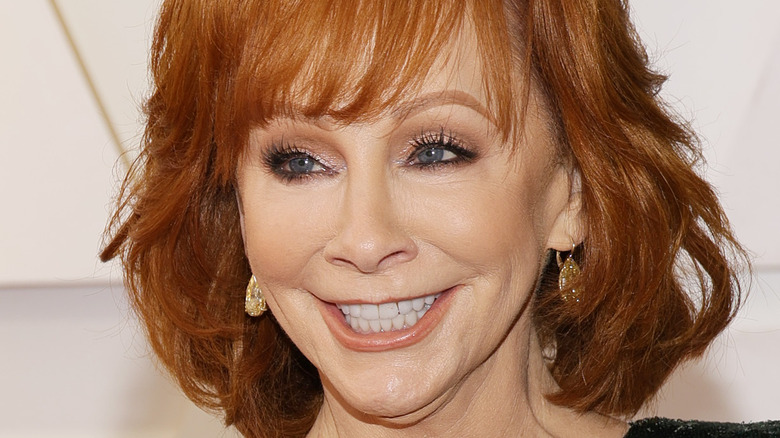 Mike Coppola/Getty Images
We may receive a commission on purchases made from links.
Last night, Reba McEntire attended the 94th Academy Awards, and everyone seemed blown away by how youthful the 66-year-old singer looked (via Yahoo Lifestyle Canada).
At the event, she performed "Somehow You Do," per Rolling Stone, which was nominated in the best original song category due to its use in "Four Good Days," a film about substance abuse recovery that stars Mila Kunis and Glenn Close (via IMDb). However, the song lost to Billie Eilish and Finneas' "No Time to Die," per Vanity Fair.
The Tennessean noted that this was the first time McEntire performed at the Oscars while being nominated for an award, and that this was her first time attending the Oscars since 1991 — a time she sang the ″Postcards From the Edge" song ″I'm Checkin' Out."
"It's exciting to perform," McEntire told the publication, adding that partnering up with Diane Warren, who wrote "Somehow You Do," was "a dream come true" because Warren is the "cream of the crop." However, just as her performance was timeless, so was her look, and fans are obsessed.
Reba McEntire uses a few tricks to keep her looking young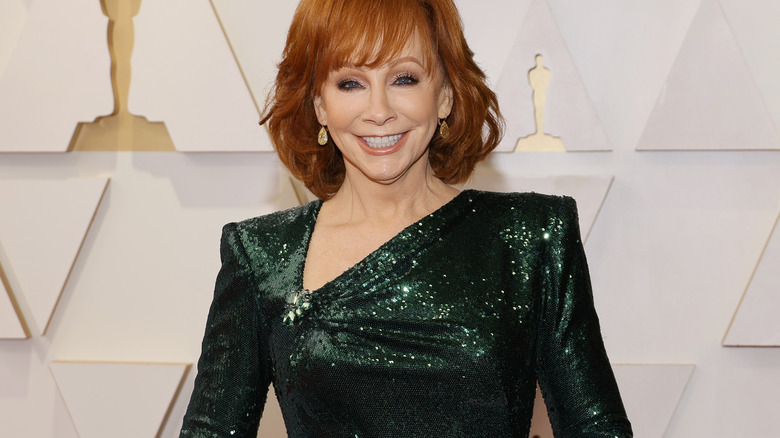 Mike Coppola/Getty Images
Before the Oscars, Reba McEntire turned to Instagram to share her look, saying she was "red carpet ready." According to the caption, her emerald green dress was by Dolce & Gabbana, her jewelry was from Rahaminov Diamonds Jewelry, her shoes were LaDuca, her glam was done by Neil Glen Robison, and her look was styled by Joseph Cassell Falcone.
Fans commented how "beautiful" and "stunning" the singer looked, with one Instagram user even saying that she "keep[s] getting better with age." If you've ever wondered how much McEntire is actually worth — or if her money is the key to her beauty — you're not alone. However, according to interviews she's done, she doesn't appear to use a lot of face products.
For instance, McEntire discussed with Closer Weekly the one product she uses to keep her skin looking flawless. "Moisturizer! ... Love me some Watercress Hydration Cascade by Farmhouse Fresh. I apply before makeup and right after cleansing at night," the "Just Like Them Horses" singer told the outlet.
She also shared with People how she continues to stun, saying that she will always "watch what I eat, get plenty of rest, [and] drink lots of water." When she says it, it sounds easy! Still, we can't get enough of McEntire's standout night at the 2022 Oscars.