Will Smith's Behavior After The Oscars Ended Isn't What You'd Expect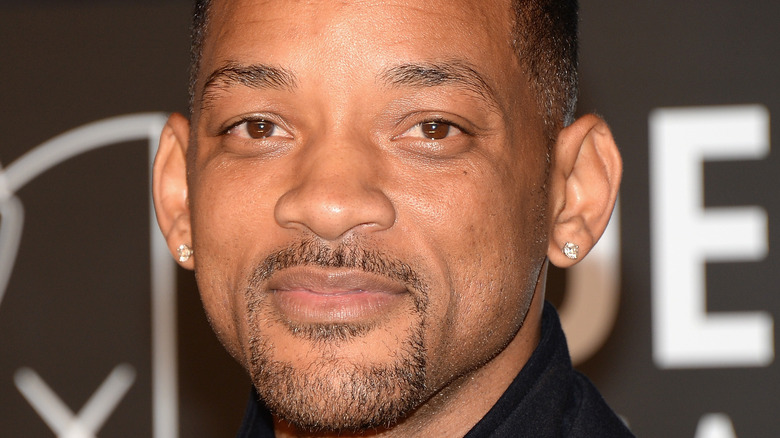 Jamie Mccarthy/Getty Images
Will Smith shocked audiences with his violent reaction to one of Chris Rock's jokes at the 2022 Oscars. After Rock made an insensitive remark that referenced Smith's wife, Jada Pinkett Smith, and her shaved head. Smith went on stage and slapped Rock after the comment was made (per The New York Times). Pinkett Smith has alopecia and has candidly discussed her condition on social media, taking to her Instagram account to talk about the matter directly. According to People, Pinkett Smith ultimately decided to shave her head at her daughter Willow's encouragement.
After Smith returned to the audience, he continued expressing his anger by telling Rock, "Keep my wife's name out your f***ing mouth!" (via The New York Times). As NPR reported, audiences were astonished that Smith didn't face any repercussions for his actions. Additionally, he was called on stage less than 30 minutes later to accept his first-ever Oscar for best actor. Smith's acceptance speech was notable in that he didn't apologize to Rock directly — his apologies extended only to the academy and his "fellow nominees." When the broadcast ended, no police reports had been filed with the LAPD (via The New York Times).
According to Vanity Fair, Sean "Love" Combs took to the stage after the slap and said, "We're going to solve that like family at [Jay-Z's] Gold Party, but right now we're moving on with love." Based on Smith's behavior after the Oscars ended, it's clear that he was hoping to move on from the situation as quickly as possible. 
Smith danced to his own tunes — literally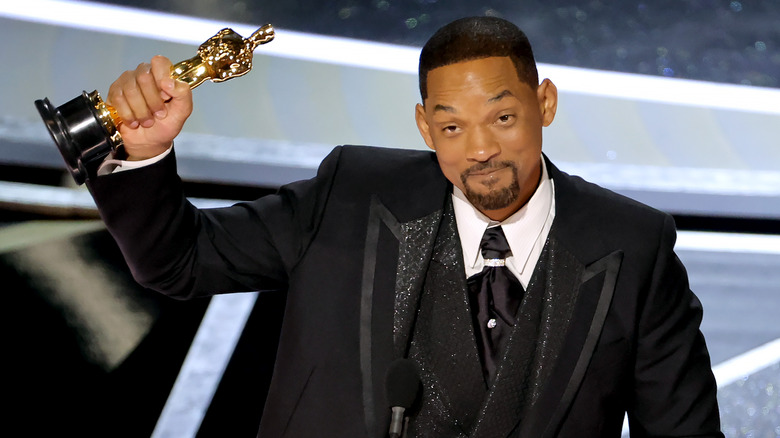 Neilson Barnard/Getty Images
Following his controversial behavior at the 94th Academy Awards, Will Smith decided to make the most of his evening. The award-winning actor arrived at Vanity Fair's post-award show party with a group of family and friends. As the D.J. played one of Smith's hits, "Gettin Jiggy Wit It," Smith took to the dance floor and grooved with his award statue (per Vanity Fair). The D.J. also gave another nod to Smith's musical successes by playing "Summer Time" shortly after (via ET).
After wearing a billowing green Jean Paul Gaultier dress for the ceremony, Pinkett Smith switched things up and wore a glistening strapless sheath dress and a sweeping cape for the after-party (per ET). Smith and his wife opted out of answering reporters' questions and instead focused their energies on posing for photos as a family. According to Variety, Smith put his questionable behavior behind him and devoted himself to the celebration, "posing for selfies, shaking hands and fist-bumping strangers." 
Smith also received hugs and adoration from his fellow after-party attendees. "It's been a beautiful night — it's all love," he said (per the Daily Mail). According to the outlet, Chris Rock and Smith did not have a chance to revisit their earlier altercation at the party. Rock decided not to attend, supposedly because Smith's group numbered over 20 people.
Other celebs were still reacting to Smith's slap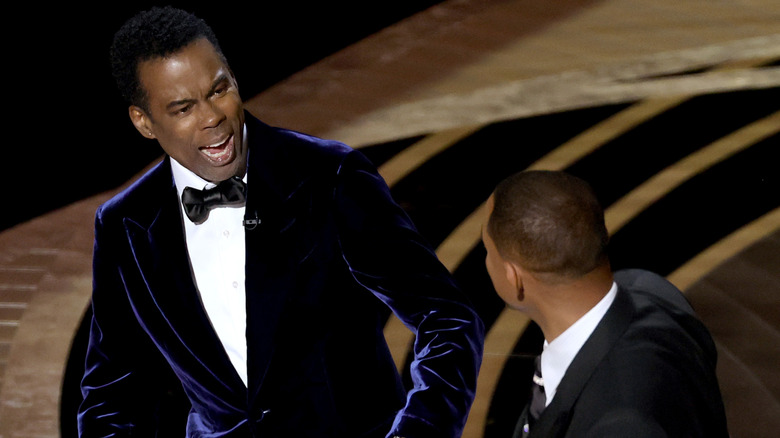 Neilson Barnard/Getty Images
While Will Smith was dancing and celebrating his best actor award, other celebrities were speaking out regarding his explosive behavior towards Chris Rock. Mark Hamill made use of the hashtag "UgliestOscarMoment_Ever" on Twitter. The actor, famous for his role as Luke Skywalker in the "Star Wars" franchise, said, "Stand-up comics are very adept at handling hecklers. Violent physical assault ... not so much."
Actress Sienna Miller spoke out in favor of Smith, saying, "I hope you would do the same for me," to her date (per Vanity Fair). Comedian Tiffany Haddish made surprising comments as she vocally supported Smith. "It made me believe that there are still men out there that love and care about their women, their wives," she told People. Other stars disapproved of Smith's use of violence. 
Sophia Bush commented on Twitter, "Assault is never the answer." However, the actor also condemned Rock's choice of material saying, "Punching down at someone's auto-immune disease is wrong. Doing so on purpose is cruel." At Vanity Fair's after-party, Sean "Love" Combs said, "I was just as shocked as everybody else" (via Vanity Fair). Combs had taken the stage at the award show right after the incident and felt he needed to respond to what had happened. "I thought it was very important to bring love into the room. I think we know both of those guys' character, and, you know, sometimes sh** happens," Combs remarked.