Super Pumped's Noah Weisberg On What It's Like Working With Joseph Gordon-Levitt - Exclusive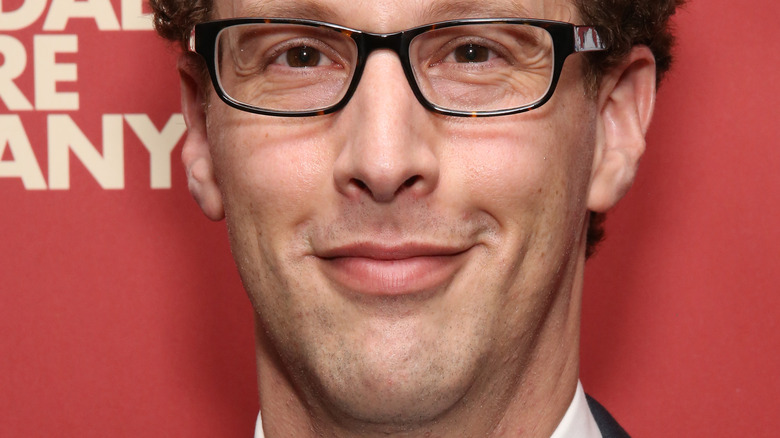 Walter Mcbride/Getty Images
If you've ever wanted a fictional retelling — though naturally based on a true story — of how some of the biggest companies in the world have risen to global power, Showtime has you covered. The network's latest show, "Super Pumped," is an anthology series, with each season telling the tale of one major company's ascension. Currently airing is Season 1's recounting of Uber's CEO claiming the global ride share market, with Season 2 reportedly set to feature Facebook and Mark Zuckerberg's success story (via The Verge).
"Super Pumped" Season 1 stars Joseph Gordon-Levitt as Travis Kalanick, the hungry founder of Uber who will do anything necessary — including evading the starved taxi industry and angry politicians — to make his mark on the world. Gordon-Levitt is joined by the likes of Uma Thurman and Kyle Chandler, but they'd all be nothing without the genius of Quentin, a brilliant Uber engineer portrayed by Noah Weisberg. 
As it turns out, the cast of "Modern Family" has moved on to more groundbreaking projects, including Weisberg, whose role on "Super Pumped" follows an impressive stint on the now-canceled "Zoey's Extraordinary Playlist." In fact, in an exclusive interview with The List, Weisberg revealed just how much "Modern Family," "Zoey's Extraordinary Playlist," and "Super Pumped" mean to him. Interestingly, because Quentin and Travis work hand in hand together, he also revealed what it's really like to work with Gordon-Levitt.
Noah Weisberg was a fan of Joseph Gordon-Levitt before Super Pumped
Joseph Gordon-Levitt has been in the industry since the 1980s and produced such iconic films as "Inception." However, his work on Showtime's "Super Pumped" may soon become the truest testament to his craft. Noah Weisberg appears to agree.
"He's such a great guy ... It was educational because, like I mentioned with Uma [Thurman], [he's] super focused, there to do his job," Weisberg told us. "Unlike anyone else in the show, he's got 9,000 lines per scene. He has to focus, but he's kind and generous to work with." For Weisberg, Gordon-Levitt isn't the only standout actor to keep your eye on, either. "Again, super focused, so for someone like me who gets to come into the show and have some great moments with him and then sit and also watch his work and watch a lot of these guys, they're ... The men and the women on the show are so good."
"I was a fan," Weisberg ultimately revealed when asked if he was familiar with the "Looper" actor before "Super Pumped." "When you get to meet somebody like Joe — now I'm slightly on the inside, so I get to call him Joe — and you're like, 'Oh, you're a kind person, you're a family person and you care about your career, but you also care equally ... about your family ... and what's going on in the world,'" Weisberg continued. "This feels great when you look up to people and they're just as kind as they are talented."
New episodes of "Super Pumped" air on Sundays at 10:00 p.m. ET every week on Showtime. Episodes are also available for streaming and on demand for Showtime subscribers.