Amy Schumer Pokes Fun At Hollywood Elite In Oscar's Monologue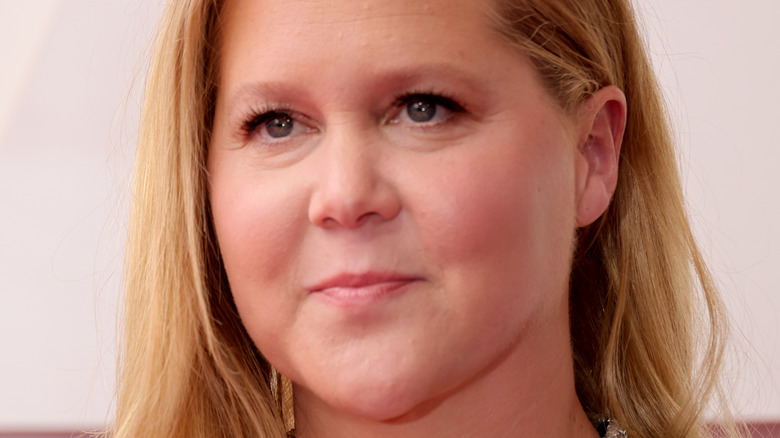 Momodu Mansaray/Getty Images
For years, actor and comedian Amy Schumer was on a hot streak, touring the country on standup gigs, starring in her own sketch show "Inside Amy Schumer", and writing and starring in the Judd Apatow film "Trainwreck" (which was loosely based on her own life). But after a few box office flops with "Snatched" and "I Feel Pretty", Schumer took a step back from the spotlight. In 2018, she told The Hollywood Reporter that she felt as though things were "getting a little stagnant." However, the premiere of Schumer's new Hulu show, "Life After Beth" — which, like "Trainwreck," is also inspired by her personal life — signals a new start for the actor's career.
On top of that, the new mom nabbed a very high-profile gig as the 2022 Oscars co-host, along with fellow comedians Wanda Sykes and Regina Hall. Though Schumer had been asked to host the prestigious event in the past, the Daily Mail reported that she'd turned down the offers ... until now. "I just feel like we're coming out of this pandemic and I think we all have this new lease on life and I'm like, I want to host the Oscars," she said during a March 16 appearance on "The View." "I want to perform and I feel like telling jokes and getting to do it with Wanda and Regina is beyond my wildest dreams." Naturally, the comedian's monologue did not disappoint. 
Amy Schumer didn't hold back with her celebrity roast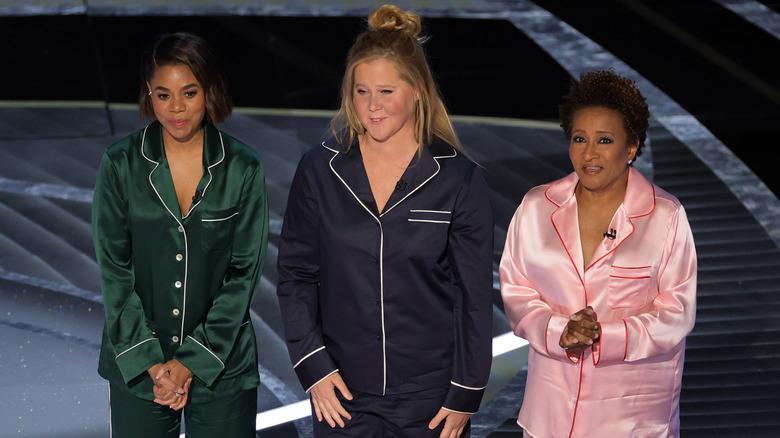 Neilson Barnard/Getty Images
In advance of Schumer's big hosting gig, she made it clear that no one was off-limits to be roasted, as she revealed on "The View." "I'm also a mean-spirited comedian. I consulted my lawyer and he said, 'You can't say half of those things.' So the things I can say, I'm going to," Schumer joked on the show. While we may never know what Schumer left out of her monologue, we do know what she left in it. Per Decider, she chose some of Hollywood's biggest A-listers as targets for her jokes.
"'Don't Look Up' is nominated. I guess the Academy members don't look up... reviews," Schumer said, poking fun at the best picture-nominated film and its director, Adam McKay. (Her joke was in reference to the fact that the film had been widely panned by critics.) Schumer then called out the film's star, Leonardo DiCaprio, and his proclivity for dating much younger women. "Leonardo DiCaprio, what can I even say about him? He's done so much to fight climate change and leave behind a cleaner greener planet... For his girlfriends," she added, according to Decider. Next, the comedian turned her attention to nominee writer-director Aaron Sorkin and his film "Being the Ricardos." "Aaron Sorkin: a genius! Truly, right? I mean, the innovation to make a movie about Lucille Ball without even a moment that's funny?" she quipped. Who knows, maybe Schumer will even consider incorporating these jokes into her act.