Sandra Lee's Return To The Red Carpet Post-Surgery Did Not Disappoint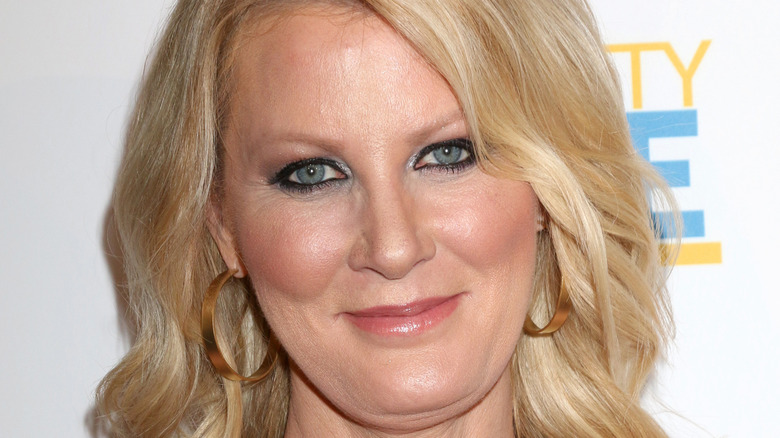 Kathy Hutchins/Shutterstock
Jaws dropped when Sandra Lee stepped onto the red carpet to attend Elton John's 2022 Oscars viewing party just a few weeks after surgery! Lee, who is a member of the iconic hitmaker's AIDS Foundation (via People), underwent a full hysterectomy in early March 2022. "Regarding the surgery — honestly it was a bit rough, but I am resting (hard for me you know I like to work), I am sleeping a lot and I have set my alarm to stay ahead of the pain relief medication, Lordy this is painful I have to say," she wrote on Instagram after the procedure.
Lee battled breast cancer in 2015 and underwent a double mastectomy. The Food Network star revealed that she postponed a follow-up surgery due to the COVID-19 pandemic. But she explained on Instagram that, after her friend's mother died from breast cancer that spread to her ovaries, Lee finally decided to move forward with the hysterectomy. 
While the recovery wasn't easy — the Emmy winner revealed she was violently ill three days post-surgery — she knows she made the right decision. "Surgeries are so brutal but I'm still glad I did it. Once they got the IV in, wonderful anti-nausea meds I felt much better," she wrote, adding, "I have such Wanderlust. No amount of time on this beautiful planet will be long enough."
Lee celebrated her new lease on life by donning a revealing gown for the annual Oscars event. 
Sandra Lee wore a 'F-U Cancer' gown created by a Ukrainian designer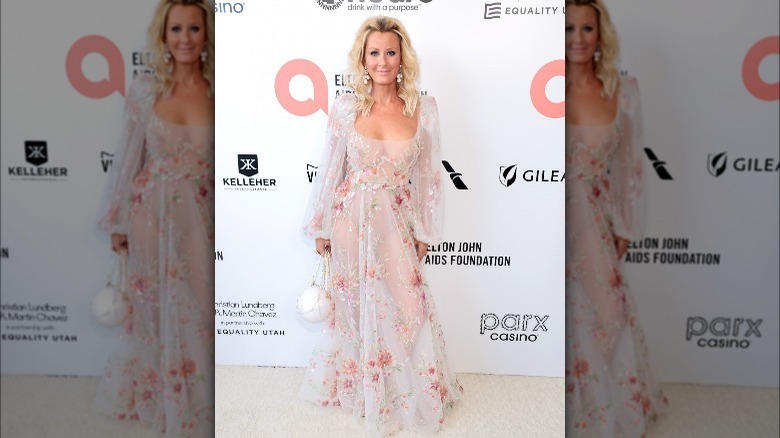 Jamie Mccarthy/Getty Images
Sandra Lee wore a daring dress to the Elton John AIDS Foundation's 30th Annual Academy Awards Viewing Party, just one month after having a complete hysterectomy. The sheer gown, created by Ukranian designer Anait Mkrtchian, featured floral embroidery. According to People, Lee referred to her look as "my couture F-U-cancer gown" and accessorized it with "a vintage pearl-shaped Chanel minaudière, Senso Saint Tropez pearl and diamond earrings, and Christian Louboutin sandals."
Lee was accompanied to the Oscar event by her fiancé Ben Youcef, who was by her side throughout her recovery. The two met when Lee moved to California after her split with former New York Governor Andrew Cuomo (per New York Post). Lee revealed the relationship with Youcef on Instagram. 
"So this happened! Ben happened! Love happened! Happiness happened!" she wrote. "I was certain it never would again. I was shocked when it did. I swore I would never fall again, trust again, love again or open myself up again." In August 2021, the two were spotted in Paris, with Lee wearing a massive square cut engagement ring.
However, the relationship isn't without its complications. Youcef is still married to his first wife, Apryl Stephenson, whom he married in 2015. The two are in the middle of a divorce and fighting over custody of their twins, according to the Daily Mail.