Here's What Kelly Clarkson Looks Like Going Makeup-Free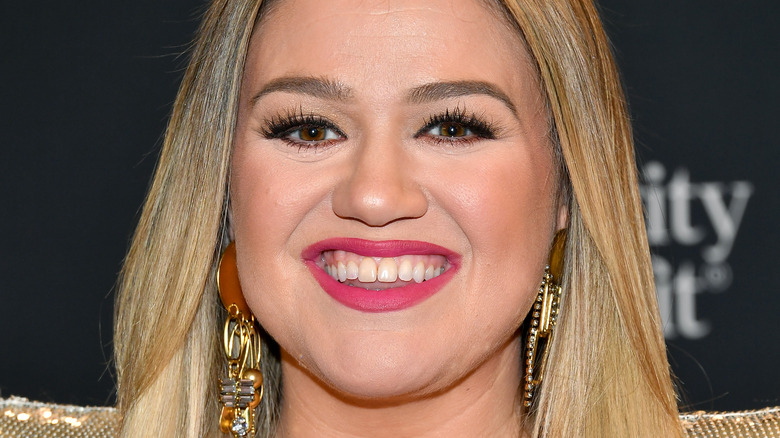 Amy Sussman/bbma2020/Getty Images
It's hard to believe that it's been nearly 20 years since superstar Kelly Clarkson first belted her heart out on ABC's "American Idol," per IMDb. Though she was barely out of her teenage years at that point, Clarkson's career immediately took off. Per Billboard, she signed a record deal with Sony Music's RCA Records after winning the show. During her time with the label, seven of her albums hit the top slots on the Billboard 200. She also nabbed three Grammys! But despite her big wins, Clarkson left the label in 2016, as Billboard noted.
To date, the singer continues to reach new career highs. As of 2021, ScreenRant reported that Clarkson has sold over 25 million albums worldwide. She has also appeared as a judge on "The Voice," and launched a popular talk show: "The Kelly Clarkson Show." But that's not to say the multi hyphenate hasn't suffered setbacks. In 2020, Clarkson announced her split from then-husband Brandon Blackstock. She's also battled an autoimmune thyroid condition which resulted in weight gain. "I know the industry loves the weight gone, but for me it wasn't (about) the weight," Clarkson told TODAY, speaking of the condition. "For me, it was 'I'm not on my medicine any more.'" Perhaps because the star keeps things real in her personal life, she adopts this same mentality with her beauty routine. Unsurprisingly, Clarkson looks just as good fresh-faced as she does all glammed up.
Kelly Clarkson keeps things real and isn't afraid to step out with no makeup on
Kelly Clarkson might just be one of Hollywood's most relatable stars. She's consistently spoken out about how she doesn't sweat the small stuff — and that includes her makeup routine. In February 2022, Cosmopolitan reported that Clarkson called into "The Kelly Clarkson Show" without a stitch of makeup on. "I broke a nail. I'm so broken. This is me broken. My almond milk just expired. America, this is what I look like. You're welcome," the star joked. On a separate occasion earlier in the COVID pandemic, Clarkson had also tuned into her eponymous talk show ... wearing zero makeup. According to Good Housekeeping, the fresh-faced look earned her plenty of praise from fans. "Kelly out here representing all us real women in quarantine with no makeup looking like a true queen," one person tweeted. 
Over on Instagram, Clarkson has proved that she isn't afraid to give up her glam hair and makeup. In 2020, the "Love So Soft" singer posted an Instagram photo that showed her living life as a typical mom at home, without all the fancy dresses and over-the-top makeup she typically rocks onstage. While Clarkson is almost 40 years old as of this writing, her glowing, youthful skin would certainly say otherwise!