How Many Suitcases Can Queens Bring On RuPaul's Drag Race?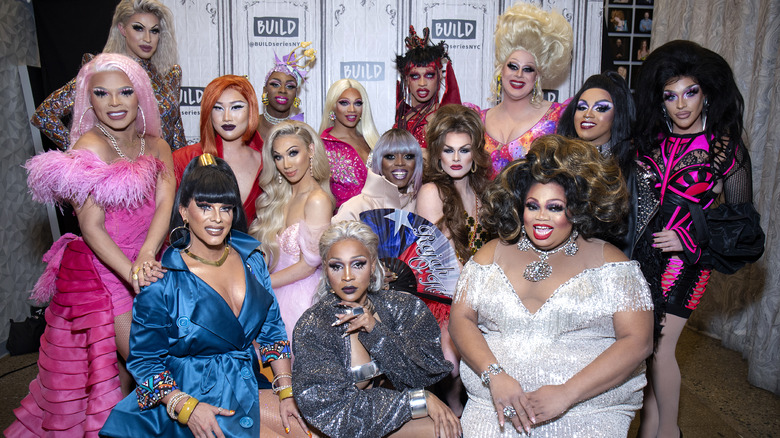 Santiago Felipe/Getty Images
"RuPaul's Drag Race" is frequently referred to as "the Olympics of drag" (via The Independent), so it stands to reason that competitors are expected to bring their A-game to the competition. However, although participating in the show launches queens' careers into the stratosphere regardless of whether they win or lose, the bigger and more popular "Drag Race" becomes, the more expensive it gets to take part. 
As Pink News reported at the time, during Season 3 of "Drag Race UK," host RuPaul Charles railed at competitor Joe Black for deigning to wear a dress from high street retailer H&M on the runway (and thus, a hilarious meme was born). Likewise, a shocking Vice investigation, conducted with the assistance of various alumni from the hit show, detailed how queens frequently spend thousands of dollars on their looks. 
Moreover, "Drag Race" competitors need all custom-made outfits, which makes it even more prohibitively expensive for up-and-coming performers. Given that there are at least a few episodes' worth of runways to prepare for, not to mention the various challenges, how many suitcases are competitors reasonably allowed to take with them? 
Drag Race participants are expected to bring it on the runway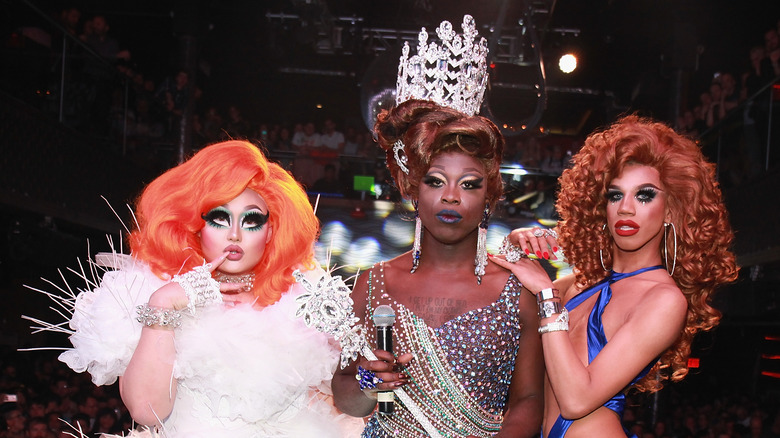 Santiago Felipe/Getty Images
As Paper magazine notes, over the years, "Drag Race" has gone from a scrappy show on LogoTV to a worldwide juggernaut beamed into millions of households worldwide. As a result, there's more of a sheen to the show now than there was back in the day, which is best exemplified in the runway looks, which have grown increasingly high-fashion in recent years. These days, the judges expect nothing less than the best, which means the days of wearing literal trash bags are all but over. 
Scott Ormston, who runs drag fashion account @fashioncandrag, explained that contestants are now more likely to drop huge amounts buying or replicating designer garments than making their own, out of fear of being read for looking too messy. In fact, referencing Gottmik's Season 13 mini-challenge win over Utica Queen, Ormston argued, "Design skills are so underappreciated that the design challenge can now be purchased." 
From decrying H&M to rewarding queens for buying everything ready-to-wear, it's clear which way "Drag Race" is headed. Still, there are plenty of queens who are innovative enough to work with what they've got, regardless of the financial constraints. Thankfully, at the very least, everybody is allowed to bring the same number of suitcases to the competition. 
How many suitcases are Drag Race queens allowed take with them?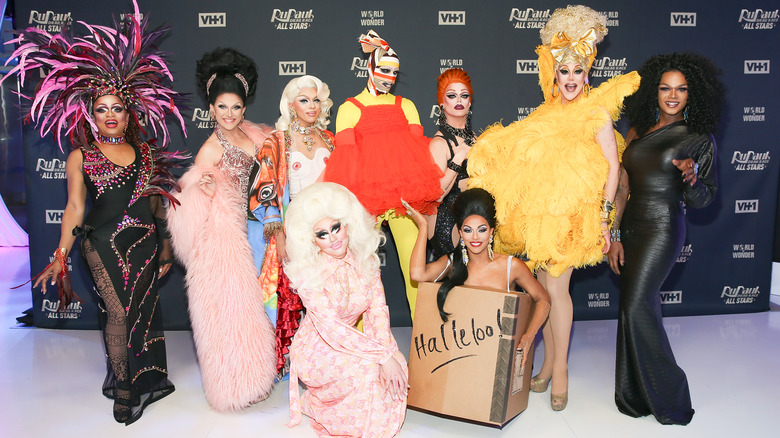 Bennett Raglin/Getty Images
According to Screen Rant, participants on "Drag Race" are prohibited from bringing more than five suitcases with them when they show up to compete on the hit show. This includes makeup, wigs, shoes, and costumes. So, although it might seem like a lot of room on the surface, once you take into account how intricate some of the dresses are, and how colossal the wigs, it's easy to imagine those cases filling up quickly.  
And, if you're wondering how they decide what to pack, Teen Vogue confirms the queens receive a list of possible runway themes and required outfits in advance, so they can prepare at least a little bit for what's to come. However, it's not an exhaustive list, and it often includes vague descriptors that could lead competitors to create something that doesn't fit with the theme in the end. 
A good example of this is reportedly Season 10's "Evil Twins" challenge, which involved several queens walking in confusing prehistoric looks. It's been suggested that the queens were told to prepare something prehistoric and something orange, which might have created confusion down the line. Suffice to say, with just five suitcases' worth of space to play with, every possible look counts.