Everything We Know About Jeremiah Duggar's Wedding
Eleven weddings and counting! On March 27, 2022, Jeremiah Duggar became the latest of his large family of siblings to enter into holy matrimony. He and fiancée Hannah Wissmann exchanged vows before family and friends at the First Baptist Church in Plattsmouth, Nebraska, as confirmed to Us Weekly. 
Fans who once watched the "19 Kids & Counting" reality show know that most of the adult Duggar children have already gotten married and begun families of their own. Most recently, sons Justin and Jedidiah wed within just a few weeks of each other in early 2021 (via Pop Culture), and sibs Josh, John David, Jill, Jinger, Joseph, Joy-Anna, Jessa, and Josiah wed their soulmates before that (via the Duggar Family website). Fans also know that the Duggars promote "courtship," rather than dating, as a path to marriage. The process involves group outings with family and friends and little to no physical intimacy as the couple ponders a future together.
Once a Duggar child decides that they have found the mate God intended for them, then an engagement and marriage usually follow, with not much time in between. Jeremiah announced, "She said YES!!!" on January 6, after making the courtship Insta-official on October 27. Hannah declared, "Making memories with you is my favorite and I cannot wait to spend a lifetime making more."
The couple have known each other for years
Although Jeremiah and Hannah's pre-wedding relationship was relatively short, they're not exactly strangers. In an Instagram Stories post, Hannah explained that "our families met at a Christmas music show that my family did in Branson, Missouri around 10-15 years ago." They had a lot in common: Both come from large families — she's one of 13 children, per the Wissmann Family website — who share the same conservative evangelical Christian faith.
Asked what their favorite quality was about each other, the couple couldn't name just one. "Jer is the perfect balance of mature and fun," Hannah said in her post. "He is caring, diligent, steady and thoughtful. He leads with kindness and is someone I trust completely. He is so humble and loves God with his whole heart. And he makes me laugh."
In turn, Jeremiah praised his fiancée's diligence and faithfulness, as well as the fact that she focused on her family and friends rather than "squandering her time" trying to find a husband as quickly as possible. "I'd have to say, her contentment and the way she carried herself was what attracted me to her!" he concluded. 
Saying yes to the dress was easy
With fewer than three months to put their wedding together, Jeremiah and Hannah had to make some quick decisions. Fortunately, one of them was a no-brainer. For her wedding gown, Hannah went to Renée's Bridal, the same Kentucky salon where all her married sisters-in-law had chosen their own gowns. Members of the Bates family of "Bringing Up Bates" fame have gone to Renée's for their finery as well, per the salon's Instagram page. Hannah kept the selection a secret until the wedding, when Us Weekly released pics of the happy couple. 
Hannah was radiant in a long white dress with illusion sleeves and intricate beading throughout. Her tulle veil was floor-length as well. Preferring to let the dress speak for itself, Hannah wore no visible jewelry other than the ring Jeremiah slid on her finger during the ceremony.
Ten days before the wedding, a fan asked Hannah on her Instagram Stories whether the dress she picked was the one she'd always imagined herself wearing. The bride replied, "@reneesbridal completely blew me away with her wedding designs! I ended up picking out one that was probably pretty different from what I originally had in mind. But I LOVE it!" 
Hannah and Jeremiah wrote their own vows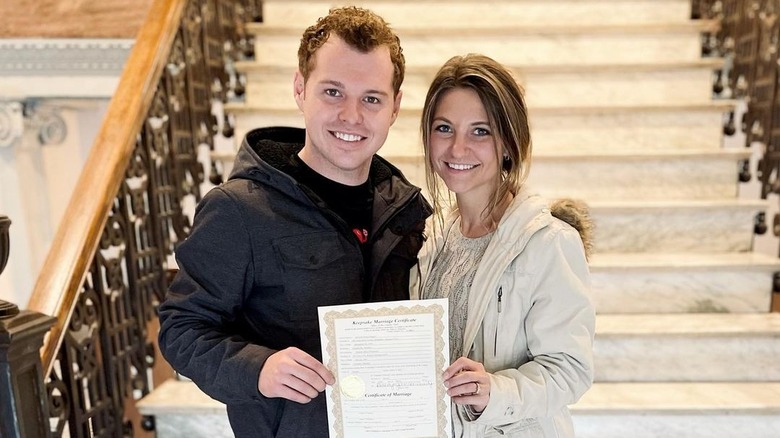 Instagram
The Duggar-Wissmann wedding was short and simple. Per The Ashley Reality Roundup, Jeremiah's twin brother, Jedidiah, was the best man, and brothers Jason, James, and Joseph were his groomsmen. Hannah had four bridesmaids, who may have been her sisters. Two young flower girls and ring bearers — including Jessa Duggar Seewald's daughter Ivy and Joy-Anna Duggar Forsyth's son Gideon — led the way and provided an "aww" moment. Then Hannah floated down the aisle on the arm of her father, Loren Wissmann, who gave a short emotional speech before Jeremiah led Hannah onto the stage.
The couple's faith values traditional families, in which men are traditionally the breadwinners and household leaders and women live with their parents until they marry and become at-home mothers. With that in mind, Hannah's father proclaimed to Jeremiah that the whole family was prepared to "surrender [Hannah] and give her to be your wife." Jeremiah and Hannah wrote their own vows that also reflected their beliefs. "By God's grace, I promise to cherish, protect, and provide for you from this day forward," Jeremiah said in part (as seen here). "I will earnestly seek God and will lead and treasure and guide you, pursuing to glorify Him with our lives." In turn, Hannah said, "By God's grace, I promise to cherish, support, and respect you from this day forward. I will earnestly seek God and will follow, honor, and submit to you as unto the Lord."
The wedding ended with a bang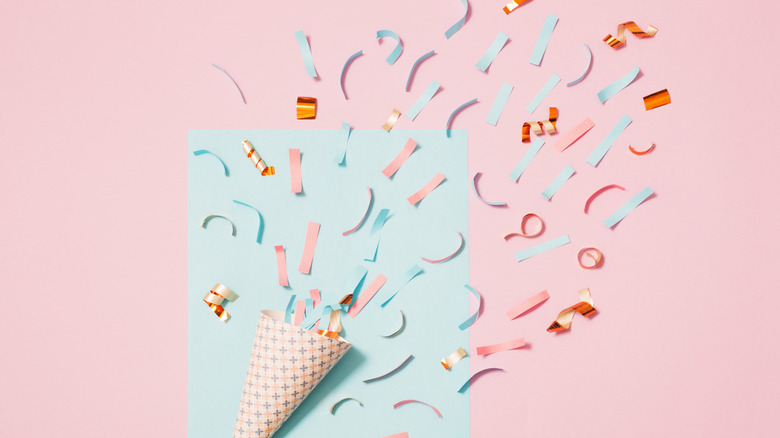 Maya Kruchankova/Shutterstock
Jeremiah and Hannah proceeded to exchange rings "as a sign and token of this covenant." The minister then offered a short prayer, but the ushers and bridesmaids seemed unusually distracted. One usher quietly slipped behind the wedding party and handed each bridesmaid a long white tube, which they quickly placed behind their feet before bowing their heads again.
The next portion of the ceremony was the lighting of a unity candle, symbolizing the joining of the two families. After lighting the large candle and blowing out the smaller ones, Jeremiah and Hannah smiled and whispered to each other as members of the wedding party sang. Then they returned to center stage, where the minister pronounced them husband and wife and declared, "Jeremiah, you may kiss your bride." The ushers and bridesmaids sprang into action, taking the tubes — actually, party poppers — and sprayed the newlyweds with confetti as they embraced.
Rather than go through a long formal recessional, Jeremiah and Hannah hopped off the platform and ran down the aisle, followed by the wedding party. (The parents of the bride and groom were just a bit slower to exit the church.)
The Duggars' reception — and future
The new Mr. and Mrs. Duggar celebrated with their guests at the Lilac Hill Wedding & Event Center in Louisville, Nebraska, according to Us Weekly. The 80-acre venue features an expansive garden and a stylish barn that can accommodate 250. In photos that have since been taken off Hannah Wissmann Duggar's Instagram feed, fans caught a glimpse of a long rustic table set with pale blue accents to complement the bridesmaids' gowns. 
The couple haven't released any details of their honeymoon, but they have revealed their future home plans. To a fan's question, Hannah explained that they will be living in Arkansas, her husband's home state. They already have bought a home which they are in the process of fixing up. On her Instagram Stories, she wrote, "I absolutely love where we will be living!! Can't wait to move everything in and show y'all pictures. Jer has been working crazy long hours to get it all ready!"
From there, it's a matter of time before the Duggars enter the next stage of their lives. Coming from large families themselves, Jeremiah and Hannah no doubt are hoping to fill their new house with children sooner than later. Jedidiah Duggar already has a head start over his twin brother; he married almost a year ago, and he announced last fall that he and wife Katey are expecting their first baby in the spring.