Princess Charlotte Proves She's The Most Relatable Royal During Prince Philip's Memorial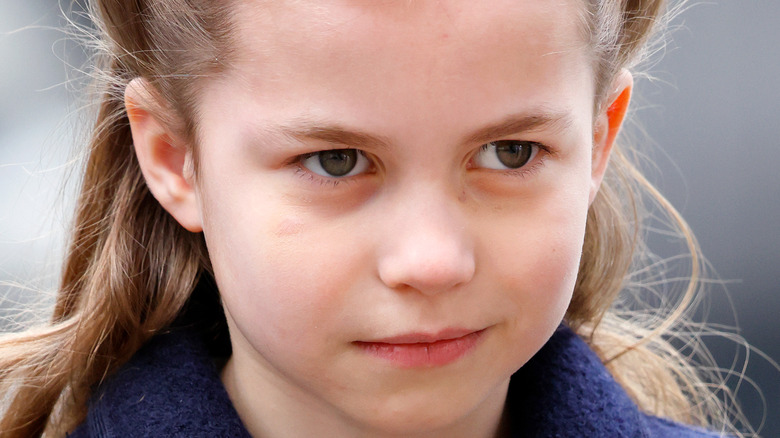 Max Mumby/indigo/Getty Images
Princess Charlotte, only daughter and second child of Prince William and Kate Middleton, was one of the 1,800 people in attendance at Prince Philip's memorial. This is a stark comparison to the 30 people that were allowed to attend his funeral in April 2021 due to COVID restrictions, when Princess Charlotte and her siblings Prince George and Prince Louis weren't in attendance (per Elle). Prince George joined his sister and parents to attend this year's memorial, while three-year-old Prince Louis wasn't in attendance (via Today).
While heading into the Abbey, the six-year-old princess had a sweet exchange with her mother; Daily Mail UK reported that a lip reader confirmed that Middleton told her daughter "you can smile." Once inside the Abbey, Princess Charlotte was seated between her mother and brother, but upon seeing a TV camera pointed her way, she reacted much the way many of us would — sitting at attention and giving a sweet half smile, half grimace as she looked away from the camera (per Twitter).
Princess Charlotte's reactions to photographers has made headlines before
At the memorial, Princess Charlotte clearly knew that the camera was still on her as she made her sweet, relatable reaction, but she seemed determined not to look at it again. The princess has made headlines before with her reactions to cameras. When she was four years old at a regatta, Kate Middleton urged her daughter to wave at onlookers and photographers, per Travel + Leisure, but instead Charlotte stuck out her tongue. And at three years old, according to Harper's Bazaar, as she and the family were headed to Prince Louis's baptism reception, she told paparazzi waiting outside the chapel, "You're not coming."
As far as non-paparazzi shots, Charlotte's image has largely been protected by her mother. Middleton has released a number of her own photographs of her children and family because, as reported by US Weekly, it lets people into their lives, but she gets to control the images. The royal children will inevitably continue to be in the spotlight, and Prince William and Middleton, according to People, are working to raise their kids with a combination of tradition and modernity.