Royal Fans Noticed This Missing Member Of Kate And William's Family At Prince Philip's Memorial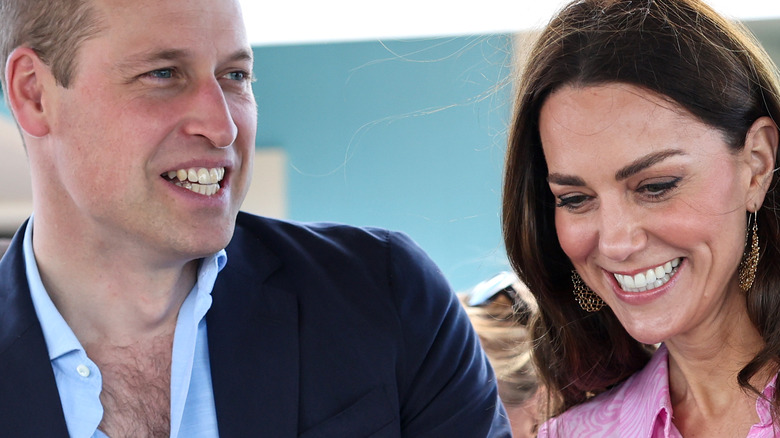 Chris Jackson/Getty Images
Heading into Prince Philip's memorial service, we already knew that one high-profile member of the royal family would be absent. Of course, months prior to the event honoring the late husband of Queen Elizabeth, Prince Harry's decision not to attend the memorial was highly-publicized, with his reasoning called into question.
As Nick Bullen from True Royalty TV told Fox News, "I think everyone was rather surprised that he wouldn't be coming to the Thanksgiving Service because he was very close to the Duke of Edinburgh. He obviously came back for the funeral, so his decision was surprising to people. There doesn't seem to be much reason as to why he wouldn't come."
But according to Harry, he didn't feel comfortable traveling to the U.K. given that his family wouldn't receive official protection (via Today).
While royal watchers didn't expect to see the Duke of Sussex at the memorial, they may have been surprised to see that another member of the family was missing.
Prince George and Princess Charlotte make surprise appearances at the memorial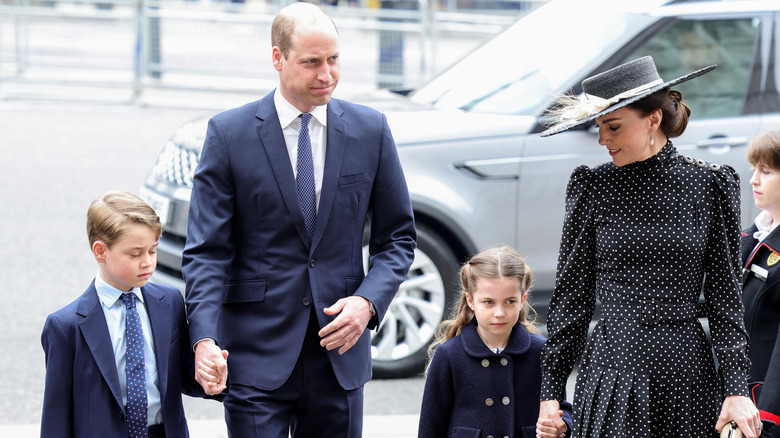 Chris Jackson/Getty Images
As People reports, Prince William, Kate and their two kids, Prince George and Princess Charlotte, were on hand to pay their respects to Prince Philip on Tuesday. It came as a surprise to fans that the two young royals, ages 8 and 6, accompanied their parents, fresh off their controversial Caribbean tour, to the high-profile gathering.
The outlet further reports that the decision was made that their little brother, Prince Louis, who is 3 years old, was too young to attend. The young prince also stayed home for his great-grandfather's funeral in April of last year, as did George and Charlotte (via Elle). This decision may have had to do with the limited amount of mourners that the service could accommodate given COVID-19 restrictions at the time. But the young ages of the kids and how sad the funeral would be likely also played into it.
However, it seems a year later, William and Kate felt okay about their older children publicly paying their respects to Prince Philip. That said, Louis' absence was not overlooked by royal fans.
Royal fans understand but are disappointed not to see Prince Louis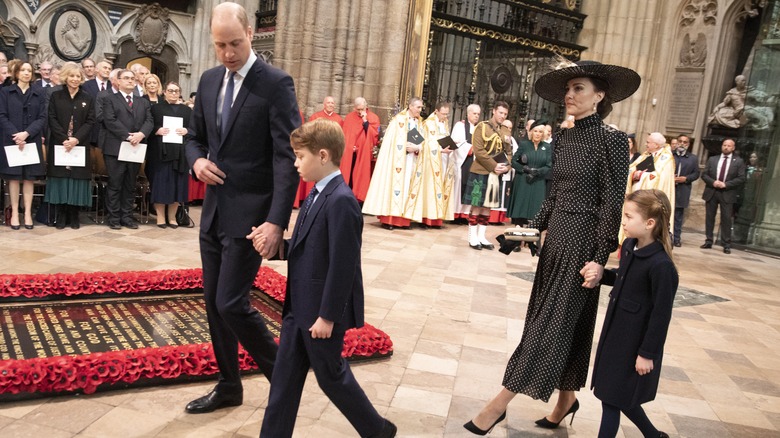 Wpa Pool/Getty Images
On Twitter, royal watchers noticed that one member of William and Kate's family was missing at the memorial service. "Unfortunately, Prince Louis is absent but completely understandable. So happy to see Prince George and Princess Charlotte!!" one person commented. "i was surprised seeing prince george and princess charlotte and i thought im gonna see prince louis but nopee," bemoaned someone else.
Meanwhile, another person tweeted, "No Prince Louis. He's too wee for this, not yet 4. Good to see Prince George and Princess Charlotte though. They certainly have grown."
"I can't imagine Prince Louis sitting still for long. Plenty of time in the future for him to join in," commented someone else upon seeing that the fifth member of the Cambridge family was not at the memorial. And finally, another royal fan enthused, "It was so good to see our super elegant family at the service of thanksgiving this morning to support Her Majesty and honor the amazing Duke of Edinburgh Prince George and Princess Charlotte are all grown up, aren't they? Imagine when we see Prince Louis again."