Why Dolly Parton Isn't A Fan Of Howard Stern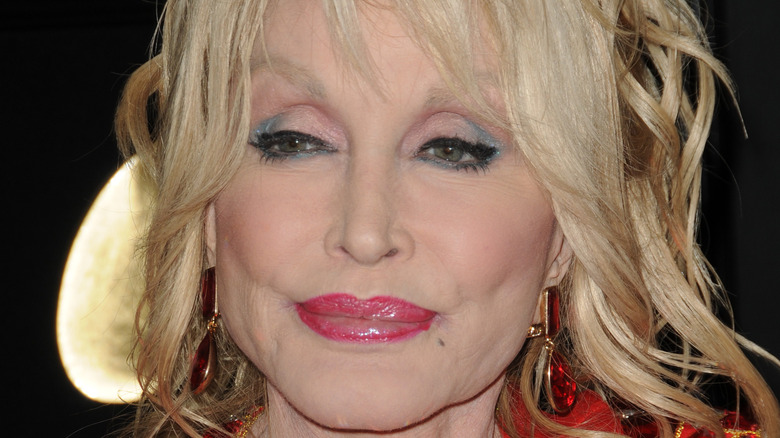 Kathy Hutchins/Shutterstock
In February 2022, the Rock & Roll Hall of Fame announced that Dolly Parton was one of 16 inductees for the 2022 induction. But a month following the news, the country star announced that she wanted to remove herself from the lineup as she felt she hadn't earned her place. "I do hope that the Rock & Roll Hall of Fame will understand and be willing to consider me again — if I'm ever worthy," Parton said in a statement (via Twitter).
The institution later declined Parton's request, stating that they were "in awe of Dolly's brilliant talent and pioneering spirit" (via NPR), and that she rightfully earned her spot in the Rock & Roll Hall of Fame. Despite becoming an inductee again, many musicians and celebrities praised Parton for her humility — including radio shock jock Howard Stern.
"Good for her," Stern said in reaction to her decision (via Howard Stern). "The coolest thing you can do is say no to the Rock & Roll Hall of Fame." It was pretty surprising to see this reaction from the radio host, seeing as he and Parton don't have the greatest relationship.
Dolly Parton threatened to file a lawsuit against Howard Stern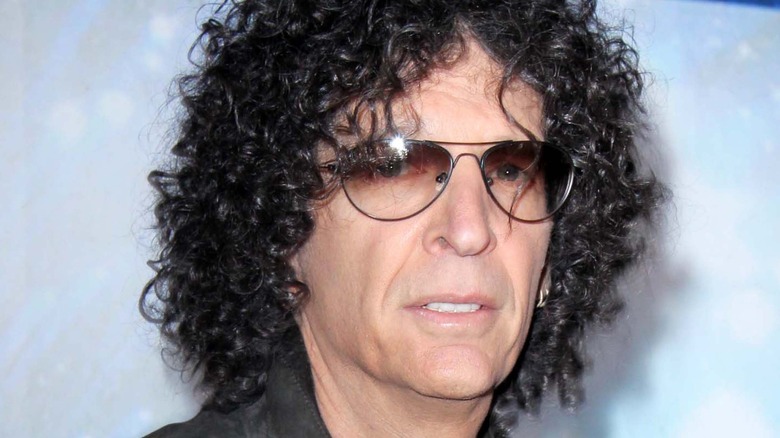 s_bukley/Shutterstock
For those of you unaware of their troubled past, back in 2008 Howard Stern found himself in some pretty hot water with the singer after editing the audiobook of Dolly Parton's memoir, "My Life and Other Unfinished Business," to allegedly make it sound like she was saying derogatory and racist comments about other artists and musicians including Linda Ronstadt, Burt Reynolds, and Kenny Rogers (via the New Zealand Herald).
Stern is no stranger to doing this on the regular, and he most recently edited Caitlyn Jenner's 2017 audiobook in a similar fashion (via Pop Dust). "Star Trek" star George Takai has also been a frequent source of altered content for Stern, as Billboard notes, so his attempt to string words from Parton together to say something completely different is nothing new.
But the country star certainly didn't see the funny side of Stern's antics, and even threatened to file a lawsuit in light of what happened (via Taste of Country).
The country star was shocked, hurt and humiliated in response to Stern's antics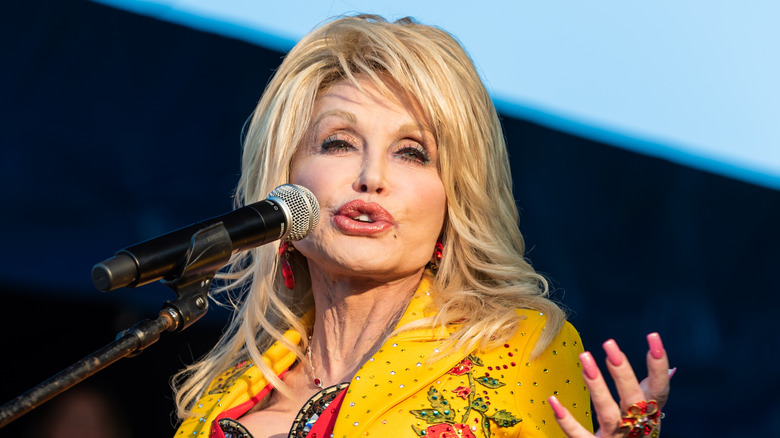 Carl Beust/Shutterstock
In a statement given at the time, Dolly Parton expressed her outrage and shock at what Howard Stern and his team had done to her audiobook. "I have never been so shocked, hurt, and humiliated in all my life," the country star said (via Taste of Country). "I cannot believe what Howard Stern has done to me. In a blue million years, I would never have such vulgar things come out of my mouth."
Parton continued by describing Stern's creation as a "horrible, horrible thing," adding that "If there was ever going to be a lawsuit, it's going to be over this." That lawsuit was never filed, and Stern didn't seem too bothered about her reaction either. "It's an absurd bit. It's obviously a parody and it's funny as hell," he said following the drama, per The Boot. "I can't even imagine someone thinking they have an actionable case, but bring it on."
Stern didn't speak of Parton again until only recently, so while Parton never sued Stern for his actions she obviously did something right.