The Real Reason Billie Eilish Ditched Her Green Hair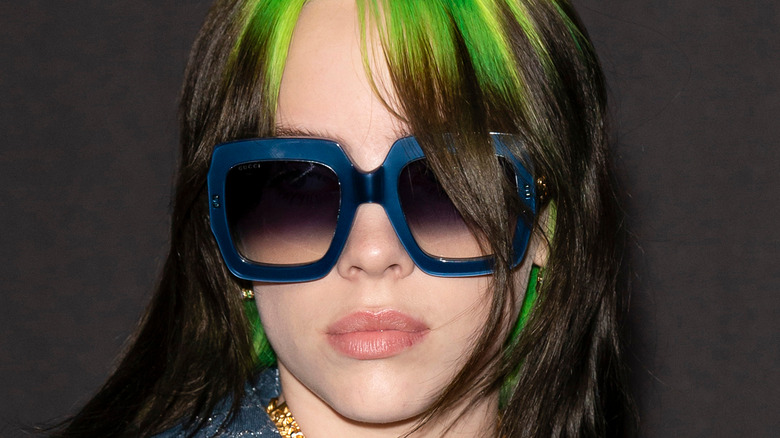 Ovidiu Hrubaru/Shutterstock
Since Billie Eilish burst onto the music scene in 2015 with her SoundCloud-famous single "Ocean Eyes," we've seen her grow up right before our eyes. The 20-year-old singer has already accomplished a lot in her career, including winning a whopping seven Grammy awards ranging from song of the year to album of the year.
Eilish almost has as many Grammys as she has past hair colors. Aside from being one of the biggest pop stars on the planet right now, the singer is also known to regularly change up her edgy look. After becoming an overnight success, Eilish dyed her naturally dirty blonde hair silver, followed by pastels (including lavender and teal), jet black, and finally black with green roots in 2019 (per Page Six).
Her green and black hair became her signature style, informally crowning Eilish the queen of the two-toned hair trend. But by 2021, the singer-songwriter decided to ditch the hair color she'd become known for, and for good reason.
Billie Eilish's green hair forced her to hide
In March 2021, Billie Eilish posted a photo to Instagram showing off a new platinum blonde 'do. The post set an Instagram record after gaining one million likes within minutes (via NME). It's no wonder fans were quick to show the singer love for her new hair — her blonde dye job was a shockingly refreshing change from the black and green strands she became known for.
Eilish knew how synonymous her green roots were with her brand and celeb identity. In fact, that's why she decided to go blonde. The singer told Elle that her hair color was getting in the way of her enjoying her private life, saying, "I couldn't go anywhere with that hair because it was so obviously me. I wanted anonymity." Only after she dyed her hair was she finally able to walk around freely, without having to hide under a hood.
Eilish has been uncomfortable with being in the public eye since she first shot to fame. She recalled a time where she went ice skating when she was 16 to V Magazine. The singer had just finished touring for three months and was sensing her star status growing. "I've never been so scared. It was, like, a huge stampede ... in those three months, I'd gotten bigger, but I didn't know it until I was [ice skating in public]. From that day on, I didn't go anywhere."
Billie Eilish's hair color continues to evolve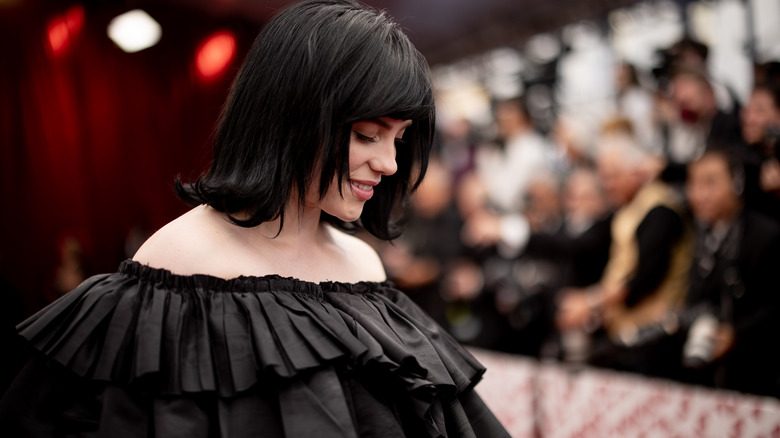 Emma Mcintyre/Getty Images
Feeling safe in public was a crucial reason why Billie Eilish left her green hair behind, but it wasn't the only reason. She also told Elle that she switched to blonde because she wanted to pair a fresh look with her 2021 album aptly named "Happier Than Ever."
The singer had built a reputation on her dark pop style, while "Happier Than Ever" ushered in a new era of a softer, jazzier Eilish sound. Since releasing her album — and bleaching her hair — Eilish has shown no signs of slowing down. As chronicled on the star's Instagram account, she has changed up her hair color yet again, trying different shades of brown and black. She branched out from her typical tomboy aesthetic to release a vanilla-y fragrance. And musically, she recently lent her songwriting chops to the soundtrack for the Pixar film "Turning Red" (via Stereogum).