Olivia Munn Gets Candid About Life Postpartum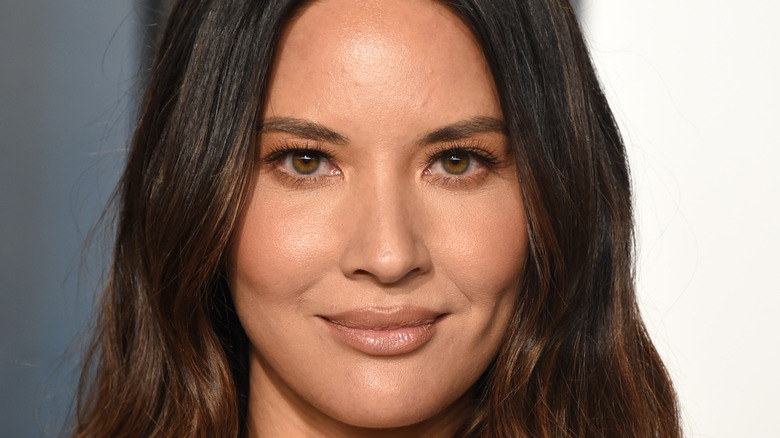 John Shearer/Getty Images
You'll experience all the emotions after having a new baby: Overwhelming love you never thought you'd feel for another human being, joy at who you brought into the world, and also anxiety when thinking you have to take care of this entirely new life before you.
In 2021, actress Olivia Munn gave birth to her first child with comedian John Mulaney. "Meet Malcolm Hiệp Mulaney. He has his whole life ahead of him. He hasn't even tried seltzer yet," the comedian joked in a Christmas Eve Instagram caption, which accompanied a snapshot of a precious infant in a blue cap. "I'm very in love with him and his whole deal."
In late March, Munn posted a photo of herself holding her baby boy in bed. She raved about how good he is in the accompanying caption. "It's been 4 months since the happiest, chillest baby came into my world," she wrote. "He wakes up smiling every single morning without fail, he loves bath time so much that he kicks his legs and looks around whenever he hears the sound of the tub filling up, his tiny fists are his favorite things to gum on and he squeals and follows along page by page whenever we read to him." 
It was an undeniably sweet tribute. However, parenting is not all joy for Munn. Like other new moms, she's gone through the ups and downs and recently documented some of the downs in an update on her Instagram story.
Olivia Munn is keeping it real about being a mom
New motherhood is like an adventure one never dreamed of before with plenty of highs, lows, and sheer exhaustion. Olivia Munn, whose acting credits include "The Newswroom," "X-Men: Apocalypse," and last year's "Violet" (per IMDb), recently shared an Instagram story that explored some of the challenges of new motherhood that go along with all the joy.
"Everyone's asleep except me," Munn wrote alongside a photo of herself (via People). "Been wearing the same sweatshirt for three days (I think, maybe more?) I'm pretty sure that's spit up on my shirt. I'm so so happy and at the same time I'm struggling (weird to feel both simultaneously yet so grateful to have all the happiness to keep me afloat)."
Munn went on to talk about her postpartum body, something that often shocks new moms as their bodies take on a new shape and take time to recover from all what they endured during pregnancy and birth. "My hips still feel wonky from pushing out a human being, my postpartum anxiety is still here (and horrible), but I got myself up and took my first capoeira lesson today," Munn continued. "Getting back to martial arts made me feel a little bit more life myself. Hope I can keep it up."