The Heartbreaking Reason Megyn Kelly Missed Several Episodes Of Her Podcast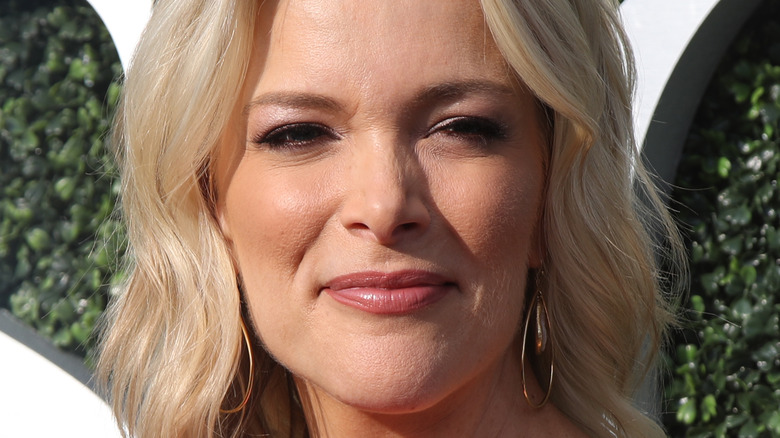 Leonard Zhukovsky/Shutterstock
Megyn Kelly has built a reputation as an outspoken conservative voice, a seasoned news reporter, and even a fearless fashionista who opted to wear a very daring black minidress for an interview with GQ (via HuffPost). She's not one to get easily rattled — except when her family is involved, as she just revealed.
Fans of Kelly's Sirius XM podcast, "The Megyn Kelly Show," noticed that the former Fox News host skipped her March 3 and 4 episodes. She had been on a ski vacation in Montana and had been broadcasting from there, but in the midst of the vacation, "Something happened to my little guy, my Thatcher, my 8-year-old," Kelly explained on her March 30 episode (available on Apple Podcasts). She hurried to add, "Thank God he's okay."
Kelly — who's had a stunning transformation — went on to provide the details of the "crazy experience:" Thatcher, an experienced skier, had been on an advanced run with his instructor toward the end of the day when he decided to rest at a "cave-like structure" on the course that involved a short climb. Though he had taken his skis off to make the trek, Thatcher was apparently feeling tired, and he fell from a height of about 10 feet onto the rocks below.
Having already skied earlier in the day, Kelly was back at their hotel — looking forward to some relaxation time — when her husband, Doug Brunt, called to say Thatcher was "fine," but was hurt and being taken to the hospital for observation. "I confess — my first reaction was, 'Ah, crap, I'm going to miss my massage,'" Kelly admitted.
Megyn Kelly's youngest child had a harrowing experience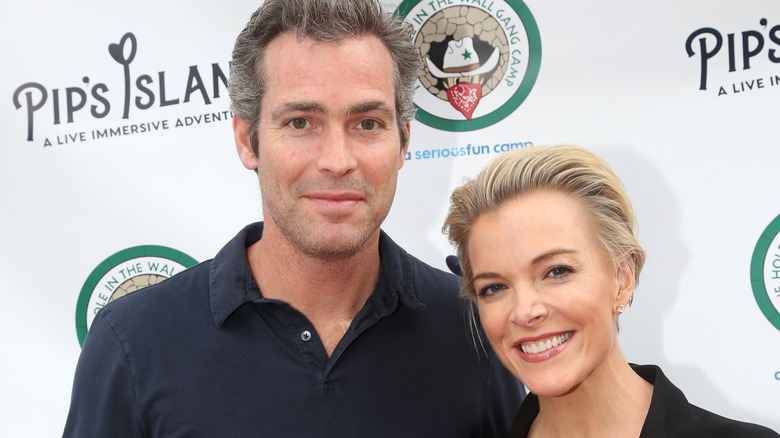 Bruce Glikas/Getty Images
It turned out that Megyn Kelly's youngest child, Thatcher, was more seriously hurt than he first appeared. Although the 8-year-old was conscious and talking when his anxious mom arrived at the hospital, he was complaining of abdominal pain, according to Kelly's podcast. A CT scan revealed internal bleeding and two lacerations to his spleen. "He dinged it up pretty good," Kelly said, adding that doctors told them that Thatcher needed to be rushed to a "more serious" hospital to treat the injuries. 
The tears to Thatcher's spleen were causing internal bleeding, and the medical staff explained to Kelly and her husband that the organ might have to be removed if the bleeding couldn't be stopped any other way. Kelly consulted doctors on the East Coast, who advised against an operation if at all possible. What followed was a week of worry and prayer as "the water started to rise," as Kelly put it. Her son's bleeding continued, and his blood pressure began to drop. But eventually, his condition improved on its own, and Thatcher was discharged after six days — wobbly from all the bedrest, but in good spirits. Siblings Yates and Yardley greeted him with hugs and homemade cards.
Kelly's voice cracked as she described the experience, saying, "The amount of stress and the love that you have for your children, and the fragility of these little bodies who totally depend on you. And the enormous responsibility you have for their well-being, for making huge decisions." She went on to thank her husband, friends, colleagues, and her listening audience for their support.