Here's Who Reportedly Called The Shots About Prince Andrew's Role In Prince Philip's Memorial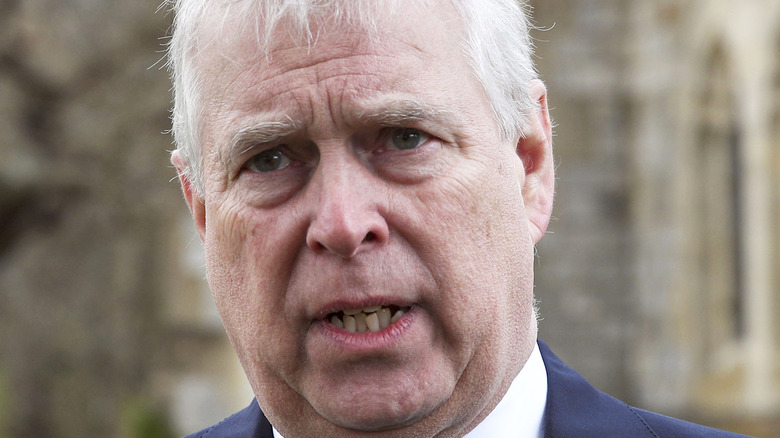 Wpa Pool/Getty Images
Prince Andrew continues to present PR challenges for the rest of the royal family. In February, BBC reported that Andrew — who faced civil allegations of sexual assault — settled a case out of court by paying an undisclosed amount to Virginia Giuffre. According to The Guardian, Andrew's legal costs were likely upwards of 10 million pounds. The alleged large sum led to further questions about money. Some speculated Queen Elizabeth might provide financial assistance via her own private funds, while others thought Andrew would use the money from his recent sale of real estate.
In the midst of all these difficulties, all eyes are on Andrew's mother as she commemorates 70 years as queen, per CBS. With numerous festivities on the horizon for her Platinum Jubilee, the royal family tried to create some distance from Andrew by removing his titles and royal patronages. While he can still be called prince, Andrew cannot officially use the title "His Royal Highness." Despite a 22-year Navy career, he also relinquished his military titles, per BBC.
But Andrew keeps making headlines. On March 29, the prince created a whirl of media attention by walking with the 95-year-old monarch as she entered Westminster Abbey for Prince Philip's memorial service, per The New York Times. The event marked the queen's first public appearance since October 2021, but people couldn't stop talking about her son.
Andrew's close proximity to the queen might have played a factor in the decision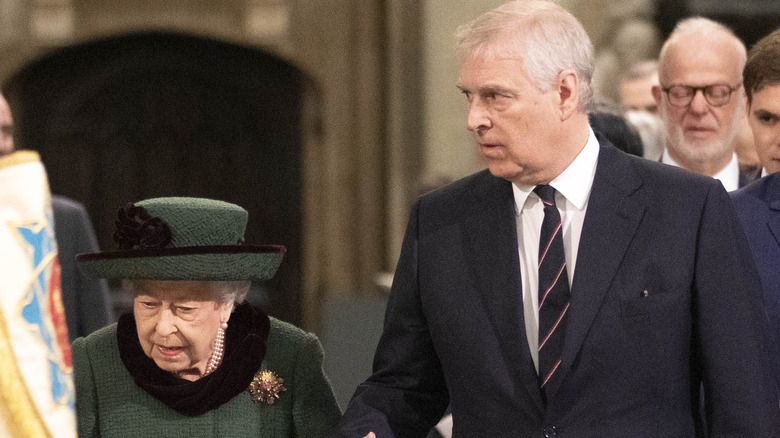 Wpa Pool/Getty Images
A source close to Prince Andrew spoke to The Telegraph and attributed a quote — "Sometimes people need to remember I have four children. We are a family" — to the queen. Queen Elizabeth and Andrew share a special mother-son relationship, and their bond has reportedly strengthened during the long period of isolation during the COVID-19 pandemic. Andrew lives at Royal Lodge, close to the queen's residence at Windsor Castle. According to Daily Mail, Andrew's siblings were glad he could provide companionship and support for their mother by visiting her frequently.
While Prince Charles and Prince William reportedly voiced their opposition to Andrew escorting the queen at the services (via Express), the royal family did agree to the practicality of them riding together to Prince Philip's memorial service. As reported in Daily Mail, Andrew and the queen carpooled to Buckingham Palace in a Range Rover and then rode together in the queen's limo to Westminster Abbey. For there, it was easy for Andrew to guide his mother from the car to her seat inside.
Rebecca English, Daily Mail's Royal Editor, speculated that closeness was the biggest factor in the situation. "Andrew does see her on a daily basis, he does have her ear, there is a lot of chatter that goes into that ear and he tends to get his own way that way," she said.
Queen Elizabeth likely made the decision to walk with Prince Andrew
Eamonn M. Mccormack/Getty Images
After the loss of his titles in January, Prince Andrew seemed destined to a life out of the spotlight. "He won't be at the Jubilee, he is going to disappear from sight," a source close to the family told Vanity Fair. "This has been the queen's decision, but it is supported by other senior family members," the source continued. 
However, owing to their close mother-son bond, it seems the queen could revise her plans. The New York Times acknowledged that the decision to have Andrew escort her at the memorial service was the queen's choice. However, perhaps due to PR considerations, Andrew was not shown in the event's live broadcast, and he was carefully omitted from the royal family's official social media coverage, per Vanity Fair.
Although he is no longer a working royal, Express reported that Andrew will likely participate in family events. His father's memorial service was a family event, but what can be said of the Jubilee? As Daily Mail noted, rumors are circulating that Andrew is planning to participate in the June event, claiming that it is a family event in celebration of his mother. Joe Little, a royal expert, told the outlet, "I think he will be there. Although the queen is head of state, she is also head of the family as well and in that capacity all her children should be with her."