Looks From The 2022 Grammy Awards That We Can't Stop Talking About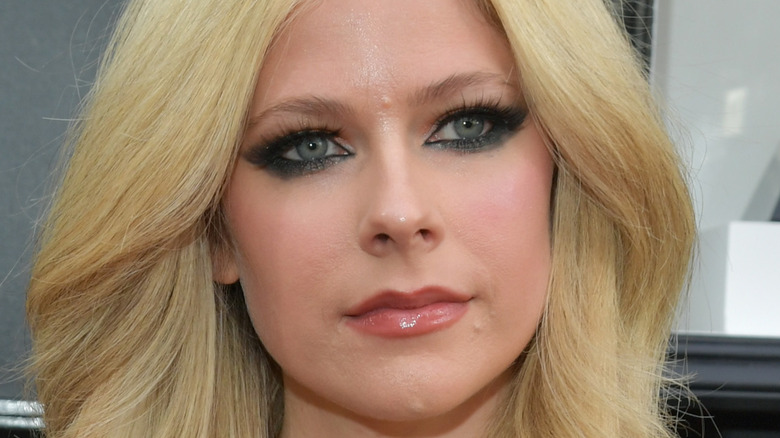 Lester Cohen/Getty Images
It was Grammys night in Las Vegas Sunday and the stars came to play more than just music. Viewers were treated to fashion from their favorite artists and artist-adjacent celebrities so worth the wait after the pandemic. 
Surprisingly, a big trend on the red carpet were black and body skimming gowns, like those worn by Halsey and Olivia Rodrigo, not to mention Kelsea Ballerini and Lady Gaga. Avril Lavigne also chose the classic color for her Grammys mini dress. 
Hot pink was another popular color at this year's awards show, with Chrissy Teigen, on hand to accompany her musical man, John Legend, Saweetie and Billy Porter among the stars who went with the look-at-me shade. 
Finally, a style stars went gaga for was big ball gowns. Just think Cinderella, a fairytale character who recently inspired a gown worn by Kate Middleton, but not blue. Among the attendees who opted for the princess vibe was Carrie Underwood and Teigen. 
Although there were so, so many stars wearing fashion we freaked out over, here are our top picks for the ensembles everyone will be effusing over, well, over and over again.
Olivia Rodrigo rocked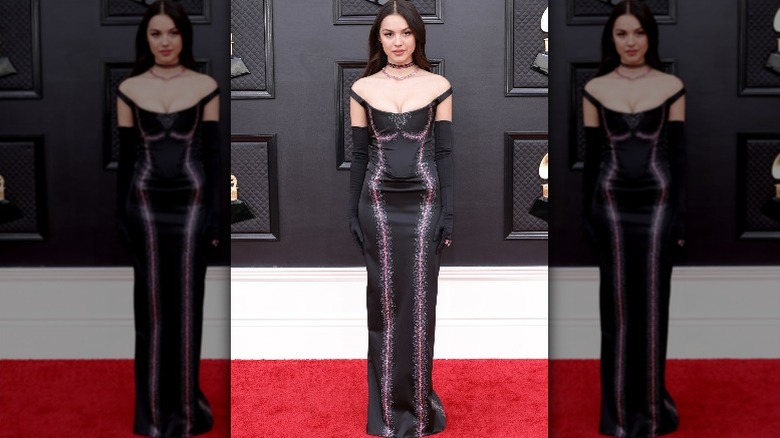 Frazer Harrison/Getty Images
In a look that may have been channeling a young Morticia Addams, Olivia Rodrigo rocked a black Bodycon dress created by Vivienne Westwood that featured sparkly pink and silver detailing (via Elle). The Grammy-nominated singer paired her floor-length gown with matching gloves and a sexy cat-eye. 
The "Drivers License" singer's dress won praise online, with one person tweeting, "#OliviaRodrigo is what my emo teenage dreams are made of in this Vivienne Westwood dress." 
No matter what Rodrigo's Grammys dress conjures up for you, we will absolutely be talking about her ensemble long after the 19-year-old gets into her comfy jammies post-show — or at least that's what we are hoping her night includes!
Halsey held court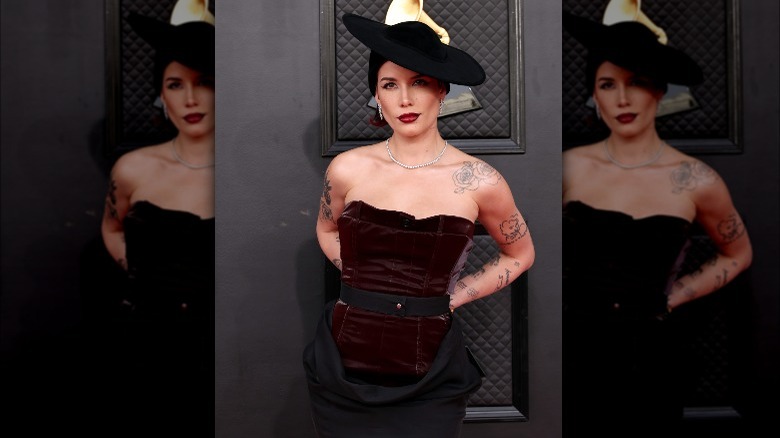 Amy Sussman/Getty Images
No need to be "fragile" with their fashion choices! 
Halsey, who shared they just had surgery days before the Grammys, asked fans to be gentle with them on music's biggest night. Taking to Instagram Saturday, they wryly shared, "The last time I attended the Grammys was 2017 and it was 3 days after I had my first Endometriosis surgery. I walked the carpet with my stitches still in. As luck would have it, I'm attending tomorrow for the first time in years and I had surgery again (you guessed it) 3 days ago. Only posting this to say, if you see me be gentle lol I'm fragile. Fragile but excited."
Had Halsey not shared this intimate detail of their life, who would have known? We're loving their hat choice for the evening, which completed the unique Pressiat ensemble, featuring a structured bodice and a long black skirt. A belt at their waist was a finishing touch that made the look stand out on the Grammys red carpet.
Japanese Breakfast broke the mold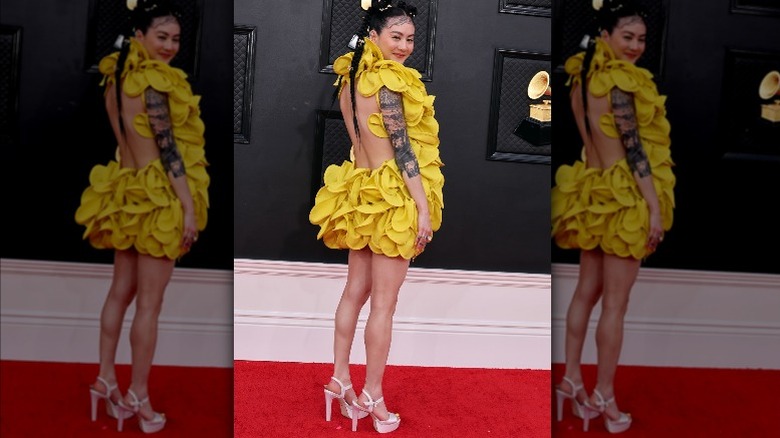 Amy Sussman/Getty Images
In a color reminiscent of a banana, Michelle Zauner of Japanese Breakfast may have been hoping to fill the shoes of another artist who always dressed to shock, Björk. No, she wasn't sporting a swan dress, but the star's outfit featured layers of yellow petals that was unlike anything else we saw on Grammys night. Although, the color of Zauner's confection-like look was very similar to the Elvis-inspired, sparkly jumpsuit H.E.R. chose for the event. 
According to Vogue, Zauner's ensemble was created by Valentino for its fall 2021 couture collection. So, you won't be able to pick the dress up at your local Target, in case you'd planned to. Just sayin'.
Chrissy Teigen got us talking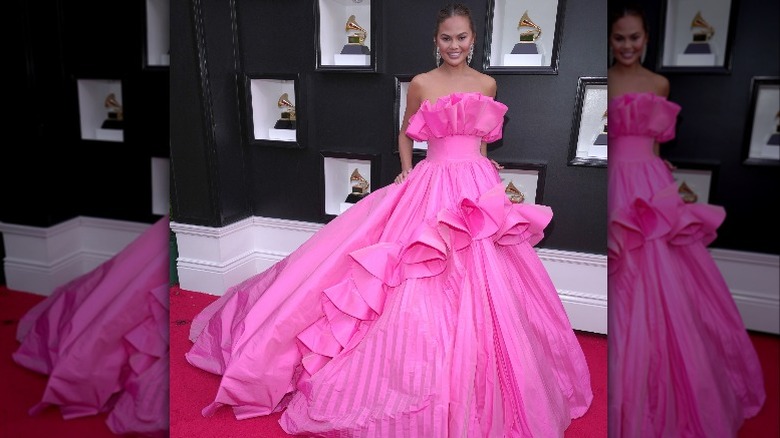 Kevin Mazur/Getty Images
She's back on the red carpet! Chrissy Teigen looked like a Barbie, a curtain or Ariana Grande's twin, according to who you ask. No, the "Positions" singer wasn't at the event, sharing just before the show kicked off that she would not be attending, despite being nominated. But what some folks on Twitter noticed is that the model mom's dress seemed to pay homage to what Grande wore to the 2020 Grammys (via E! Online and Billboard). 
For what it's worth, the former flame of Pete Davidson donned a Giambattista Valli gown two years ago for the Grammys, while Teigen's 2022 bubblegum pink dress was created by Nicole + Felicia Couture.
Carrie Underwood was a class act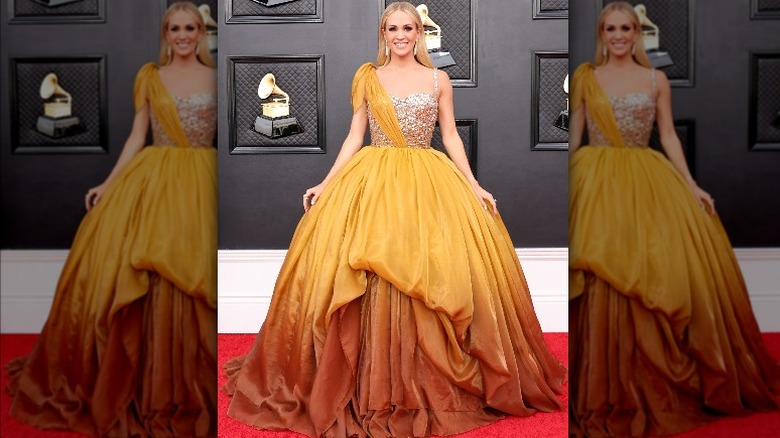 Amy Sussman/Getty Images
Carrie Underwood was another star who chose yellow for the Las Vegas event like her peers, Japanese Breakfast's Michelle Zauner and H.E.R. For her part, the "American Idol" alum looked luminous in a unique, ombré gown, designed by Dolce & Gabbana, which featured a sparkling bodice with delicate straps and a voluminous skirt in a mustard hue. 
On Twitter, fans called the look gorgeous and noted the country star is "always a class act." 
Who could argue with that?
Billie Eilish went back to black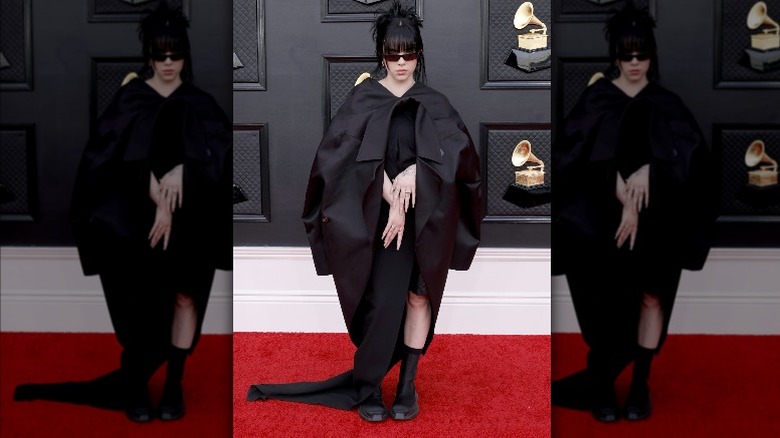 Frazer Harrison/Getty Images
Black must be Billie Eilish's awards season color of choice. In fact, her style for the Grammys was eerily similar to the custom Gucci dress the singer wore to the Oscars just last week, which was dubbed the worst of the night by some (via People). This time, Elle compared her avante garde dress to a bat. Oddly, the singer paired the confusing look with chunky ankle boots.
Although not everyone is a fan of how the star dresses, one thing is for sure — we always end up talking about what Eilish is wearing. See? We're doing it now!
Saweetie slayed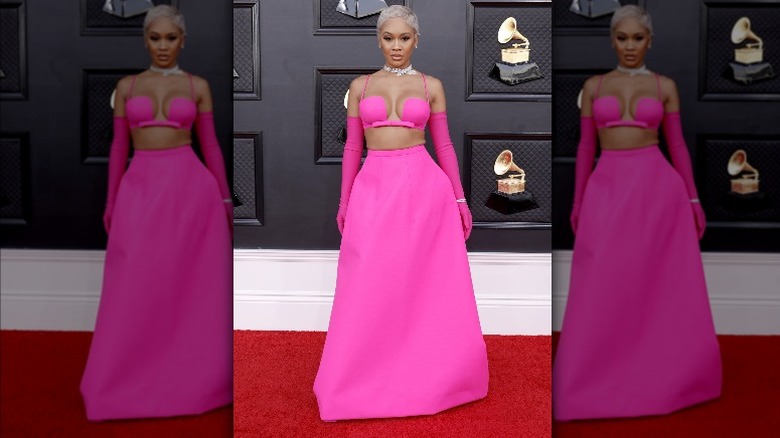 Frazer Harrison/Getty Images
Taking a page out of Ariana DeBose's fashion playbook — the best supporting actress Oscar winner made our best-dressed list last week — Saweetie chose a vibrant, hot pink two-piece look featuring a bra-like top and a full skirt. Gloves completed the head-to-toe fuschia outfit. 
We are big fans of the daring ensemble, especially her choice of accessories (that necklace!), but some Twitter users weren't feeling it. "This is Elle Woods but if she dressed cheap," tweeted one non-fan, comparing the artist to Reese Witherspoon's character in "Legally Blonde." "Skirt looks bulky and the gloves are too much. The Barbie look doesn't always work," the Twitter hater continued.
Oh well. You can't please everyone! But Saweetie sure tried, changing into a second look that E! Live noted was meant to channel Halle Berry's Oscars dress from 2002.
Megan Thee Stallion made waves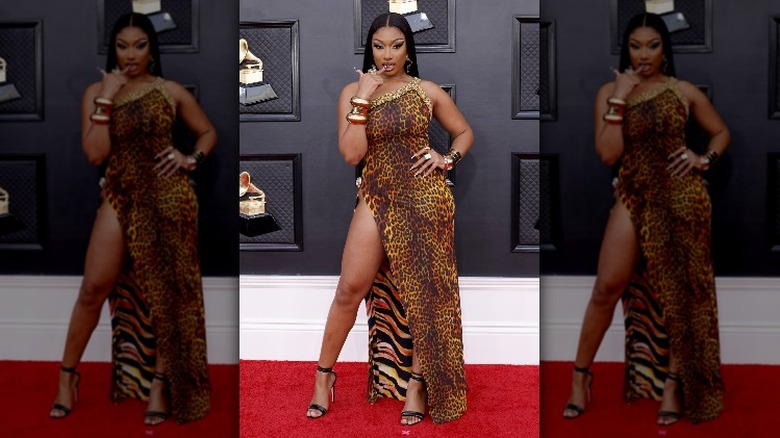 Frazer Harrison/Getty Images
Megan Thee Stallion stood out on the red carpet to be sure, dressing like no one else. Indeed, the rapper chose a body-hugging Roberto Cavalli leopard print gown with a rainbow, tiger print lining for the night. Chunky gold accessories (we're drooling over those bangle bracelets!) perfectly complemented the edgy ensemble, which also featured a thigh-high slit and a one shoulder silhouette. 
On Twitter, fans were buzzing about the look, with one person calling her "A GODDESS." "Dominating the red carpet," someone else praised the artist.
Hailey Bieber kept it basic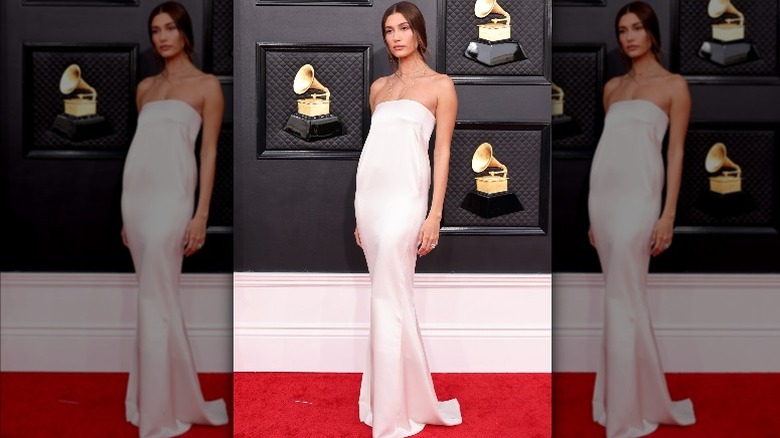 Amy Sussman/Getty Images
With Hailey Bieber's Grammys dress, less was more. Way less. Sure, some viewers may say the model's gown resembled a bedsheet (just us?) but let's get real — Justin Bieber's wife can make anything look good, and this strapless sheath in white is no exception. Plus, we were basically obsessed with her delicate necklaces.
Of course, fans, including us, are just relieved to see the gorgeous Mrs. Bieber on the red carpet just weeks after the health scare that saw her being hospitalized after having stroke-like symptoms. 
Dua Lipa did her thing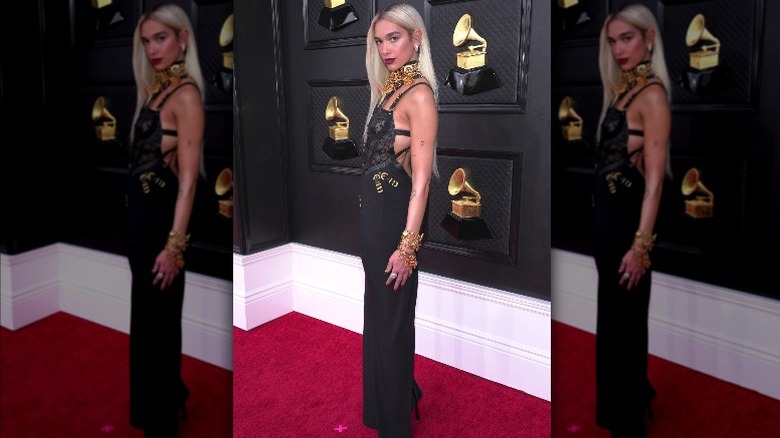 Kevin Mazur/Getty Images
All hail Dua Lipa. The singer's bondage-inspired Grammys look had to be included in our list of the Grammys outfits fans will be buzzing about for a long time to come. Because, fact. 
It's worth noting that although Dua Lipa's dress served up fresh and futuristic vibes, the vintage gown, which featured a sheer bodice and chunky yellow gold accessories, is from Versace's fall 1992 collection according to W. 
P.S., we're loving the long blonde hair! As if Dua Lipa could ever do any wrong when it comes to her mane.
Kourtney Kardashian killed it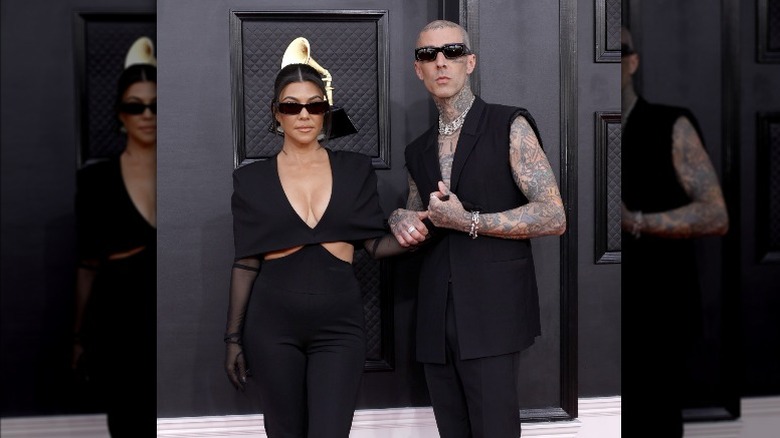 Frazer Harrison/Getty Images
Another star who chose a black gown for the Grammys? None other than reality star Kourtney Kardashian, whose structured pantsuit featuring a deep v-neck and cutouts appeared to be a simplified version of the Batgirl-inspired gown worn by Billie Eilish. 
The newly-engaged star also accessorized with gloves like other attendees on our list of look-at-me looks, Saweetie and Olivia Rodrigo. The star mom's soon-to-be husband Travis Barker completed her ensemble. Incidentally, the couple donned matching sunglasses and predictably, made out for their adoring fans.
Lady Gaga was a legend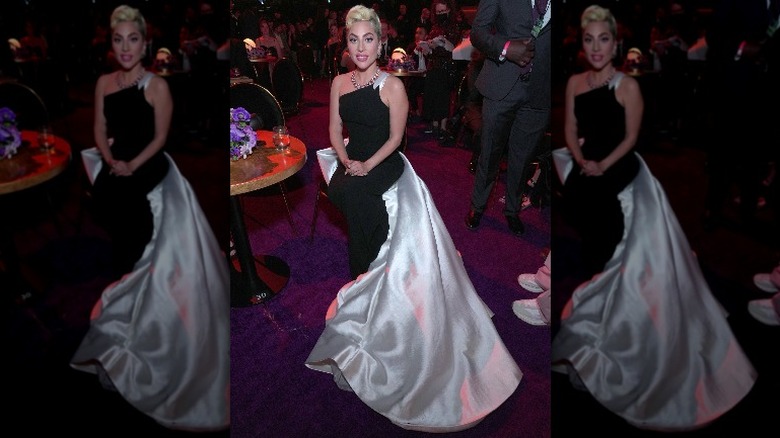 Kevin Mazur/Getty Images
E! Live praised Lady Gaga's look as soon as she stepped out of the limo onto the Grammys red carpet, citing the singer's Armani Privé gown and oversized Tiffany diamond jewelry as basically making the night.
For us, it's all about the giant white bow that accented the elegant, simple silhouetted dress, which flowed onto the floor into a train that recalled Old Hollywood glamour. Indeed, Lady Gaga's gown could have looked just as at home at the Oscars it was so lovely.