Margaret Qualley And Jack Antonoff Stole The Grammys For All The Wrong Reasons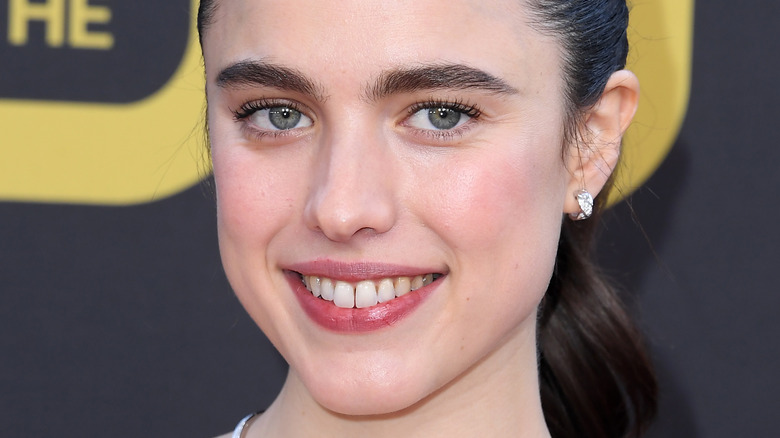 Steve Granitz/Getty Images
Couples showing PDA at awards shows is nothing new; just watch Kourtney Kardashian and Travis Barker on the red carpet! But actress Margaret Qualley and her boyfriend, musician Jack Antonoff, seemed to take it to a whole new level at the 2022 Grammy Awards.
Qualley, who is the daughter of Andie MacDowell, was first spotted out with Antonoff in August 2021 while on a stroll in New York City, per People. Before getting together, Qualley was linked with Pete Davidson and Shia LaBeouf, while Antonoff was in a long-term relationship with Lena Dunham. Qualley and Antonoff went public with their romance in March 2022, attending the AFI Awards luncheon together, followed by the Critics Choice Awards, where Qualley's Netflix show, "Maid," was nominated for best limited series. During the ceremony, the two were seen kissing at their table, with Antonoff wrapping his arm around Qualley's waist throughout the event. 
The couple also sat close at the Grammys, where Antonoff was named producer of the year in the non-classical category for his work with Taylor Swift, Lana Del Rey, St. Vincent, Lorde, and Clairo, as well as for his own Bleachers album, "Take the Sadness Out of Saturday Night" (via Pitchfork). However, it wasn't Antonoff's new award that had everyone at home talking.
Viewers didn't appreciate the couple's flirtatious behavior during the ceremony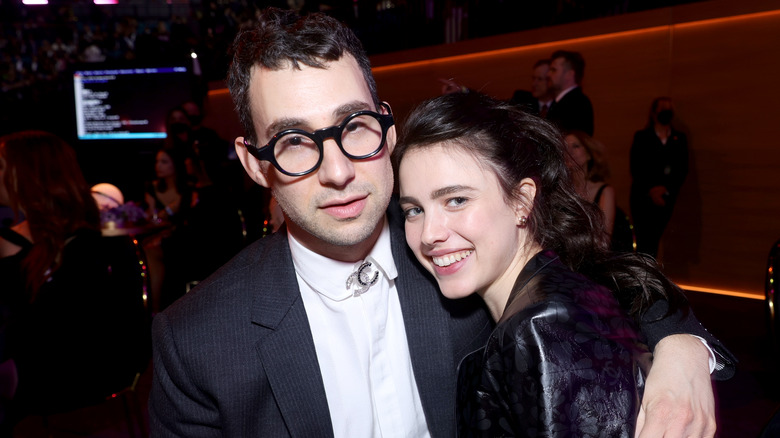 Emma Mcintyre/Getty Images
Viewers couldn't help but notice how affectionate Margaret Qualley and Jack Antonoff were while sitting in the audience at the 2022 Grammy Awards — and most were not thrilled about it. "Getting sick seeing Margaret Qualley flirt with Jack Antonoff on the left corner of my screen. Free her!" wrote one Twitter user, while another posted that "Jack Antonoff and Margaret Qualley need to chill." Someone else declared that "the Grammy for the most annoying celebrity couple goes to Jack Antonoff and Margaret Qualley, congrats."
It's surprising that the couple packed on the PDA given how private Antonoff has been about his romantic relationships in the past. After news broke that he and Lena Dunham split after five years together — and he was linked with Lourde — Antonoff tweeted about his unhappiness in having to discuss his personal life. "Normally I would never address rumors but I resent having the most important friendships and working relationships in my life reduced to dumb hetero normative gossip," he wrote on Twitter (via Page Six). "Those relationships are deeply important and sacred. With that said, I'm not seeing anyone. Lol."
While many have been focusing on this couple's PDA, others are, of course, more concerned with the 2022 Grammy Awards looks we can't stop talking about.