Kourtney Kardashian And Travis Barker's Seating Arrangement At The Grammys Has Fans Confused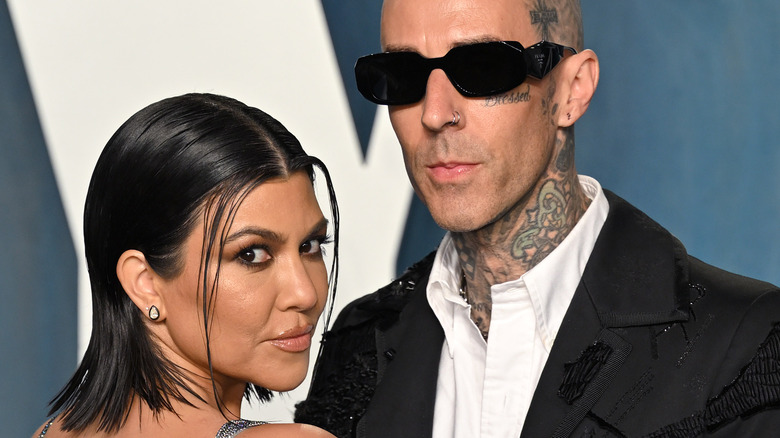 Karwai Tang/Getty Images
One celebrity couple that's dominated headlines since they became a permanent couple is Travis Barker and Kourtney Kardashian (via Us Weekly). The pair got together in early 2021 after Barker left a comment on one of Kardashian's Instagram posts. However, they go back further than most people think. They began getting close in 2018 when Barker and his daughter, Alabama, joined the famous family for dinner.
Though no relationship blossomed between the two stars following that dinner, things heated up for them over the last several months, which led to an engagement between Barker and Kardashian in October (via Page Six). The couple is happy and not afraid to show the world their love.
PDA has been strong with Barker and Kardashian, who has never turned down a romantic photo op. According to SheKnows, the pair was especially touchy-feely at the 2022 Academy Awards. So, fans were expecting to get a glimpse of the loving couple at the Grammy Awards the following weekend; however, their behavior ultimately had fans scratching their heads on Twitter.
The couple's behavior was awkward even by their standards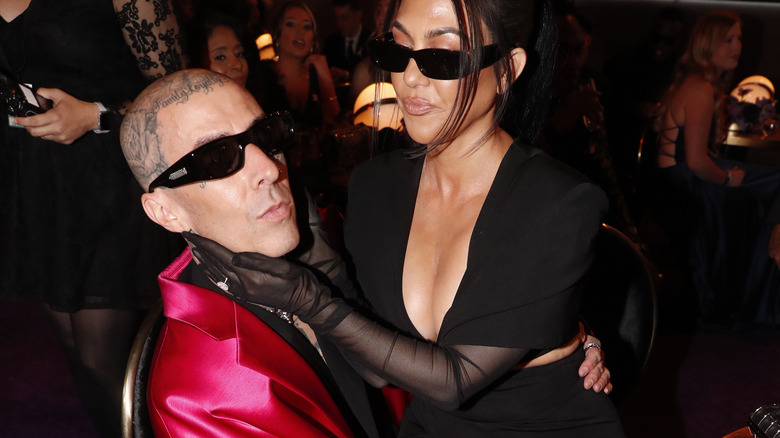 Johnny Nunez/Getty Images
When cameras at the Grammy Awards panned to Travis Barker, who was performing that night, his fiancée was perched on his lap. Of course, fans couldn't get enough of the odd seating arrangement, sending out some iconic tweets.
One Twitter user wrote, "Why was Kourtney sitting on Travis Barker's lap? They couldn't get sis her own seat?" Another said, "So, does Kourtney K. not have a seat? Or is Travis so controlling she has to sit on his lap?" Meanwhile, a fellow viewer penned, "Kourtney Kardashian is sitting on Travis Barker's lap the whole show.....I wanna be that in love that I forget a whole seat is available for me."
This odd seating arrangement was even shocking for the couple, who spent the pre-show making out (via Page Six). The couple was photographed making out on the red carpet, and Kardashian could even be seen holding open her fiancée's mouth at their table. They're definitely not afraid to show off their love, no matter what others around them think.