Royal Expert Believes The Queen Mother Would Have Specific Thoughts About Kate Middleton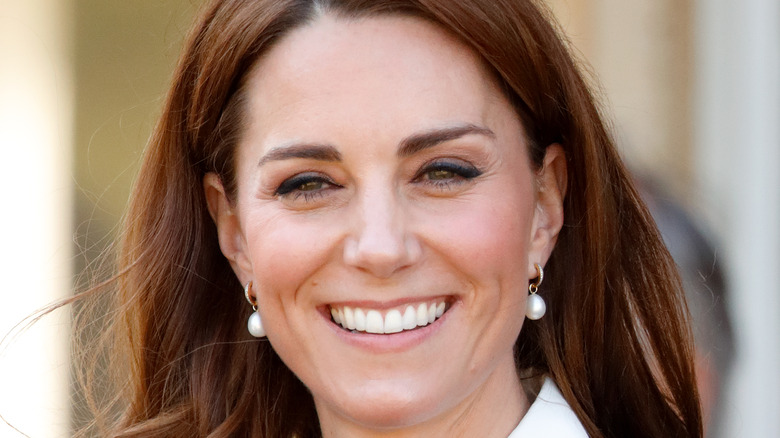 Max Mumby/indigo/Getty Images
In 2022, Kate Middleton and Prince William embarked on a whirlwind royal tour in the Caribbean, during which the duchess gave a sweet nod to none other than the queen herself. People report that, during their final appearance in Jamaica, Middleton sported a stunning hummingbird brooch that actually belongs to Queen Elizabeth. The long-reigning monarch was gifted the piece of jewelry by the Jamaican people during her 2002 trip, in honor of the queen's Golden Jubilee.
This year marks her Platinum Jubilee, but considering the impact COVID-19 had on the queen, it makes complete sense that the Cambridges journeyed to the Caribbean in her place. They're following Her Majesty's lead, too, per royal biographer Sally Bedell Smith, who explained, "The Queen has always been a believer in using her position not to exert power, which she really doesn't have, but to influence. She does that by example and honoring people by serving ... William and Kate are doing that — listening."
The Cambridges are incredibly close with William's beloved grandmother. In fact, The Sun recently revealed the royal couple plans to move to Windsor shortly, to be closer to the queen. They're looking at properties in the area, with a view to spending the summer there. And, although it remains to be seen whether Middleton will ever take the throne, a royal expert claims the queen mother would've been fully behind the idea.
The queen wasn't convinced by Kate Middleton at first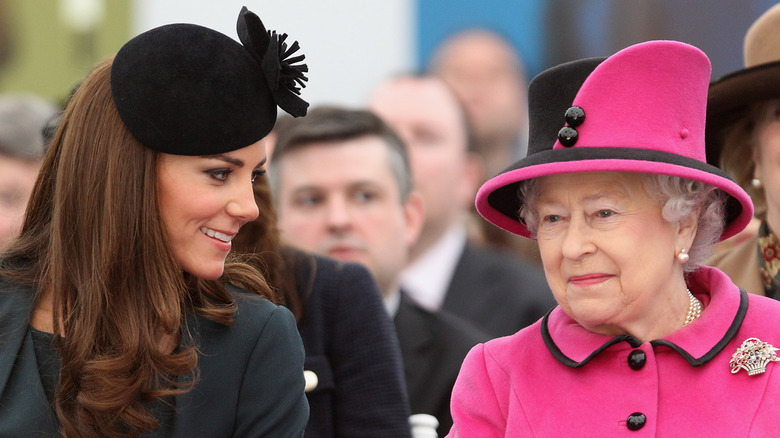 Oli Scarff/Getty Images
Even though Kate Middleton and the queen share a super close relationship nowadays — as Hello! magazine points out, the duchess gets along really well with every member of her husband's extended family, frequently accompanying them on official business — Her Majesty wasn't sure about Middleton in the beginning. As The Mirror reported, she was initially concerned about Middleton's glamorous, jet-setting lifestyle when she first began seriously dating Prince William. According to Katie Nicholl's book "William and Harry," Queen Elizabeth wasn't impressed that the duchess appeared to always be on vacation.
In fact, Middleton was spotted living it up in Mustique so often "the press dubbed her 'Queen of Mustique,' a title that had previously belonged to Princess Margaret." The UK was in the midst of a devastating depression at the time, and the queen was concerned about how regular people would view such ostentatious displays of wealth. An insider revealed Middleton was expected to focus more on her career if she ever wanted to be part of the royal family since, "Swanning from one five-star holiday resort to another is not the prerequisite for a young woman possibly destined to be Queen." 
Unsurprisingly, the duchess was very hurt when she learned about it. They've obviously patched things up since then, but there were undoubtedly difficult times. However, at least the queen mother would be in Middleton's corner if she was still around.
Kate Middleton would be the ideal choice of future queen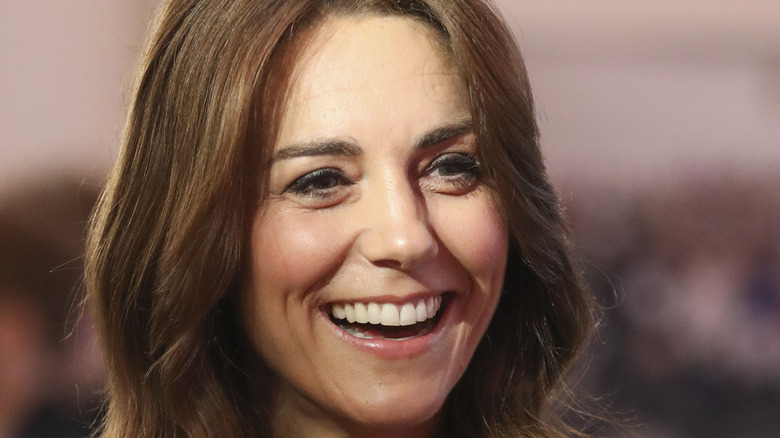 Pool/Getty Images
According to royal expert Jennie Bond, if the queen mother was alive, she would be Kate Middleton's biggest fan. The former BBC royal correspondent enthused, in an interview with OK! magazine, "Kate is turning out to be the real deal. Gracious, elegant, committed and dutiful — the Queen Mother would've very much approved of her." Sadly, though, she wouldn't have a lot of time for the Duchess of Sussex, despite the fact that Meghan Markle holds this status over all other royals.
The queen mother was known for adhering to an incredibly strict code of conduct, dedicating her life to serving the people, and encouraging a similar duty of care with the other members of the royal family. She was so exacting in her approach, in fact, that the late Princess Diana was reportedly quite intimidated by her. However, the queen mother's ability to get on a level with anyone she met is a skill she shares with Middleton, who always makes time for fans wherever she goes.
Bond opined, "She and William connect with young people in a way that's vital for the success and future of the crown. They've nailed it and made the monarchy cool." As People reported, the Cambridges notably broke with royal protocol by posing for a fun selfie with the Jamaican bobsleigh team, further emphasizing that they're regular people just trying to make a difference. Evidently, the queen mother would've approved.