Donald Trump Pays Jen Psaki A Backhanded Compliment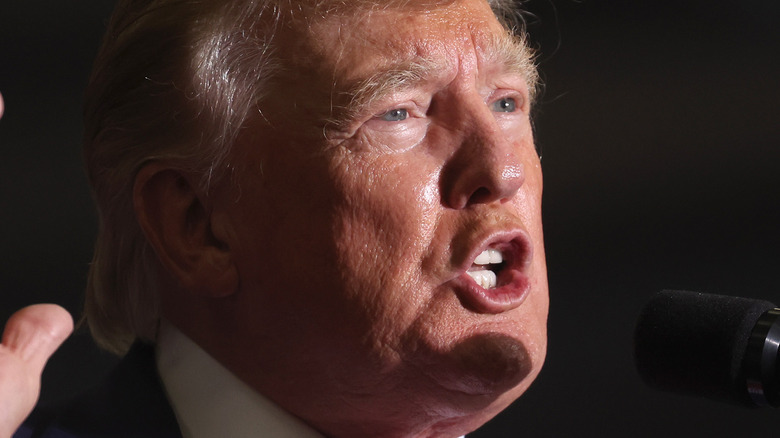 Scott Olson/Getty Images
President Joe Biden may get people talking over his gaffes, but former president Donald Trump also has a way with words that isn't always very nice — and often, the targets of his jabs are women. Infamously, the businessman-turned-politician called Rosie O'Donnell "a slob" (via The New York Times). And who could forget Trump lambasting his rival for the 2016 election, Hillary Clinton, for being "a nasty woman" (via CNN)?
Now, the would-be 2024 presidential candidate has his sights set on Jen Psaki, the current White House Press Secretary. According to Axios, the outspoken mouthpiece for Biden is reportedly saying sayonara to her role taking questions from the press to head over to MSNBC, where Psaki will work as a pundit and may even get her own show.
We don't yet know how Biden feels about the reported move, although Psaki's potential future peers are questioning her over it. NBC's Kristen Welker asked Friday, "How can you be an effective briefer if you do in fact have plans to join a media outlet?" (via Deadline).
For her part, Psaki said she fully respects the ethical considerations around such a move. Meanwhile, Trump is seemingly on board with the idea, although he has a funny way of saying it.
Donald Trump's logic has people confused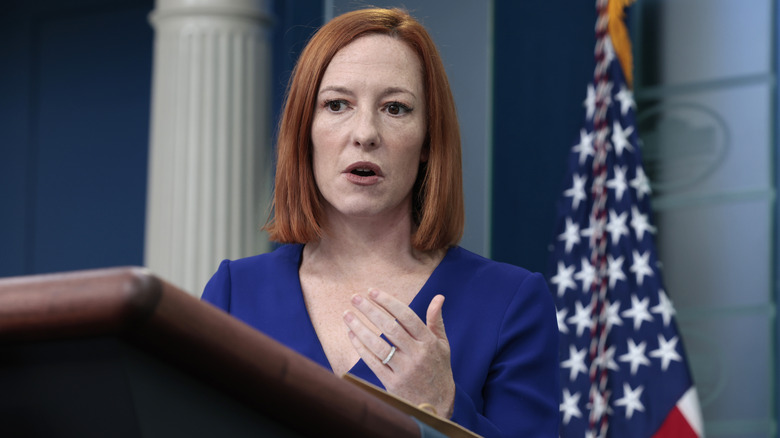 Anna Moneymaker/Getty Images
At a rally in Michigan over the weekend, Business Insider reports that Donald Trump had some thoughts about Jen Psaki's rumored new job. First, the outlet noted that the former commander in chief called the press secretary "the woman with the beautiful red hair" while addressing a full crowd (via Twitter).
"You know she's going to MSDNC," Trump went on to say, making reference to his belief that the network is controlled by the left. "They need a redhead," Trump continued about why the network might be hiring Psaki. "They don't have a redhead over there, so they need a redhead."
Twitter soon took the controversial politician to task on his comment, with one person who didn't appreciate such random reasoning tweeting, "Who cares? Why make such a stupid comment? This is why he lost the last election. People were tired of listening to his stupid stuff."
The head-scratching comment aside, Psaki is yet to confirm that she is definitely taking a new job at MSNBC. Of course, if she did, the White House staffer would join the ranks of former Bill Clinton communications director George Stephanopoulos who now anchors ABC coverage (via NBC).