RPDR's Trinity The Tuck Just Announced Major Life News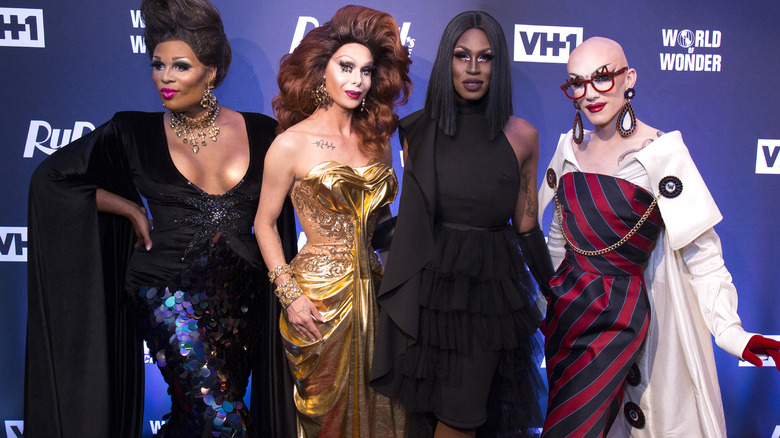 Santiago Felipe/Getty Images
"RuPaul's Drag Race" is an Emmy-winning, boundary-breaking, and defiantly positive slice of reality TV gold that, unsurprisingly, has grown exponentially in popularity as more seasons have been unleashed on the world. And yet, despite its firmly LGBTQ+ focus — the show's reading challenge is inspired by "Paris is Burning," among many other things — and propensity for emotionally honest conversations, "Drag Race" isn't known by some fans to have the best track record when it comes to transgender contestants. 
The problems began in 2018 when beloved host RuPaul Charles was asked about trans inclusion during an interview with The Guardian. While discussing former contestant Peppermint, RuPaul reasoned that, because she didn't begin the transition process proper until after her stint on the show, it didn't really count. As a result, RuPaul wouldn't accept anybody who had already started transitioning, reasoning, "You can identify as a woman and say you're transitioning, but it changes once you start changing your body. It takes on a different thing; it changes the whole concept of what we're doing." 
The host subsequently walked back her comments, after intense backlash, per Billboard. Acknowledging she was still learning, Ru apologized and confirmed the only thing that really matters is talent. The rules have since relaxed considerably, with Season 13's Gottmik notably becoming the first transgender male contestant in the show's history (via USA Today). Likewise, current and former contestants alike are sharing their true selves, too, the latest of whom is a fan favorite and "All Stars" winner.
Trinity the Tuck took a moment to spread the love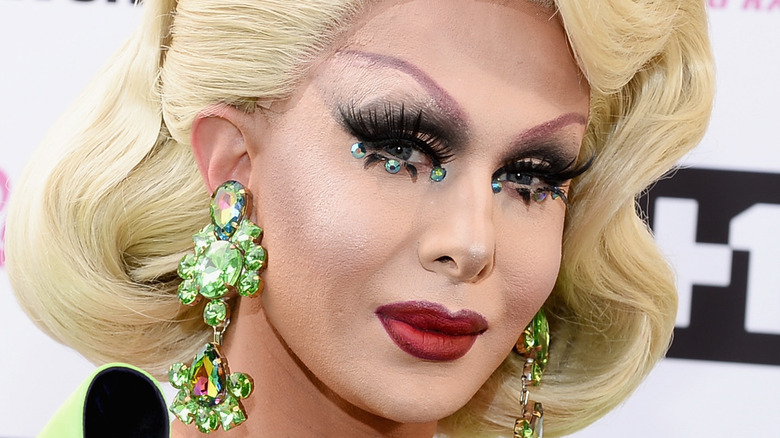 Tara Ziemba/Getty Images
Trinity the Tuck, formerly Trinity Taylor, who competed in Season 9 and jointly won "All Stars 4" alongside Monét X Change, took to Instagram to share an important life update with fans. Captioning her post, "It's not always easy but love yourself! Life's a journey," Trinity revealed she's been questioning her gender identity for years and even briefly began taking hormones early in her drag career. The "All Stars" winner has been open about her extensive plastic surgery work over the years, leading Willam — who was infamously disqualified from "Drag Race," back in Season 4 — to joke in the comments, "Wait you had work?" 
Trinity acknowledged she's been holding back out of fear of what it would feel like to fully embrace life as a woman. However, after speaking to some knowledgeable friends, the "Drag Race" alum came to the realization that she is trans-nonbinary. Trinity explained, "I wanted to share my feelings in hopes that others who felt like me would know they aren't alone." She also noted the journey was very personal and ongoing. Former contestants Nina West and Morgan McMichaels shared the love in the comments, alongside "Drag Race" judge Michelle Visage, whose friendship with RuPaul herself is well-documented.
Likewise, Peppermint reassured Trinity, "You are right where you need to be you are not a minute too soon or too late!" 
Several Season 14 queens have come out as trans
Trinity the Tuck's exciting news comes hot on the heels of several Season 14 queens, two of whom are still currently competing on the hit show, coming out as trans. As Screen Rant reports, at the time of writing, four queens have come out as trans with Kerri Colby taking part in "Drag Race" as a transgender woman. Kornbread "The Snack" Jeté, Jasmine Kennedie, Bosco, and Willow Pill have all confirmed they are trans either on social media or, in Kennedie's case, on the show itself. 
During an episode of "Untucked," she got visibly emotional while admitting that Colby gave her the confidence to finally start the process. Kennedie's Season 14 sister later posted a photoshopped image of herself as Marvel's Big Bad Thanos to Twitter, joking that she was collecting trans contestants like infinity stones. Bosco, meanwhile, shared that she was "the happiest I've ever been" in an Instagram post, while Pill said likewise while also acknowledging how her illness makes the situation more complicated. 
Elsewhere, Kornbread told Out that Colby was one of the first people she opened up to about her identity since the two queens have been close for years. The early frontrunner found it difficult to share her story on the show, since she was mid-transition at the time, per Billboard, but in the end "Drag Race" gave Kornbread the confidence to just be herself. Suffice to say, we've come a long way since 2018.