Royal Expert Explains Why Kate Middleton Struggles During International Tours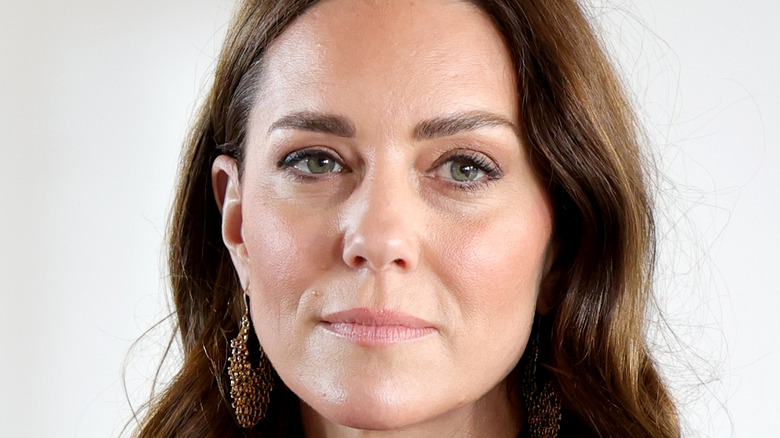 Chris Jackson/Getty Images
Since their return home to the U.K., Prince William and Kate Middleton's messy royal tour of the Caribbean  has given the royal couple a lot to think about. "Foreign tours are an opportunity to reflect. You learn so much," William said, per Sky News. The much-anticipated tour was met with protests over land use in Belize on its second day. Later, when the couple arrived in Jamaica they were met with protesters who were seeking reparations for slavery, per Time.
Amid the difficulties, the Duke and Duchess of Cambridge did their best to meet the challenges of the moment. Paul Burrell, a former royal butler who worked for the family for 20 years, told Closer, "They are serving their apprenticeship (to become future King and Queen) in the Caribbean." As senior royals, it is likely their responsibilities will increase as Queen Elizabeth gets older, says Burrell.
Despite the controversies, Kate continued to shine with her reliably eye-catching fashion. She also created positive attention when she bent down to greet a young toddler in Jamaica, per Express. While her chic wardrobe and bright smile may make her appearances look effortless, participating in an overseas tour is not as easy for Kate as it looks.
Kate's devoted to her children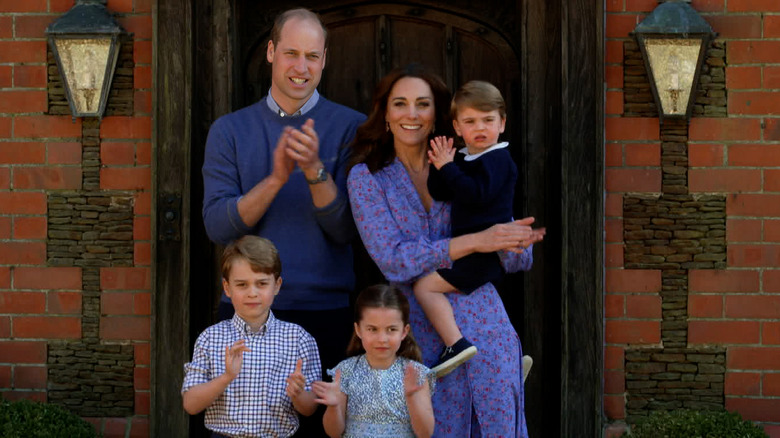 Comic Relief/Getty Images
Prince William and Kate Middleton are parents to three children: Prince George, 8, Princess Charlotte, 6, and Prince Louis, 3. Like many working moms, Kate misses her children when she's away from home. "I think it is always such a wrench for her to leave her children behind," Katie Nicholl, royal expert and author, told Closer. Nicholl says Kate wants to be involved with her children's lives. "Kate is there for morning routines and she does the school runs when she can, and she organizes play dates so the children have a very normal experience," she added.
Kate's desire to look after her children's schedules continued during the Caribbean tour. Even though she was likely tired from traveling and dealing with a time change, Kate started each day thinking of her kids. The duchess was up early to schedule her two oldest children's afternoon activities, per People. The royal couple also took advantage of technology to stay connected to their children during their tour. During family FaceTime video chats, William and Kate told their kids about the trip and showed them the beautiful scenery. 
The royal couple is already planning their next trip as a family, per People. "Our three children, George, Charlotte and Louis, all love being by the sea, so I hope they will be able to experience your clear waters and beautiful beaches before too long," Kate said during a speech in the Bahamas, per Town & Country.
Like many working mothers, Kate feels 'mom guilt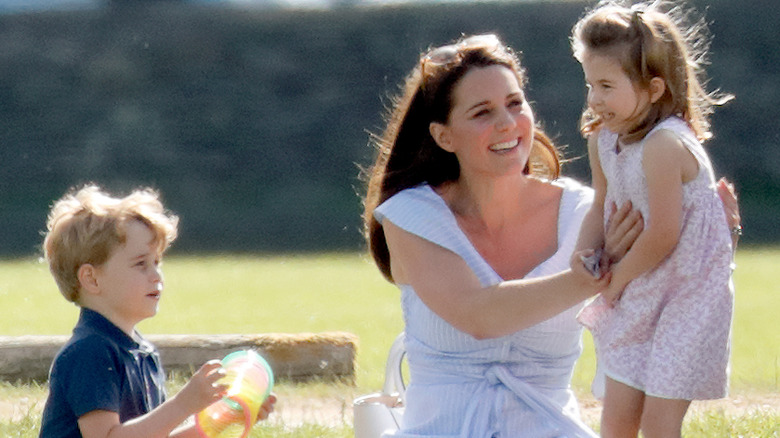 Max Mumby/indigo/Getty Images
Cai Graham, a parenting expert, told Express that Kate Middleton prioritizes her kids, saying, "She's a mother first and a Duchess second." When she can't drop her kids off at school, Kate feels "mom guilt," as she mentioned on the "Happy Mum, Happy Baby" podcast. During the interview she candidly discussed the struggles of combining working and parenting. However, the duchess did offer a way to ease some of those difficult feelings, saying, "The more people you have around your children who are safe and loving and caring, the better," per Mirror.
During a previous tour in 2016, Kate enlisted her mother's help while she and Prince William traveled to Bhutan. Even though her children were with a loving grandmother, "we had a moment to talk about how difficult it was to leave little children behind," royal expert Katie Nicholl told Closer. According to the Daily Mail, 3-year-old Louis was likely spending time with grandmother Carole while his parents were in the Caribbean.
Despite her busy job as a senior royal, Kate Middleton has only one nanny, Maria Teresa Turrion Borrallo, to take care of all three of her children (via Hello!) Previously, royal parents had multiple staff members to assist with childcare responsibilities. However, Prince William and Kate wanted to be more involved parents from the start, and it took some time for them to consider hiring a nanny, per the Daily Mail.