Here's Who Melissa Ordway Is Married To In Real Life
Michael Mattes/Shutterstock
As Abby Newman Chancellor on "The Young and the Restless," Melissa Ordway brings to life an often clueless and vapid heiress related to all three rich core families in the fictional town of Genoa City, Wisconsin. While Abby often seems to lack self-awareness, she does have a good heart and when she realizes she is hurting someone, she frequently backs off. Ordway took over the role of Ashley Abbott and Victor Newman's only child together from Emme Rylan (then going by the name Marcy Rylan) in 2013, per Soaps In Depth.
Since then, Abby has had failed romance after failed romance and finally found who seems to be her true love in Chance Chancellor. When Abby and Chance got married in 2020, the character of Chance didn't look the same for those big wedding episodes, as actor Donny Boaz was forced to take some time off after testing positive for COVID-19, per TV Insider. Not wanting to delay the storyline in Boaz' absence, "Y&R" temporarily recast Chance and didn't have to go far to find a replacement.
Melissa Ordway marries her real-life husband on The Young and the Restless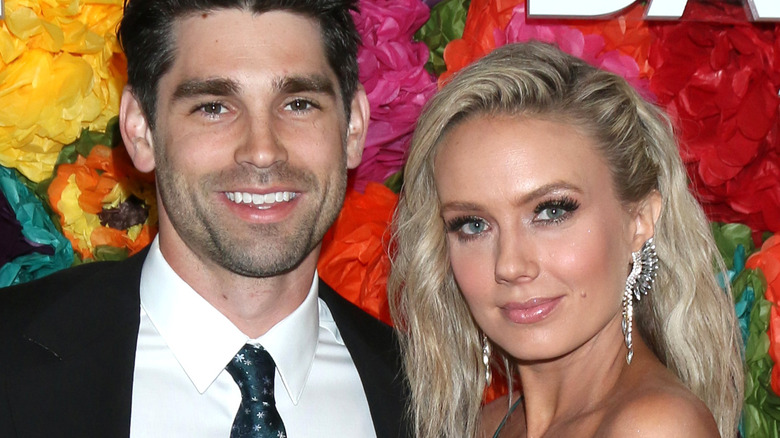 Kathy Hutchins/Shutterstock
Justin Gaston, who was the original Ben Rogers (now Ben Weston), a character now played by Robert Scott Wilson on "Days of Our Lives," per Soaps In Depth, was the perfect choice for a new Chance when Abby married the man of her dreams in November of 2020. After all, he had been married to Melissa Ordway since 2012, so he seemed like the perfect choice to marry her Abby in "The Young and the Restless'" story. However, that didn't mean Gaston and Ordway didn't have a few reservations about him taking the part.
"I was really, really excited to work with Melissa," Gaston told TV Insider of his feelings about the temporary role. "At first, we were like, "Is this going to be weird?" But it wasn't at all. I've known everyone in the cast for a while. I was happy to step in."
Ordway loved working opposite her own husband. "At first, we didn't know what to expect," Ordway said to TV Insider. "But this was the most fun two weeks I'd ever had at work. Justin and Melissa don't speak to each other nearly as eloquently as the writers write for us!"
Boaz eventually returned to the role briefly, but then left the show, only for Conner Floyd to play Chance when Abby and Chance became parents, something Gaston and Ordway know a thing or two about in real life, per Soap Opera Digest.
Melissa Ordway and Justin Gaston have two little girls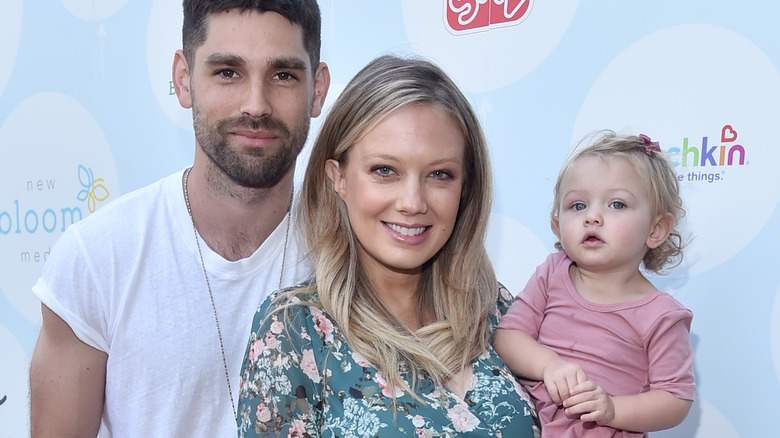 Alberto E. Rodriguez/Getty Images
Anyone who follows Melissa Ordway on social media knows she loves showing off her two absolutely adorable little girls. Ordway and Justin Gaston adopted Olivia Christine soon after her birth in 2016, and made her adoption official in February 2017. In 2021, Ordway posted a tribute to Olivia on the fourth anniversary of her adoption. "HAPPY CORONATION DAY, Olivia!!! Today we celebrate our 4th Coronation day (our adoption "gotcha day")," Ordway wrote. "Words cannot express how thankful I am that God chose me to be your mom. You were always meant to be ours ... I grew you in my heart. 2/27 just made it official! We love you more than words, Olivia Christine!"
Not even a year after adopting Olivia, Ordway gave birth to a little girl named Sophie Jolie in December 2017, per Soap Hub. Just like Abby and Chance have their hands full with baby Dominic on "The Young and the Restless," Ordway and Gaston certainly have their hands full with two daughters so close in age.