The Actresses Who Have Played Linda Anderson On Days Of Our Lives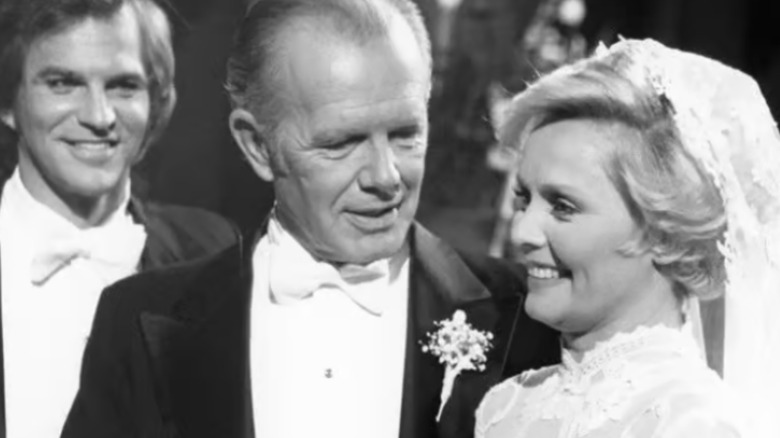 NBC
It's been decades since the character Linda Anderson was even mentioned on "Days of Our Lives," but with so many characters we heard about in years suddenly becoming small topics of conversation of late, maybe Linda will be remembered. After all, with Sarah Horton (Linsey Godfrey) completely believing she is Renee Dumonde (Philece Sampler), a character who was killed in 1983, perhaps she will have something to say about Linda.
Some "DOOL" fans might remember Melissa Anderson, a character who Lisa Trussel made popular in the mid-1980s when paired with Pete Jannings (Michael Leon). Trussel returned to the soap briefly in 2010 when town matriarch Alice Horton (Frances Reid) died, as Melissa was adopted into the Horton family by Mickey (John Clarke) and Maggie (Suzanne Rogers), according to Soap Central. However, her real mother was Linda Anderson, a character that made quite a mark on the soap during her various stays in town played by three different actresses.
Nadyne Turney comes and goes as Linda, then Margaret Mason takes over
When Linda Patterson was first introduced to the Salem scene in 1970, she was played by Nadyne Turney, who went on to a recurring role on "The Waltons" in 1973, according to IMDb. She appeared in a handful of "Days of Our Lives" episodes before Margaret Mason assumed the role. As Mickey Horton's secretary, she fell for him and had an affair. When she learned she was pregnant, she just assumed the baby was Mickey's and told him just that. At the time, Mickey was unaware that he was sterile and couldn't have children, and Linda eventually learned that her ex, Jim Philips, had fathered her baby. Linda and Jim left Salem, ostensibly never to be heard from again.
In 1975, Mason reprised the role of Linda when the character moved back to town with her daughter, Melissa. After an affair with Mike Horton (Wesley Eure) and getting a job at Anderson Manufacturing, she eventually married its owner, Bob Anderson, and he was the first man to adopt Melissa. Linda did all sorts of sneaky things until 1980, when Bob ordered Linda to leave town. Mason would go on to play Eve Howard on "The Young and the Restless," an ex-love of mega-mogul Victor Newman (Eric Braeden).
Elaine Princi becomes the third Linda
In 1984, Linda made another "Days of Our Lives" comeback, this time played by soap vet, Elaine Princi, per IMDb. The actress had previously appeared on the soap in 1977 as Kate Winograd, and then left to take guest roles in various primetime series, as well as in daytime as Miranda Marlowe on CBS' "As the World Turns."
This time, Linda was back to deal with her teenage daughter, Melissa. She had run away from her real mother two years earlier and was taken in by Mickey and Maggie, who became her legal guardians, per Soap Central. Forever a gold digger, Linda wanted Melissa's shares of Anderson Manufacturing that the late Bob Anderson left her. She used every trick in the book to get what she wanted, but when Melissa found out what her mother was up to, Linda left town, never to be heard from again. In 1990, Princi returned to soaps as Dorian Lord on "One Life to Live."