Target Has A Perfect Dupe For The Lululemon Belt Bag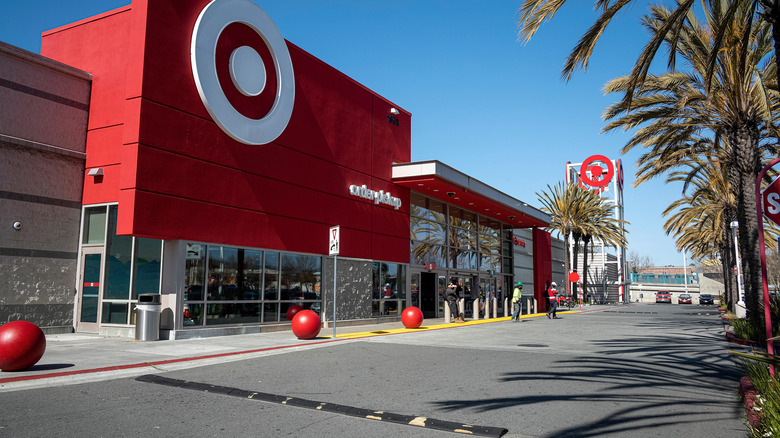 Bloomberg/Getty Images
If it seems as though shoppers' love for Target has exploded in the past few years, it was done by design. According to Forbes, Target CEO Brian Cornell chose to invest billions of dollars into the chain in order to revamp its selection of brands. While this process began in 2017 — and has certainly paid off, as Target continues to see sales numbers rise — the pandemic was actually beneficial for the retailer. That's because they leaned into the market and began releasing brands that people wanted in the moment. Think comfy loungewear, trendy athleisure, you name it! Fast Company reported that the retailer's success led to their now uber-popular brand, All in Motion. In fact, it was just the beginning of Target's high-end releases!
Along with its collection of top-tier brands, Target is also known for housing "dupes," or less-expensive goods whose design closely resembles that of typically high-end luxury brands. According to Fast Company, Target has 45 owned labels, all of which have been successfully marketed to the masses. But one of their most recent new products may be the best yet!
This Lululemon dupe is only $15 at Target
According to Business Insider, Target's main demographic is millennial moms around 39 years old, who have a household income of around $80,000. (This doesn't leave much in the way of luxury shopping!) In contrast, Lululemon caters to wealthy females who are around 32 years old, per Business Insider. Household income aside, the similarity in gender and age makes it easy to see why Target would want to tap into Lululemon's top products. One such product is the popular Everywhere Belt Bag, per StyleCaster. The bag is made for the on-the-go woman and is perfect for housing essentials like your wallet, phone and keys. Plus, its water repellent fabric makes it perfect for any type of weather, as LuluLemon's website notes. And while $38 is actually quite low for a company known for their $118 leggings, Target created an almost identical bag for less than half the price.
Target's version is from the brand Wild Fable, and it can be worn across your waist as a fanny pack or cross-body bag. Like Lululemon's Everywhere Belt Bag, it's the perfect size for carrying your essentials — AND it comes in tons of color options, from a simple black to a bold neon yellow. We're already spotted the cute bag cropping up on Instagram. As of this writing, several colors are quickly selling out!
Target is becoming known for their affordable dupes
If you're looking for more dupes like the Lululemon bag, Target is the perfect place to go. Over on TikTok, one user recently shared an unboxing video of a pair of combat boots, which look nearly identical to the popular (and expensive) Doc Martens brand. You can score a pair of your own at Target in black or brown for less than $40. The retail chain also offers dupes of luxury brands beloved by celebrities, including Kim Kardashian's shapewear line, SKIMS. According to StyleCaster, Target has tons of super affordable shapewear options available, including this one-piece bodysuit from Maidenform and these Colsie shorts, which are a great dupe for the SKIMS Knit Set.
You can even find a similar product to Away luggage for just $80 — and with almost 200 positive reviews, it's a cheap alternative that is anything but cheap! The takeaway? Next time you find yourself at Target, take a closer look at their products. Dupes can be found across clothing, beauty, home, and travel spaces, and you might just save yourself some serious cash ... while still rocking the latest trends.