The Bold And The Beautiful's Krista Allen Isn't Afraid To Defend Her Controversial Character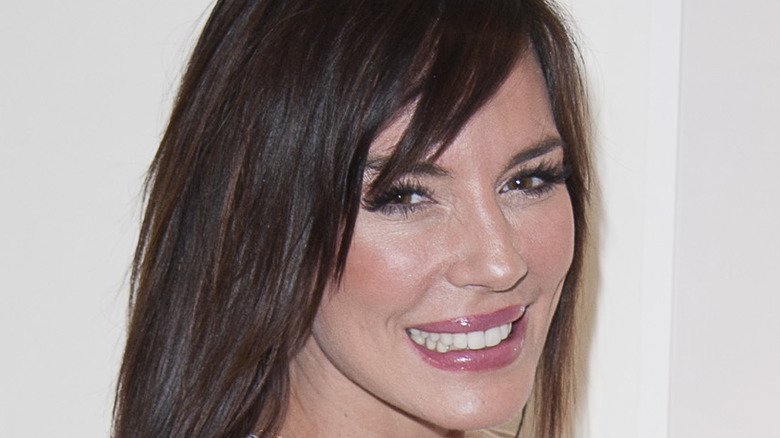 Lilly Lawrence/Getty Images
When Krista Allen took over the role of Dr. Taylor Hayes in late 2021, a part that Hunter Tylo played off and on from 1990 to 2019, Allen's Taylor did an unusual thing that her family and friends didn't expect. 
She chose to make amends with Sheila Carter (via Soap Hub), a completely unhinged character played to chilling perfection by Kimberlin Brown on both "The Young and the Restless" and "The Bold and the Beautiful" off and on since 1990. She began her reign of terror in Genoa City and took it all the way to the fictional version of Los Angeles in "The Bold and the Beautiful" (via Soaps In Depth).
Nobody seemed to understand Taylor's desire to forgive a woman who shot her and left her for dead, with her family believing for years that she had passed. And that was just the first thing Taylor did since returning to LA that seemed off. 
While her adult kids were happy that she revealed a secret to Ridge Forrester (Thorsten Kaye), fans thought she stepped into a situation where it would have been best to mind her own business. She told her ex-husband, Ridge, all about what his current wife, Brooke Logan (Katherine Kelly Lang), did on New Year's Eve (via Soaps.com). She kissed her long-ago ex, Deacon Sharpe (Sean Kanan). 
When Taylor revealed that information, it essentially destroyed Brooke and Ridge's latest go at marriage, but Allen sees nothing wrong with Taylor's actions over the last few months.
Krista Allen still thinks Taylor did the right thing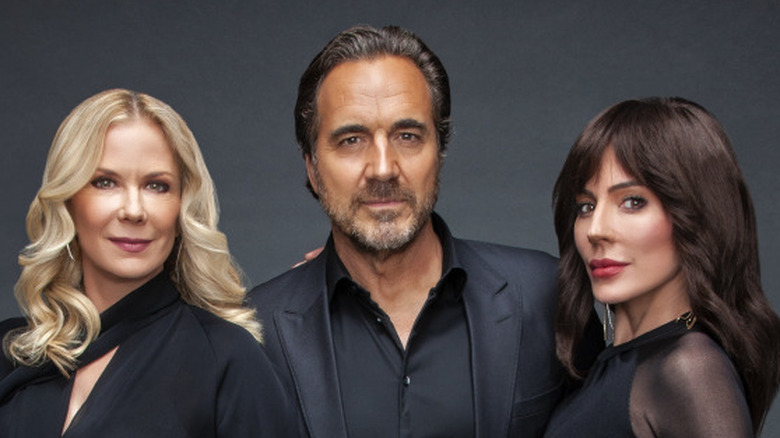 Gilles Toucas/CBS
When appearing on the podcast "Soap Party 411," the host lamented that Taylor seems to be just pining for Ridge and is not written as a strong character anymore, but Krista Allen disagreed.
"That's the narrative you see," Allen responded. "But from my point of view, that's not what I see. From my point of view, I am not waiting for Brooke and Ridge to fall apart so I can jump in there. She didn't come back for Ridge, she came back to be with her family."
That family includes two grown children, Steffy Forrester (Jacqueline MacInnes Wood) and Thomas Forrester (Matthew Atkinson), and both were thrilled to have their mother back and even encouraged her to be the one to tell Ridge what Brooke did. 
Allen even admitted on the podcast that it was the kids who were trying to do the "parent trap," referring to the 1960s Disney movie of the same name, starring Hayley Mills as teen twin sisters trying to reunite their parents. In 1998, a remake debuted with Lindsay Lohan.
While the host argued that what Brooke did with Deacon was between Brooke and Ridge, Allen countered that Brooke did this to herself. 
"If you're in love with somebody and claim to be in love with somebody, you're not looking at someone else," Allen said. "So, what does that say about Brooke-Deacon, Ridge-Brooke, there's something missing, right?"
But what about new friend Sheila Carter?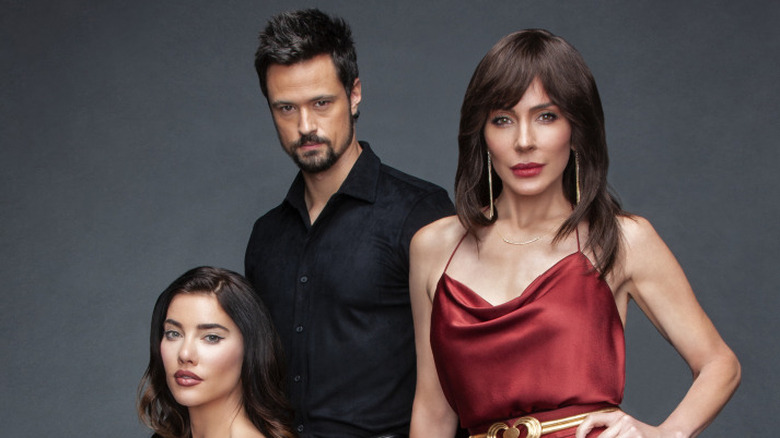 Gilles Toucas/CBS
While Taylor told Ridge the truth about Brooke and Deacon, she still held onto the idea that Sheila Carter just wanted to be her friend and deserved forgiveness. 
Taylor might learn to regret the decision to befriend Sheila now that she has shot both Taylor's daughter, Steffy, and Steffy's husband, John "Finn" Finnegan (Tanner Novlan), who is actually Sheila's son. It was a shocking and gruesome moment, indeed, as both Steffy and Finn laid lifeless in a pool of their own blood, juxtaposed with scenes of Taylor defending Sheila to Ridge (via Soap Hub).
Well, Krista Allen is not defending her character for that poor judgment, which has changed her fictional family forever. 
"I'm currently in the process of encouraging Taylor to take a refresher course on human behavior and how to spot a psychopath," Allen tweeted hours after the shooting scenes aired. "But she thinks she knows better! Stay tuned."