Kris Jenner's Gorgeous New Look Has Everyone Talking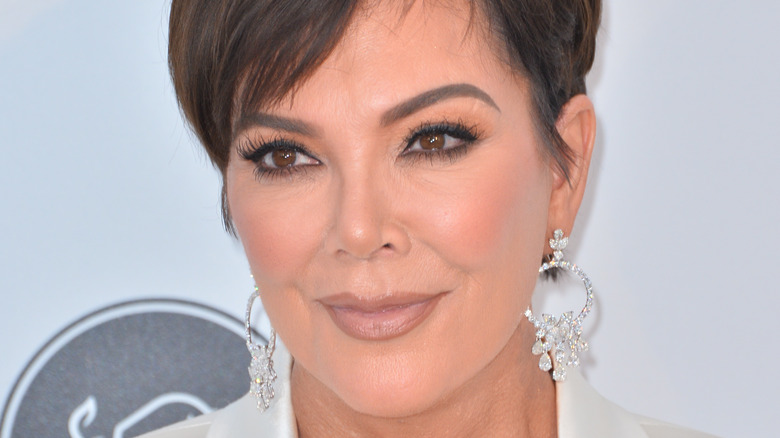 Featureflash Photo Agency/Shutterstock
It must be fun to be a Kardashian or Jenner and experiment with your hairstyle like most of us change clothes. Just a few weeks ago, we were fawning over Kendall Jenner's new look, featuring a fresh shade of red hair. Now, fans are buzzing because the model's mom, Kris Jenner, has debuted a new hairstyle that marks a departure from how we are used to seeing her.
While showing off her daughters' Kendall and Kylie Jenner's lip gloss collaboration in a recent Instagram Story, our real attention was diverted to the momager's longer hair, which was styled in a bob with bangs instead of her trademark pixie cut (via Daily Mail).
Is it just us or does the matriarch of the reality TV family look younger with this new 'do? Well, Twitter definitely agrees that Jenner is stepping up her style as "The Kardashians" tees up to debut on Hulu on April 14, 2022.
Kris Jenner enjoys having fun with her look
Soon after the 66-year-old shared a glimpse of her new hairstyle on her Instagram Story, Twitter was serving up its take on the flattering look. "Kris Jenner got neck length hair now? Oh she showing out this year," one fan complimented the star.
"I'm living for Kris Jenner's new hair cut," enthused another Twitter fan. Of course, another Twitter user wanted people to take things down a notch, and pointed out that the new look was probably just Jenner donning a wig for her daughters' makeup launch.
Of course, this would hardly be the first time that Jenner has gotten creative with her hair. In September of 2020, the star experimented with a messy updo that also showed a different side of her. Her hairstylist Andrew Fitzsimons told Allure at the time, "She wanted to try something new and showed me a few reference photos of a similar style" (via Hello! ). He went on to explain he achieved this particular style without a wig. 
A year earlier, Jenner also went for it with a layered bob created by Jorge Serrano (via Marie Claire).