Kendall Jenner's New Look Has Fans Buzzing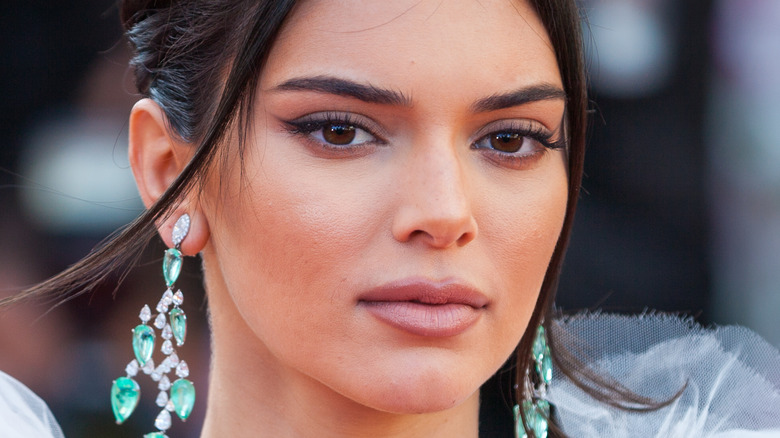 taniavolobueva/Shutterstock
Another day, another new look for a Kardashian or a Jenner. In this case, Kendall Jenner's appearance is causing a stir online for more than one reason. First, the model and reality TV star posted video and photos to her Instagram that seemed to showcase fuller lips (via Page Six). Fans immediately began speculating that Jenner had gotten lip fillers, with Twitter users sharing their opinions on the alleged plastic surgery result.
"Kendall Jenner got excessive lip fillers and they look completely painful," opined one follower, with someone else scolding the star, "I'm sorry but Kendall Jenner needs to stop overlining her lips...it looks bad, and it's so painfully obvious. If it looked good I wouldn't care. But sis, please."
Other Twitter users called the effect "exploded lips" and "puffy." "Sad! She ruined her face," someone else commented. Overall, it seems most people are not fans of the face-altering look.
Fans love Kendall Jenner's new hair hue
Although her mouth was the talk of the internet, Jenner did not cop to getting fillers. Still, she was clearly looking for fans to notice her mouth, having posted several clips and photos of herself making kissy faces.
The good news is that fans are largely in favor of the other alteration to Jenner's look that marks a huge departure from how we've seen her before. Of course, the star has naturally dark locks like her sisters, Kim, Khloé, Kourtney and Kylie. But we've seen the model with blonde hair in the past. What we haven't gotten a glimpse of is Jenner sporting red tresses until now.
Jenner showed off the long, strawberry blonde hairstyle, about which Cosmopolitan said gave off Ariel vibes, on her Instagram in a series of posts and her fans showed up with some serious compliments. "Red headed bae," one person said about the extensions in the comments section of the model's Instagram. And the admiration only grew from there.
Did Kendall Jenner get plastic surgery?
After the 26-year-old debuted long red hair on her social media, her legion of fans were on hand to let their idol know they were in favor. "I love the red on you," said one fan on Instagram. "This hair on you," said another admirer of the shade switch-up. "Omg this hair!!!" exclaimed someone else.
As with anyone who makes a change in the public eye, not everyone is going to like the look. "I hate her with red hair I'm gonna say it now," sniped one person on Twitter. 
And there was one more change to Jenner's appearance that a few fans were buzzing about as well. Some claimed she had breast augmentation surgery based on the recent photos she has shared to Instagram. As Life & Style notes, the child reality star has long been the subject of rumors that she's had work done. Taking to her app in 2017, Jenner said, "As a model, why would I have my face reconstructed? It doesn't even make sense."
About a potential boob job, the star told The Telegraph in 2019, "My sisters are a lot curvier than me. They have boobs and I don't have boobs. Growing up being this little twiggy girl, I saw my sisters and always thought, 'Oh no am I supposed to be more sexy like them?'" We don't know whether she went further than musing on the topic.