Donatella Versace Reveals How Britney Spears Is Really Doing Post-Conservatorship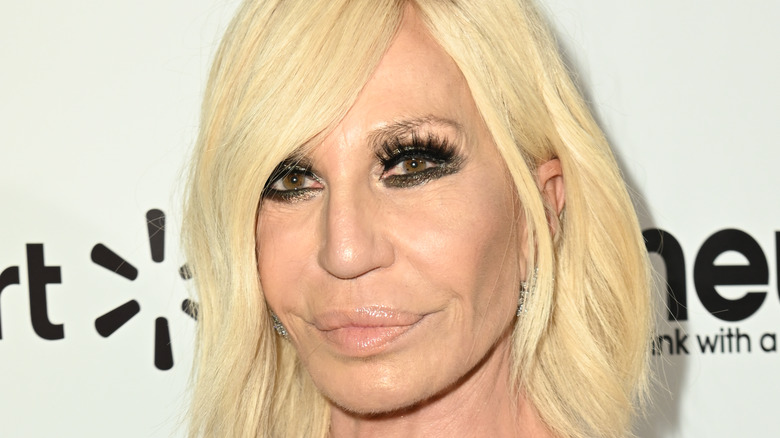 Silvia Elizabeth Pangaro/Shutterstock
Britney Spears is ready to start the next chapter of her life with Sam Asghari. The truth is that Spears and Asghari became engaged in September 2021 after nearly five years of dating, and her desire to settle down and have children with Asghari played a big part in Spears' fight to end her conservatorship, which had been in effect since 2008. 
"I was told right now in the conservatorship, I'm not able to get married or have a baby, I have an IUD inside of myself right now so I don't get pregnant," she told a judge during her conservatorship court case, according to Us Weekly. "I wanted to take the IUD out so I could start trying to have another baby. But this so-called team won't let me go to the doctor to take it out because they don't want me to have children — any more children."
Because a judge ended Spears' conservatorship, she and Asghari can now focus on their future together. While Asghari told Entertainment Tonight that he would love to have "the biggest wedding in the world," he admitted that his fiancé is the one in charge of the planning. And, according to In Touch, the singer has been busy cutting out photos for inspiration, and would love to get hitched in one of her favorite places in the world, Maui. 
While most of their plans have been kept under wraps, Spears did reveal who will be designing her wedding gown: Donatella Versace.
Donatella Versace is happy to see Britney Spears in such a good place
Britney Spears is busy planning her upcoming nuptials to Sam Asghari, which will include a wedding gown designed by Donatella Versace, who met up with the couple in Los Angeles while she was in town for the 2002 Academy Awards. "Look who came to visit ... these 2 bad b****es are up to no good," Spears wrote on Instagram along with some photos from the visit.
Versace ultimately told Variety that the singer is "doing well." She continued, "I find her in an amazing state of mind. I know it's been such a long time. I'm very happy to see her like that." The two have been friends for many years, with the designer describing Spears as a "special" girl with "a good heart," per Entertainment Tonight. She also gave her stamp of approval to Asghari, calling him "a real nice person."
In addition to dreaming up her big day, Spears is busy writing her memoir after signing a $15 million book deal with Simon & Schuster, per Page Six. "...it's actually healing and therapeutic... it's also hard bringing up past events in my life," Spears wrote in a now-deleted Instagram post (via USA Today). "I've never been able to express openly!!! I can only imagine that I do sound childish but I was extremely young with those events took place."