The Paula Patton Fried Chicken Controversy Fully Explained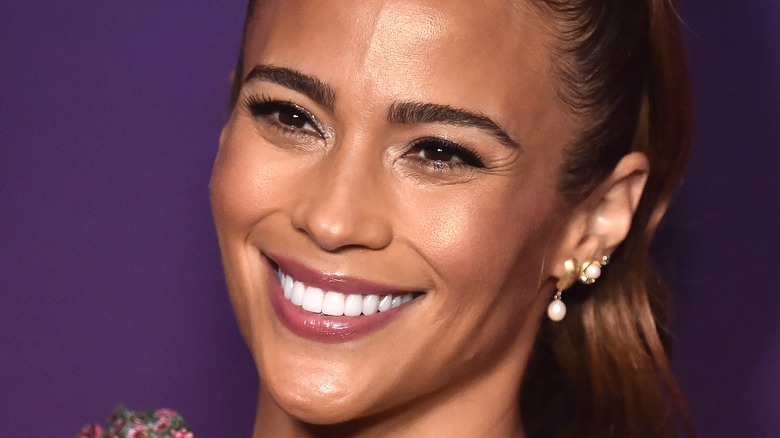 DFree/Shutterstock
Social media can often feel like a dark place with people spreading hate for no apparent reason. However, it can be somewhat redeemable when everyone rallies together in awe of the same thing — and that's usually surrounding celebrities. There's a reason why most celebrities take the complete privacy route with social media, only posting photos from events or shoots, or sharing promos of their current projects.
It seems as though once a celebrity makes the choice to take a down-to-earth social media approach, it can be hit or miss. You could end up entirely relatable like Ina Garten holding her glass up to drinking "more large cosmos" being her New Years resolution (via Delish). After this, Garten's response to Reese Witherspoon had fans going wild, only further proving how much the masses love her. 
On the other hand, of course, you could end up like Draya Michele, never living down that one time she chose to share a glimpse into her wholesome Christmas Eve cooking session, only for the entire internet to come for her cooking methods, per Rolling Out. 
Paula Patton, though, has always been a fan favorite. The "Mission Impossible" actress is stunning, and has always come across as sweet and kind. She's also never been shy to candidly speak up about everything from her sobriety to her opening up about how she identifies racially, as noted by The Jasmine Brand. Well, when Patton chose to bring the same openness to her kitchen recently, the internet was not here for it. 
Patton's seasoning left a bitter taste in everyone's mouth
You can tell by the gleaming smile on her face that when Paula Patton chose to share an Instagram video detailing her mom's famous fried chicken recipe, she had no clue of the chaos she was about to wreak. The wholesome video showed Patton walking viewers through a step-by-step process that started simply enough by her cleaning her chicken and patting it dry. It then took a stark turn when she began tossing the chicken into a bag of flour with no seasoning in sight. 
Viewers were already prepping their fingers to comment before things got even weirder. Patton began frying the chicken and proceeded to add her seasoning onto the chicken as it was frying. It didn't help that a close-up of the chicken she bit into appeared undercooked as well. 
Instantly, the video became the internet's new hot topic. Patton has since understandably disabled the comments on the video. That didn't stop people from chiming in on how outrageous they found her method to be. The memes piled up overnight, and the general consensus was clear with this tweet: "The lesson from that Paula Patton vid is y'all really gotta stop making tutorials of s**t y'all not even good at." 
Meanwhile, one user jokingly Tweeted, "Paula Patton got on the internet and managed to show y'all how to over-season and under-season fried chicken at the same time." Needless to say, everyone was outraged. 
Patton is sticking to her mom's recipe
While the video was uploaded 4 weeks ago, the internet only recently took the time to watch it — and instantly regretted it. Paula Patton sat back and let them have it before deciding it was time to back herself up. 
Patton chose to clap back all the way from her family vacation in Mexico. She uploaded an Instagram video looking sun-kissed and relaxed before proceeding to explain herself. "Listen, I get it, It might look crazy. It is the way we do it. My mom taught me," the "Sacrifice" actress said. The 46-year-old beauty then decided to stick to her guns, adding, "I'll take suggestions. I'll make a new kind of fried chicken, but I'm gonna always make my mom's chicken the way she did it." 
While she may have also disabled the comments on this video, Patton still seemed unfazed as she chuckled and playfully captioned the video, "Peace, love and fried chicken," with a red heart emoji. Ultimately, everyone makes fried chicken differently, but there still may be one ingredient everyone's fried chicken needs to be elevated to the next level.