Nancy Pelosi Tested Positive For COVID-19. Here's What We Know
Alexandros Michailidis/Shutterstock
The Internet offers unprecedented access to the live of celebrities and politicians alike, but there will always be parts of their lives about which we, the general public, know little to nothing. What you never knew about Nancy Pelosi, for example, is that she was instrumental in passing the initial financial relief bill that helped Americans nationwide when the COVID-19 pandemic first began (via Britannica). 
Okay, you may have know that, but Pelosi, as Speaker of the House of Representatives, holds one of the most important titles in the nation. In fact, according to USA.gov, this position is second in line to succeed the sitting president if they were to die while in office, behind only the vice president at the time. Pelosi has used this title and power for purposes such as COVID relief, but also to oppose former President Donald Trump. Around the same time Pelosi was reelected as Speaker of the House in 2021, Trump was still reeling from his presidential election loss (via Britannica).
This was, perhaps in part, a direct response to how the two politicians handled the pandemic. As explained by American Oversight, Trump often referred to the coronavirus as not being much worse than contracting the flu, which downplayed its severity.
Nonetheless, a new report from CNN shows that Pelosi has contracted COVID-19 over two years into its duration.
Pelosi's positive test is delaying her duties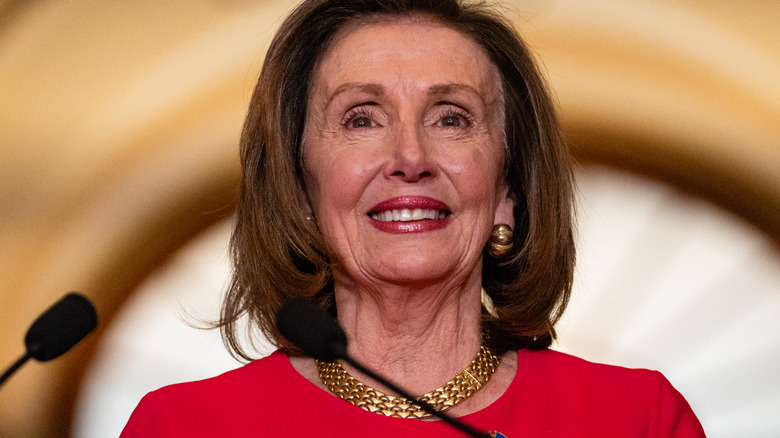 Bloomberg/Getty Images
Nancy Pelosi may never forgive Donald Trump, but her track record when handling the COVID-19 pandemic hasn't been spotless, either. In March, the Speaker of the House scrapped relief money that would've helped everyday Americans after some politicians didn't agree with the distribution of government funds (via the New York Post). Now, just one month later, Pelosi herself has contracted the coronavirus.
According to CNN, Drew Hammill, a spokesperson for Pelosi, broke the news. In a tweet, her deputy chief of staff wrote, "After testing negative this week, Speaker Pelosi received a positive test result for COVID-19 and is currently asymptomatic. The Speaker is fully vaccinated and boosted, and is thankful for the robust protection the vaccine has provided."
The 82-year-old California representative isn't alone. As noted by the BBC, other Washington, D.C. heavy hitters that recently contracted the virus include Merrick Garland and Adam Schiff. Now, Pelosi will focus on healing, postponing a work trip to Asia that had been previously planned for her (via CNN). Ultimately, Hammill concluded, "The Speaker will quarantine consistent with CDC guidance, and encourages everyone to get vaccinated, boosted and test regularly" (via the BBC).