Mr. Kate Designers Discuss Their Early Days In The Interior Design Business - Exclusive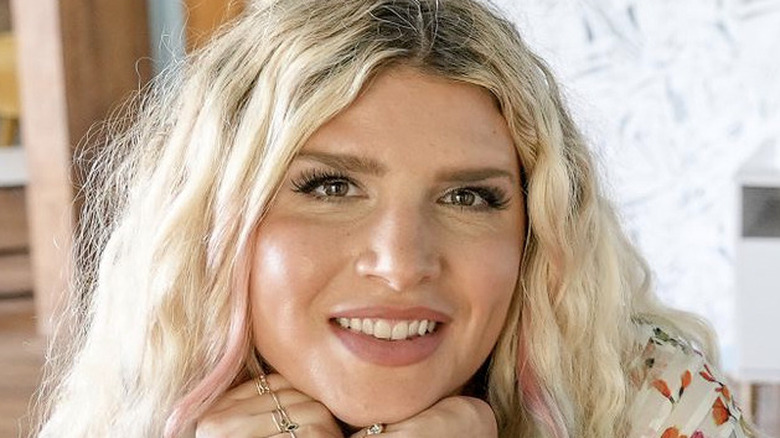 Mr. Kate
So many of us would like to think that we could make it big on Instagram, YouTube, or even TikTok. It seems to be all about timing — getting in at the beginning of a widely successful platform and taking off with other content creators before it becomes inundated with users. For Kate Albrecht and Joey Zehr, the creative minds behind the Mr. Kate interior design blog and platforms, their timing hit the YouTube nail right on the head, and their business has thrived as a result.
Albrecht and Zehr are a fun-loving couple — they've traded their LA-based content careers for life in Hawaii and are blossoming as a married pair and as business partners while raising their young son. They come across as everyday people you'd love to have as neighbors, but they're massively successful interior design professionals with almost 4 million subscribers on YouTube. So how do they balance it all? They've recognized their strengths and collaborated with each other as a result.
With all of that said, did Albrecht and Zehr ever predict that they would amass so many followers or that they'd be the creative minds behind a furniture line? Was it ever in their plan to reach so many different people with their endless creativity and design-bending aesthetics? We sat down with the creators for an exclusive interview, where they dished about the early days and how they landed on the path to success.
How did the Mr. Kate blog come about?
They say that if you find something you love, you won't work a day in your life. That can certainly be said for Kate Albrecht and Joey Zehr, who cultivated lucrative careers and amassed millions of followers by simply being themselves. In our exclusive sit-down with the couple, Albrecht revealed that the early days of the Mr. Kate interior design blog "started out as a passion project" and grew with time and care. It certainly didn't hurt the design duo, additionally, that blogging at the time was all the rage. 
"It was really in the heyday of the blogging days," Albrecht told us. "I had a jewelry line that I'd been selling on Etsy, and then I started a website and basically the blog was chronicling my creative process." As the site grew, Albrecht realized that if she combined her creativity with her tangible skills — as she had attended film school — she could really be onto something.
In those early days on YouTube, Albrecht created and posted videos to the platform so she could embed the filmed content onto her blog. Not realizing then that the videos themselves were organic content on YouTube, Albrecht told us that she was amazed by YouTube's reach and destination as a social platform. Speaking of the comments section of her early videos, Albrecht said, "I got such active, real-time feedback from people on the projects that they liked, and that was really how we were able to ... refine this whole creative bubble that I had going on."
Kate and Joey rode the YouTube wave early on in their careers
It seems as though every social media platform has its peak. For YouTube, the years of Tyler Oakley, Troye Sivan, and Liza Koshy fandom were around the 2013 to 2015 point, and it's a bit nostalgic to think back on Vlogmas, the cross-channel collaborations, and the growth that has come from the YouTube stars since. For Kate Albrecht and Joey Zehr, they joined YouTube right as the rollercoaster started to climb towards the peak of the track, "really blowing up" — in their words — around 2013. Not only was their content original and engaging, but their timing was simply spot on.
Zehr explained that one project in Los Angeles — a fixer-upper — not only sparked their creativity but also gave them insight into just how successful they could be on YouTube. "That's when we really started to dial in," he said. "That's when the audience blew up." With time, the couple found themselves "bombarded" with flip and interior design requests from other YouTube stars, prompting them to film their processes and post them in a cross-channel collaboration style. 
"That was also when YouTube collabs were just like the thing to do, and it was a great way for us to market ourselves while also doing what we were good at," Albrecht said. From those early days on YouTube to now their own furniture line and Hawaii-based projects, Albrecht and Zehr have certainly moved onwards and upwards.
Subscribe to the "Mr. Kate" YouTube channel to follow all of Kate and Joey's DIY and interior design projects. You can also check out the official "Mr. Kate" collection on their website.