Here's Who John McCook Is Married To In Real Life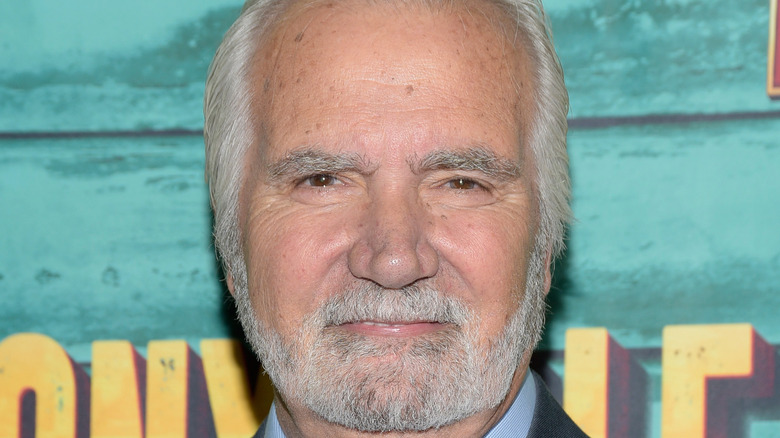 Michael Tullberg/Getty Images
On "The Bold and the Beautiful" John McCook plays a man who has had quite a few wives, with his longest marriage being his first to Stephanie Forrester (Susan Flannery). But Eric Forrester has also been wed to Brooke Logan Forrester (Katherine Kelly Lang), who has alternated between being his wife and being his daughter-in-law, and Sheila Carter (Kimberlin Brown), who is the crazy woman who just shot his granddaughter, Steffy Forrester (Jacqueline MacInnes Wood) in April 2022, per Soaps.com. Currently, he is wed to Quinn Fuller (Rena Sofer), a former crazy person who seems to have been reformed by Eric's love.
In real-life, McCook doesn't have it quite so dramatic. In fact, he has only had two wives in his life and has stayed married to his current wife for more than 40 years. Before McCook married his current wife, he was wed to late actress Juliet Prowse from 1972-1979 and they shared one son, Seth, per Married Biography.
John McCook is married to Laurette Spang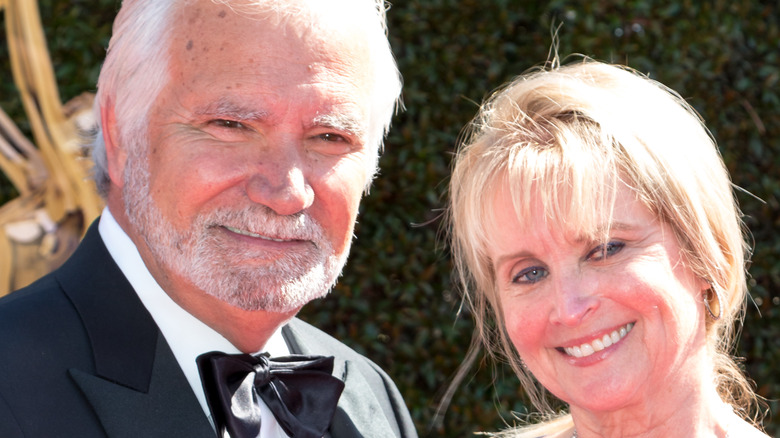 Greg Doherty/Getty Images
"The Bold and the Beautiful's" only original male cast member, John McCook, has been married to actress Laurette Spang since February 16, 1980 and the pair shares three now-grown children, Jake, Becky, and Molly. In the 1980s, Spang had quite the primetime resume, guest-starring on a variety of popular series' like "Three's Company," "Love Boat," "Fantasy Island," and "Magnum PI" (via IMDb).
When McCook first met his wife, he told Soap Opera Digest that it was indeed love at first sight, as they just knew there was something there between them. "I had been through a marriage before," McCook said. "Laurette had not, but we were both really ready to commit to this thing. We came to a place where we thought we would be terrific together. We decided to fall in love."
McCook also told the outlet that his wife decided to give up her acting career when she became a mom. "When Laurette was pregnant with Jake, our first baby, she didn't want to work anymore," McCook explained. "The lucky thing is that I worked enough that she didn't have to, and that's the way it's been all these years. She has taken great pride in her skill as a mom and as a wife and as a homemaker."
John and Laurette keep their sense of humor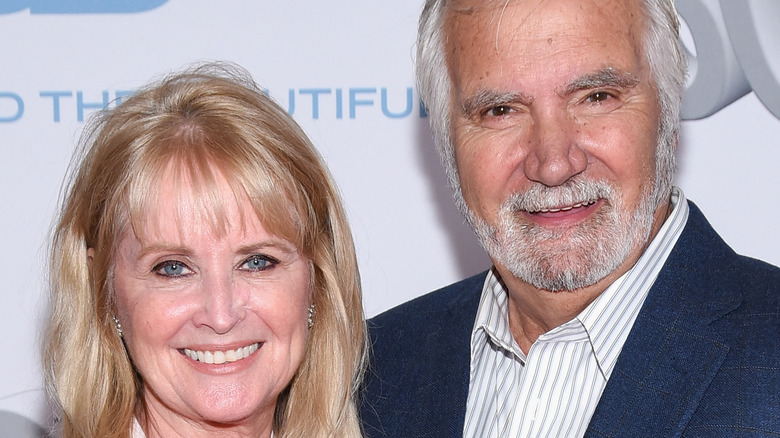 Tara Ziemba/Getty Images
John McCook has no problem sharing little vignettes of his life with his wife, Laurette, on social media. In December 2020, they both donned their masks and their reindeer ears to spread good cheer during a pandemic-filled holiday season, with "The Bold and the Beautiful's" official Twitter account sharing some snaps.
"@JohnMcCook44 is already getting into the holiday spirit!," the tweet read. "He and his wife are safely delivering festive baskets to their nearest and dearest."
Six months later, a trip to Disneyland with family produced one exhausted couple, as McCook shared on Instagram.
"Disneyland for us and our amazing godchildren Griffin and Bella Neal. 12 hours ... yes, 12 hours and lots of walking for us in the crazy Southern California heat. '90s. So I figured I'd be a sport and go on Splash Mt with the kids. I ended up in the front row," he wrote on the post next to a series of pics from the day. "Before driving back Laurette and I popped a couple Aleve for our aches and headed home. A perfect day was had by all!! Could Eric Forrester have handled that? I think not. Summer vacation anyone?"
That sounds like the perfect day and the perfect long-lasting marriage that we rarely ever see on a soap opera.