Viral Video Of Joe Biden Looking Lonely Has Twitter Talking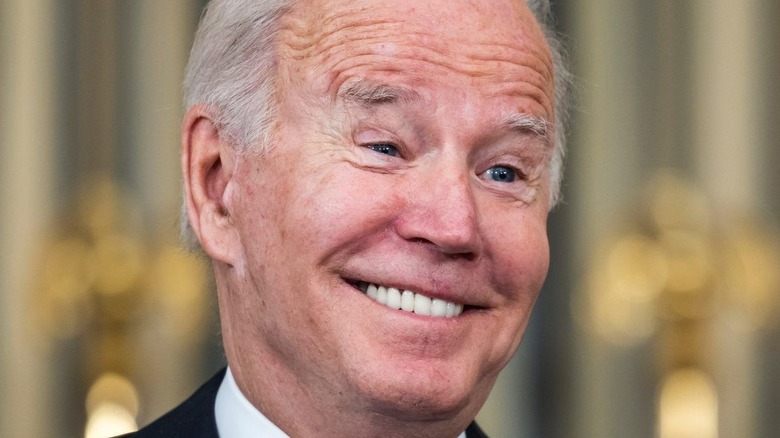 false/Shutterstock
We've all been there — at a party, looking to join in on a conversation, but everyone else is already deeply engrossed in a group and we're the odd person out. It turns out that this social fail happens even if you are the leader of the free world.
Perhaps proving that former President Barack Obama is a huge star and his former VP and our current number one in command, President Joe Biden, is not so much, video reported on by the New York Post and shared by the RNC Research Twitter account shows an awkward moment that happened when the younger statesman visited the White House Tuesday. The clip, which was posted along with the caption, "Literally no one wants to talk to Joe Biden," captures the politician milling about the room looking perplexed.
Meanwhile, the likes of Sen. Amy Klobuchar (D-Minn.) and Speaker of the House, Nancy Pelosi, who just tested positive for COVID-19, are chatting away with others as Obama basically holds court on the other side of the room.
Some people question the video of President Biden
Not surprisingly, Twitter had a lot to say about President Joe Biden's awkward moment at the White House, with some people even opining that the 79-year-old seemed out of it in the viral clip. As one person tweeted in jest, "Not one of his 80 million voters wants to talk to him?"
Meanwhile, someone else commented, "I'd almost feel badly for him if he weren't doing such a good job of destroying our country. The irony is that this is like that SNL skit where all the world leaders shunned Trump, but it's happening to Biden by his own people in real life."
Another Twitter user felt this video perfectly "summed up" the Biden presidency. For his part, Barack Obama had a positive take away from the visit, tweeting he enjoyed "catching up" with his former number two and continuing to work toward his healthcare vision.
It's also important to report that according to Newsweek, the full clip of the White House moment shows Biden interacting with Obama and engaging with others in the room. Rolling Stone even went so far as to accuse Fox News and other outlets of doctoring the video to make the President look bad.